Entering the Vikings Week 11 contest against the Broncos, Dalvin Cook leads the NFL in rushing yards (991) and yards from scrimmage (1,415). The third-year running back has been crucial to Minnesota's success on the ground.
But the rookie behind him, Alexander Mattison, has been a welcome addition and made early contributions to the Vikings run game, assuring little drop-off when Cook leaves the game.
Mark Craig of the Star Tribune wrote about Mattison, whom the Vikings selected in the third round of the 2019 NFL Draft, and his impact on the team.
Cook, right now, is the most explosive running back in football. He proved that again on a national stage with 183 scrimmage yards that were as quick and powerful as any he's had as a pro.
But don't overlook Mattison's role, both Sunday night and through 10 games as arguably the best No. 2 back in the league.
Craig specifically spotlighted the Vikings 13-play drive at Dallas in which Minnesota ran the ball on 10 consecutive snaps.
And they didn't just lean on Cook. He ran five times for 27 yards and a touchdown on fourth-and-goal. But Mattison ran it four times for 35 yards, including a 5-11, 220-pound cannon blast over left tackle that went from the Cowboys 17-yard line down to within inches of the goal line.
Craig quoted Vikings Head Coach Mike Zimmer, who said has been pleasantly surprised by Mattison's ability to break tackles.
"He was a good player [at Boise State], but you don't really know," Zimmer told Twin Cities media members on Monday. "I think his ability to hit the hole and then the violence he runs with ... he doesn't go down easy and doesn't go out of bounds."
Kendricks is highest-graded Viking by PFF through 10 games
It seems everyone has finally taken notice of Vikings linebacker Eric Kendricks.
Analytics site Pro Football Focus has shown Kendricks lots of love throughout the season and did so again when PFF.com rolled out the highest-graded player for each team through Week 10. The following was written about Kendricks:
Kendricks leads all Vikings players in overall grade (90.6) and all qualifying NFL linebackers in run-defense grade (91.4) entering Week 11. He also ranks tied for second in total defensive stops when defending the run, with 24.
Let's take a look at the other NFC North players highlighted. It's likely no surprise that Chicago's top performer according to PFF is outside linebacker Khalil Mack, who has an 89.4 overall grade.
Lions quarterback Matthew Stafford, who currently is sidelined with an injury, received an 82.4, and Packers wide receiver Davante Adams is at 88.0.
While he has battled injuries throughout this season, Adams still enters Week 11 ranked sixth in overall grade (88.0) among NFL wideouts with 200 or more offensive snaps played in 2019. He also ranks fifth in yards per route run (2.67) among receivers with 100 or more routes run on the year.
The league's highest-graded player through Week 10 is 49ers tight end George Kittle at 93.7.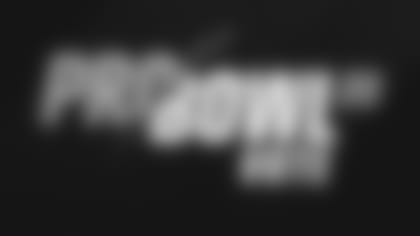 Pro Bowl Voting
Last chance! Vote to help make sure all your favorite Vikings make the 2020 Pro Bowl in Orlando. Voting ends Dec. 12, 2019.