The Vikings offense was as balanced as can be in Sunday's win over Detroit, with the unit throwing for 300-plus yards and rushing for more than 150 yards as Minnesota racked up a season-high 503 total yards.
A pair of key figures in the offensive outburst — quarterback Kirk Cousins and running back Dalvin Cook — are now up for weekly awards.
The NFL announced Tuesday that both players have been nominated for a FedEx Player of the Week Award. Cousins is up for the FedEx Air Player of the Week, and Cook is a nominee for the FedEx Air Ground Player of the Week.
You can vote for both players here.
Cousins completed 24 of 34 passes (70.6 percent) for 337 yards, four touchdowns and no interceptions for a passer rating of 141.4.
He became the first quarterback in NFL history to have at least 300 passing yards and a passer rating of 130 or higher in three consecutive games, all of which have been Vikings victories.
Cousins is trying for a repeat win, as he won the FedEx Air Player of the Week Award for his performance against Philadelphia in Week 6. He completed 22 of 29 passes for 333 yards and four touchdowns.
Green Bay's Aaron Rodgers and Colts quarterback Jacoby Brissett are also up for the award.
Cook is also be trying to win the FedEx Ground Player of the Week for the second time this season.
The running back, who also won the award in Week 2, rushed for 142 yards and two touchdowns on 25 carries against the Lions.
Cook currently leads the NFL with 725 rushing yards and is tied for the league lead with eight rushing scores.
FedEx will donate $2,000 to the USO on behalf of the NFL award winners through FedEx Cares. The $4,000 donation will support the USO Pathfinder program, which provides resources and personalized services to assist service members and military spouses in their transition back to civilian life. FedEx Air & Ground NFL Players of the Year winners — announced each year during Super Bowl Week at NFL Honors — will receive a $20,000 donation in their name to the USO.
Fans can vote here for players to win the award.
Graff: Give Stefanski credit for offensive surge
Minnesota's offense has been downright historic in October, as the Vikings have produced 1,440 total yards in past three games.
That's certainly the best stretch since Vikings Head Coach Mike Zimmer arrived in 2014, but it also bests any clip by Minnesota's historic 1998 offense, considered the best in team history and one of the most prolific units the NFL has ever seen.
The best three-game stretch for the 1998 team was 1,349 yards, which was racked up from Weeks 13-15 that season. The Vikings had 471 yards on Thanksgiving against Dallas and recorded 458 yards at home the next week against Chicago before following that up with a 420-yard performance in Baltimore.
As the current Vikings look for another big game Thursday against Washington, Chad Graff of The Athletic wrote that Vikings Offensive Coordinator Kevin Stefanski should be at the top of the list for why the offense has been rolling of late.
Cousins obviously deserves a lot of credit because at the end of the day, it's up to the players to actually go out and execute, part of why Bill Belichick always says coaches can't win games, but they can lose them.
Cousins' best seasons have come when he's had good coaches. In those cases, namely under Sean McVay and Kyle Shanahan in Washington, Cousins can be a very good quarterback. When he doesn't have the coaching, he's not the same.
Now, after some early hiccups, Stefanski has Cousins riding the best three-game stretch of his career. That deserves more recognition.
Stefanski is in his 14th season in Minnesota, and has held a variety of roles with the Vikings. He has coached tight ends, running backs and quarterbacks, and is in his first full season as the offensive coordinator.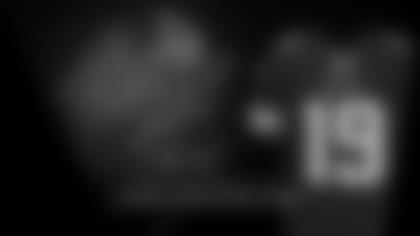 Get Your Primetime Purple Jersey
The Vikings will wear their Primetime Purple jersey, Thursday, Oct. 24 against the Redskins. Visit the Vikings Locker Room Team Store to buy your Primetime Purple jersey today!