The end of the decade is almost here, as there are just 32 days left in the 2010s.
The Vikings have had ups and downs over the past 10 seasons, highlighted three playoff appearances and two NFC North titles (with the possibility of either or both of each at the end of this season).
Minnesota has also had three head coaches during that span, but Vikings Head Coach Mike Zimmer has brought a measure of stability to the franchise, posting a 55-35-1 record in his five-plus seasons at the helm.
And, of course, there have been plenty of memorable moments involving hundreds of players. But with the end of the decade on the horizon, Chad Graff and Arif Hasan of The Athletic combed through the rosters and stats and picked out a Vikings All-Decade Team consisting of 28 players.
Current Vikings players made up 13 of the 28 roster spots. Five players are on offense and eight are on defense.
The offense was highlighted by quarterback Kirk Cousins and a trio of pass catchers in tight end Kyle Rudolph and wide receivers Adam Thielen and Stefon Diggs.
[Cousins has] thrown 51 touchdown passes to 13 interceptions in his Vikings career so far and has averaged 261 passing yards per game. Amazingly, Cousins' spot on this team was pretty clear. [Teddy] Bridgewater may have had a slight argument, but he was a starter in Minnesota for only two years, and Cousins' numbers are definitively better than Bridgewater's were with the Vikings.
Rudolph has been the only high-performing tight end in this span that the Vikings have had — and he's more than delivered on that demand, ranking fourth in touchdowns among all NFL tight ends since 2011. As the offenses around him have changed, his role has changed and his multidimensionality has been a critical component of the offensive design various Vikings coordinators have implemented.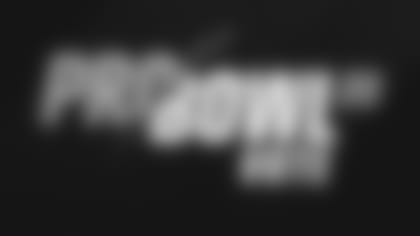 Pro Bowl Voting
Last chance! Vote to help make sure all your favorite Vikings make the 2020 Pro Bowl in Orlando. Voting ends Dec. 12, 2019.
Thielen and Diggs were joined by former Vikings wide receiver Percy Harvin.
This is a pretty impressive trio that would be difficult for any all-decade team to cover. Harvin never did reach 1,000 receiving yards in his four seasons with the Vikings, but … he was the type of offensive talent the Vikings haven't always had. And Diggs and Thielen continue to show they're plenty worthy of a spot on this roster, last season becoming the franchise's first 1,000-yard receiving duo since Cris Carter and Randy Moss.
Vikings left tackle Riley Reiff rounded out the current players on offense.
Defensively, current players filled the list multiple times at each level.
Everson Griffen and Linval Joseph highlighted the defensive line along with Jared Allen and Kevin Williams. Eric Kendricks and Anthony Barr were named with former teammate Chad Greenway at linebacker.
While it can appear recency bias may have played a factor, we chose Barr and Kendricks for their longevity this decade. [E.J.] Henderson, for as great as he was with the Vikings, retired after 2011, leaving him with only two seasons of work to choose from. Barr, meanwhile, gives us a great edge rusher and Kendricks, now in his fifth season with the team, is playing the best football of his career this season.
The secondary was filled with current players in Harrison Smith, Andrew Sendejo, Xavier Rhodes and Trae Waynes. Antoine Winfield was also included.
It was remarkably easy to select Smith and Rhodes, and the Vikings' history at cornerback before Mike Zimmer arrived was spotty at best, so the best of the previous regime (Winfield) and the next-best corner of the current regime (Waynes) were clear nods.
The full list, which also included the likes of Adrian Peterson, Jim Kleinsasser and Steve Hutchinson, can be found here.
Cousins ranked in top 5 of QB power rankings
The entire league will be watching when the Vikings take on the Seahawks in Week 13 on Monday Night Football.
The game pits two of the NFC's top teams against each other, along with a pair of the NFL's best quarterbacks.
Sean Wagner-McGough of CBS Sports recently unveiled his weekly quarterback rankings, and had Cousins and Seahawks quarterback Russell Wilson in his top five spots.
Cousins was fifth on the list. Wagner-McGough wrote:
Coming off the Vikings bye, Cousins gets the Seahawks (a winning team) in Seattle (road game) on Monday night (prime time). Basically, he has a chance to extinguish most of the narratives that have marred an otherwise productive career in one night.
Cousins has completed 226 of 320 passes (70.6 percent) for 2,756 yards with 21 touchdowns and three interceptions in 2019.
Wilson was ranked second by Wagner-McGough, who wrote:
By his standards, Wilson struggled against the Eagles. But because [Patrick] Mahomes was on his bye and because Dak Prescott wasn't particularly good against the Patriots, Wilson gets to move up one spot. He's been the second-best quarterback, behind only [Lamar] Jackson, for the entire season. And he's not quite dead yet in the MVP race. He does, however, need Jackson to suffer a bad outing at least once between now and January.
Wilson has completed 237 of 352 passes (67.3 percent) for 2,937 yards with 24 touchdowns and three interceptions.
Cousins leads the NFL with a passer rating of 114.8, while Wilson is second at 112.1.