Of the 90 players on the Vikings roster, only three can proudly wear a Super Bowl ring. And only one of them, defensive tackle Linval Joseph, was on the field for the winning effort. Defensive ends Justin Trattou and Zach Moore were inactive for their team's respective Super Bowl wins.
Joseph, who won Super Bowl XLVI with the Giants in 2012, told Chris Tomasson of the Pioneer Press that his teammates constantly inquire about what it takes to get a piece of the championship hardware.
"We talk about it every day, man," Joseph told Tomasson. "Everybody comes around and asks what it takes to get there. We talk about what you have to do. You have to work. There are no days off. Nothing comes easy in this world.
"If you put in the hard work, you make sacrifices and you're a student of the game, it can take you a long way."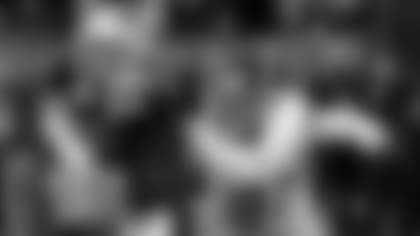 *Tight end Kyle Rudolph is among teammates to have asked Joseph about his big-game experience. Joseph, then in his second year, started Super Bowl XLVI and had two tackles in a 21-17 win over New England. *
"Anytime you get guys on your roster that have been there before, it helps," Rudolph said. "A few times, Linval and I have talked about it. The year they won the Super Bowl, they just barely got into the playoffs (by winning the NFC East at 9-7). You go on a run and you get hot at the right time, it can happen. But we just talk about that mentality that you have to have.''
*Rudolph also has discussed the topic with guard Alex Boone, who started for San Francisco in a loss in Super Bowl XLVII. Defensive end Justin Trattou was Joseph's teammate [during Super Bowl XLVI], and defensive end Zach Moore was on New England's winning Super Bowl XLIX outfit, but neither was active for the game. *
Joseph dealt with a toe injury that cost him four of the five final regular-season games of 2015. He started all 12 games he played in his second season with the Vikings and was named Defensive Player of the Year by the team. He finished with 71 tackles (43 solo), eight tackles for loss, 26 quarterback hurries and 0.5 sacks.
Goessling: Vikings have "massive" competition on offensive line
The competition along the Vikings offensive line will likely be one of the more closely watched storylines entering training camp next month.
Ben Goessling of ESPN.com recently looked into the competition among the 16 lineman, a group which weighs more than a combined two tons.
The group will spend this week together at the Vikings' mandatory minicamp, before the pads go on and the intensity is ratcheted up at training camp six weeks from now. But the tone for what players should expect was set months ago.
"It's just a lot of competition," left tackle Matt Kalil said. "We have three full groups going, and that's pretty rare. It just brings along competition. You see someone do well, and you're like, 'Well, I've got to match that and show what I can do.' It just makes us better."
Left guard Alex Boone told Goessling the group has created a bond that fosters competition and knowledge.
The atmosphere around the group, for now, is as much collaborative as it is competitive. The Vikings have eight linemen entering at least their fifth season in the league, but they also have six who have been in the league for two years or less, and Boone says there's plenty for the members of the group to glean from one another.
"When you have a great room, everybody gets a voice, and you listen to what works well for others," Boone said. "So many people say, 'An old guy can never learn anything from a younger guy.' They're so outside the box sometimes, that when you listen to them talk about something, or explain something, it's so interesting to be like, 'Why would you think that?' They're like, 'Because I don't know any other way.' You start learning things from everybody."