When he plays Madden, Haakyn Mohr always passes the ball to Kyle Rudolph.
Even the video-game version of the Vikings tight end always makes the tough catches, Haakyn explained.
The 7-year-old has watched Rudolph – whether in Madden or on Sunday afternoons in real Vikings games – hundreds of times on his TV screen. But last week, Haakyn got an incredible surprise when Rudolph showed up on-screen for a personal video call.
Dressed in a white No. 82 jersey and standing in his Vikings-themed bedroom, Haakyn's face lit up when Rudolph joined the Zoom call hosted by NFL International's Kirsten Watson.
"Hey, Haakyn," Rudolph greeted with a wave. "I love it. Your room's awesome."
From a Norseman decal to a gridiron-designed comforter set, framed and autographed Adam Thielen jersey and – of course – a helmet autographed by Rudolph, Haakyn's room is truly an ode to his favorite team.
Rudolph enjoyed a virtual tour of the made-over space that Haakyn received, courtesy of Special Spaces, after attending a Vikings Crucial Catch reception last year.
You see, Haakyn is a cancer survivor.
In January 2019 after not feeling well and complaining of low back pain, Haakyn received imaging of his abdomen, which revealed a tumor the size of a football on his kidney. He immediately was referred to Children's Minnesota, where he was diagnosed with Wilm's, a rare kidney cancer.
Haakyn underwent surgery to remove the kidney and tumor, followed by 28 weeks of aggressive rounds of chemotherapy and radiation. Although he is continuing to recover and regain strength, Haakyn was declared cancer-free before starting kindergarten.
"For a kid who didn't even understand what the 'C-word' is, it's certainly a life-changer," said Haakyn's dad, Ryan. "But this little guy, we've always called him the life-changer because he's constantly positive, he's always going, and I think he was an inspiration for not only us but our community. He just plowed right through it. It definitely gives us a new [outlook] on life."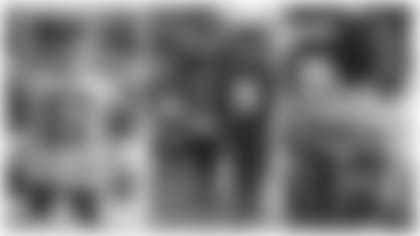 During his conversation with Rudolph, Haakyn was asked why No. 82 is his favorite Viking.
"Because you're a redhead – and you're tall like I'm going to be," laughed the youngster with freckles and vibrant red locks.
"You just have to make sure you get a lot of sleep," Rudolph told Haakyn. "And I tell people that my secret was, I loved cereal, so I was always eating cereal – breakfast, dinnertime, it didn't matter what time of the day. I ate a lot of cereal, and I slept a lot."
Although Haakyn hasn't quite filled out his Rudolph jersey yet, he flexed his biceps to demonstrate "Haakyn strong," a mantra Haakyn and his family adopted during dark days of cancer treatments.
"That's pretty strong," Rudolph said, nodding in approval. "I think you've got a chance if you want to play tight end in the NFL."
But Rudolph's 6-foot-6 frame isn't the only reason Haakyn looks up to him. To the young cancer survivor, Rudolph is a hero.
Haakyn recently told his parents, Ryan and Tory, that he wants to play in the NFL so he can bring his teammates to a children's hospital, sign footballs and make young patients smile – just like Rudolph.
"You totally make a difference," Tory told Rudolph. "And these kids love you for it."
Rudolph has made an impact on Haakyn, his parents and his older brothers, Brodie and Maverick, through his consistent support of children facing significant medical challenges and their families.
Much more impressive to the Mohrs than Rudolph's 48 career touchdowns is his ongoing commitment to the University of Minnesota Masonic Children's Hospital and partnership with the American Cancer Society to raise awareness for pediatric cancers.
The 30-year-old tight end shared with Haakyn and his family about his younger brother, Casey, who battled – and survived – cancer as an infant.
"Through all of our experiences at the hospital, when my wife and I visit, and we get to meet patients, and we get to meet their family, I immediately see myself in the siblings. I immediately see my younger brother in the patients. I immediately see my parents in the parents of the patients," Rudolph said. "We know exactly what you guys have gone through, and that's part of the reason why we do what we do, and we try to support both the patients and the families."
Tory assured Rudolph that his work makes a difference.
"We hang onto your story more than you know," Tory said. "I think [Brodie and Maverick] look up to you for that exact reason, because they unfortunately do remember what it felt like to sit in the hospital for recovery and all those [times]. We just really appreciate you sharing those stories, because these kids notice."
Rudolph, who once again is playing an active role in the NFL's Crucial Catch campaign, invited Haakyn and his family to a future game at U.S. Bank Stadium.
"We wish you guys could be here this year, especially during our Crucial Catch game [against the Falcons]," Rudolph said. "Once it is safe, I look forward to having you guys at the stadium."
Even from afar, though, the Mohrs will be rooting for the Vikings and their favorite player.
"It brings us together," Tory said of watching Vikings games together. "We all love it. We all have that in common. The Vikings spirit ... being Minnesotans, we're Scandinavian blood; the Vikings are tough people, and [Haakyn] has definitely proved that."