The Vikings enjoyed a Week 7 bye and now are back to business.
Minnesota (3-3) will kick off the post-bye stretch by hosting Dallas (5-1) for Sunday Night Football, and things don't get any easier after that. Ben Goessling of the Star Tribune recently pointed to "5 things to watch as Vikings return for monumental stretch."
The fifth item Goessling mentioned is actually the one I'd like to highlight first here: "Conquering a tough schedule could determine the Vikings future." Goessling wrote:
The Vikings first four opponents after the bye — the Cowboys, Ravens, Chargers and Packers — are a combined 20-6. They will face the 49ers and Lions in back-to-back road games after that, followed by a Thursday night home game against the Steelers. Then comes a four-week stretch of games against NFC opponents that are currently in the playoff race (the Bears, Rams, Packers and Bears again). The Vikings final two road games are at night in the NFC North's two coldest venues (Soldier Field and Lambeau Field).
Goessling said that if the Vikings "are able to coax a playoff berth out of an 11-game schedule that includes six on the road, six against teams with winning records and four against NFC North opponents, they will have reason to think they can make a postseason run."
It doesn't figure to be uneventful, in a season where very little has been dull.
Among other topics highlighted is Kirk Cousins' performance thus far. Can the quarterback keep it up?
Through his last 16 games, quarterback Kirk Cousins has completed 69.3 [percent] of his passes for 4,559 yards, 37 touchdowns and five interceptions. He's put the Vikings in position to tie or win with last-minute drives in six of their last 12 games, including four this season. He remains part of an offense that has kept things conservative until the game's final minutes, though the Vikings might need to open things up as they try to match offenses directed by Dak Prescott, Lamar Jackson and Justin Herbert while [Patrick] Peterson is out. If Cousins continues to keep the turnovers to a minimum and get good protection from his offensive line, the Vikings can survive a nasty second-half schedule.
And speaking of Peterson, who was placed in Injured Reserve following the Vikings win at Carolina, Goessling said the veteran corner's absence makes Minnesota's secondary "a primary concern."
Though veteran Patrick Peterson has had some difficult moments, he's been the Vikings best cover corner through the first six games. They will have to face at least the next three opponents without him after he was placed on Injured Reserve with a right hamstring injury last week. That puts Cameron Dantzler — who started as a rookie but slipped down the depth chart in Year 2 — back in the lineup, and the Vikings will be counting on improved play from him and Bashaud Breeland to keep their playoff hopes in good shape.
To see all five of Goessling's "things to watch," click here.
Cronin dives into origins of 'The Griddy'
At this point, it isn't only LSU fans and Vikings faithful who are quite familiar with "The Griddy," a celebration dance made popular by receiver Justin Jefferson.
The dance has swept the nation, popping up with other NFL teams and also being used by athletes in other leagues. ESPN's Courtney Cronin delved into the technique, origins and sensation surrounding "The Griddy," and she put together an in-depth longform – and accompanying video – that's definitely worth the time. Cronin wrote:
Plenty of players ran with the freedom to express their creativity when the NFL relaxed its rules on end zone celebrations in 2017, from coordinating a game of Duck, Duck, [Gray Duck] to orchestrating the limbo with teammates.
Jefferson found his own way to celebrate.
Guided by the song "Griddy" by Kenneth Brother, a state champion football player-turned-rapper from New Orleans, Jefferson heel taps his way around the end zone while putting on for his native Louisiana.
The dance … was introduced to him during his quick rise from a virtually unknown recruit to national champion at LSU. The Griddy is more than just a short-lived TikTok trend or dance of the moment – it's embedded throughout an NFL landscape loaded with players from Louisiana.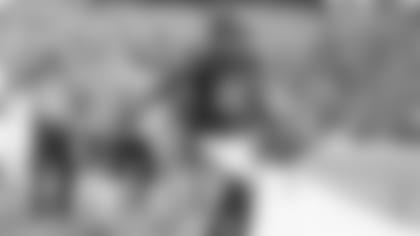 According to Cronin, it was actually Jefferson's college teammate Ja'Marr Chase who "brought the dance to LSU, but it was Jefferson who became The Griddy ringleader in the locker room."
"We [were] talking about it at the beginning of the season, 'Bro, we got to do it for the touchdown dance,' " Jefferson recalled. "I started doing it, and then the rest of the team, we [were] all doing it."
After that Texas game, Jefferson's teammates began to follow his lead.
Jefferson was quick to introduce the dance to his teammates in Minnesota during the truncated version of training camp in August 2020. But because he didn't start until three games into his rookie season, he wasn't the first to "Griddy" in the NFL.
That distinction belongs to [Clyde] Edwards-Helaire, who Griddy-ed on the opening Thursday night of the 2020 season.
When Jefferson got his opportunity to start, in a Week 3 game against the Tennessee Titans, he broke out with seven catches for 175 yards and a touchdown with The Griddy celebration.
"That was my favorite game ever," Jefferson told Cronin. "That first touchdown, I had to show the world a little bit more, a little bit extra to it just because the league was already starting to do it before I did it."