Udeze earned All-American honors at the University of Southern California in 2003 and was a three-year starter under former Trojans Head Coach Pete Carroll. The lineman recorded 51 tackles for loss, 14 forced fumbles and a school-record 28 sacks over his three-year college career.
The Associated Press reported:
Udeze worked for Carroll with the Seattle Seahawks and spent a season on the Vikings' staff before moving to Pitt in 2014 and to USC last year under Sarkisian, who was fired in October.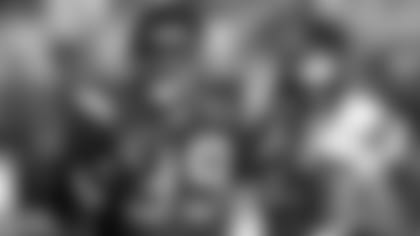 "There are times in your career when you meet someone and just know that they are going to be a superstar in the profession," [USC Head Coach Clay] Helton said. "Kenechi is that person. I was blown away by his attention to detail with technique and fundamentals in our recent bowl game preparation and in the interview process. His knowledge of the game is something that is going to be critical to the development of our young defensive line. Kenechi is a Trojan to the core, and his passion for USC is felt by all."
The Vikings selected Udeze 20th overall in the 2004 NFL Draft, and he played four seasons in Minnesota. He impressed early on, starting 15 games and recording 36 tackles, five sacks, one forced fumble and one pass defensed as a rookie. In 2007, Udeze tallied 47 tackles, five sacks and one pass defensed in his final season with the Vikings.
Udeze's career as a player ended in 2008 upon being diagnosed with a form of leukemia, which is now in remission.
Vikings Scouting Talent at 2016 Senior Bowl
The offseason is time to scout talent and make plans for the NFL Draft, and one opportunity to do so is at the Senior Bowl in Mobile, Alabama.
The Vikings in recent years have not mined the Senior Bowl for talent as much as others. But chances are, at least one prospect participating in Saturday's game will be one of their eight selections in April's draft.
In each of the four years since General Manager Rick Spielman was given final say on draft day, the Vikings have selected one or two Senior Bowl products in each draft class, including star safety Harrison Smith.
In 2013, punter Jeff Locke was a product of the Senior Bowl. In 2014, Minnesota drafted Senior Bowl running back Jerick McKinnon (96th) and defensive tackle Shamar Stephen (220th).
Last season, two offensive linemen drafted by the Vikings – T.J. Clemmings and Austin Shepherd – participated in the Senior bowl.
5 Vikings in Pro Bowl Draft Wednesday Night
The draft for the 2016 Pro Bowl takes place tonight at 6:30 p.m. CT and will be broadcasted on ESPN2. Representing the Vikings in Hawaii are linebacker Anthony Barr, quarterback Teddy Bridgewater, defensive end Everson Griffen, running back Adrian Peterson and safety Harrison Smith.
Hall of Fame wide receivers Jerry Rice and Michael Irvin will make the team selections in preparation for Sunday's game. Greg Price of International Business Times commented on this year's outlook:
The Pro Bowl pool reached a full depth of 86 players this year due to 31 replacement stars filling in for either an injured player or a member of either the Carolina Panthers or Denver Broncos, who are resting up for Feb. 7's Super Bowl 50 matchup.
But that should just make for even more intriguing picks as NFL Legends captains Irvin and Rice each look for their second victories as Pro Bowl head coaches. Rice's squad took the very first matchup two seasons ago over Deion Sanders' team when the NFL first changed up the Pro Bowl format, while Irvin bested Team Cris Carter last year with a 32-28 victory.
With the Vikings having the most participants since 2012 (seven), it will be interesting to see if any teammates will get pitted against each other.