EAGAN, Minn. – The playoffs are out of reach as the Vikings (7-9) and Bears (6-10) prepare to end the 2021 season at noon (CT) Sunday at U.S. Bank Stadium.
Unlike the previous meeting that was nationally broadcast by ESPN's Monday Night Football, this will have a much smaller geographic footprint.
Those tuning in can keep a tracker on Justin Jefferson's receiving yards when the Vikings have the ball and see if cornerback Patrick Peterson has a chance to end his first season in Minnesota with a pick.
Jefferson enters Week 18 with 1,509 receiving yards through the first 16 games of a season. That trails only Randy Moss (1,632 in 2003) on the franchise leaderboard by 124 yards.
"First of all, it's not fair to the guys that only had 16 games," Jefferson said Thursday. "So, you know, I got a little extra chance to get it. It's definitely an honor to be in this position, competing to have the most yards in a single season [in Vikings history]. I couldn't ask for anything more, just being surrounded by all these guys on the team, being with Kirk [Cousins], it's just been a blessing to be in this position."
The 2021 season marked the first expansion to the NFL's schedule (16 to 17 games) since 1978 (14 to 16 games), and it's likely to stay, thanks to the consolidation of going from four preseason games to three. Who knows, the league might eye further expansion after 2022.
All that to say, whatever Jefferson posts this season will be chased in the future by players who are likely to have 17 or more games.
As for Peterson, he'll have one more opportunity to record at least one interception for the 11th consecutive season. Peterson recorded three or more interceptions in five of his 10 seasons with Arizona.
The veteran joined Minnesota this offseason and hasn't been targeted as much as he expected to be. Rather than test the eight-time Pro Bowler, quarterbacks have directed their attention elsewhere.
Peterson was targeted on a key play in Week 15 when Minnesota visited Chicago. He made sure to break up a pass in the end zone instead of being greedy and going for the interception, which could have resulted in a touchdown.
"I thought my season was pretty solid. To be quite honest with you, I expected more action this year. I expected to get targeted a little bit more," Peterson said. "I was really pumped a little bit more, having an opportunity to get my hands on a couple footballs. Got one game left, so hopefully I don't end the year on a goose egg. That would be the first time in my career that that's ever happened, but I feel like my coverage has been tight, I feel like my technique has been tight. I feel like I could tackle a little bit better. It just comes with reps and practicing taking the proper angles, breaking down the proper way and things like that, but as far as my technique and my coverage, I thought I covered the best of them, and when I did get opportunities to make a play on the ball, I did."
Here are all the ways to catch the action, a synopsis of the series history and a key topic addressed this week by Offensive Coordinator Gary Kubiak, Assistant Head Coach/Co-Defensive Coordinator Andre Patterson, Co-Defensive Coordinator Adam Zimmer and Special Teams Coordinator Ryan Ficken.
TV: FOX (KMSP FOX 9 in the Twin Cities)
Play-by-Play: Gus Johnson
People in the yellow areas on the map below from 506sports.com can watch the game on their iOS mobile devices with the Vikings app or Vikings mobile site (Safari browser only). The Yahoo! Sports app for smartphones and tablets offers another method for viewing live local and prime-time NFL games.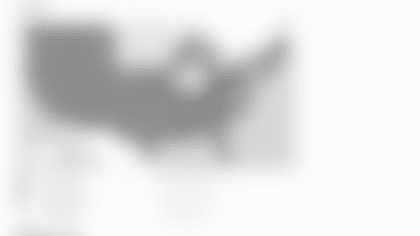 Radio: KFAN (100.3-FM), KTLK (1130-AM) and the five-state Vikings Radio Network
Radio Pregame Show: Hosted by Mike Mussman (10 a.m.)
Sideline reporters: Greg Coleman and Ben Leber
Chicago: Sirius 138, XM 381, SXM App 805
Minnesota: Sirius 83, XM 225, SXM App 820
Keep the Vikings nearby wherever you go with the Minnesota Vikings mobile app. A source for news and exclusive features, the app also will stream video broadcasts of games for people in the market/broadcast area of each game.
Click here for the full bevy of options that include over-the-air, cable, satellite, over-the-top and streaming methods.
Start your free trial of NFL Game Pass today to re-watch Vikings games on-demand. NFL Game Pass includes condensed games, live game-day audio, NFL programming and much more.
The Vikings are 62-57-2 all-time in 121 overall meetings (includes 0-1 in postseason).
Minnesota is 4-3 under Head Coach Mike Zimmer (since 2014) in home games against Chicago. The Vikings won the first four but have dropped the past three.
Kubiak on Sean Mannion stepping in at QB last week in Green Bay:
"I was proud of what Sean did. … I thought he had a hot start. Unfortunately, that first third down of the game we get called back and then get him into a third-and-long. But I thought Sean did everything that we asked him to do. He threw his first touchdown pass, so I was proud of him for that. But without having practiced leading up to it very much, I thought he gave us everything that he had. And I'm proud to be associated with a guy like that."
Patterson on Minnesota's defensive rankings this season:
"You're disappointed because that hasn't been us. We've been one of the better defenses in the league since I've been here, so that hasn't been us. But you are what the numbers say you are. So right now, your focus is on trying to play well enough to beat the Bears on Sunday. We haven't played up to the standard that we like to have around here as a total defense since the day we came into Minnesota, but it just didn't work out for us this year. Right now, our focus is on trying to slow down the Chicago Bears."
Zimmer on the Bears placing QB Justin Fields on the Reserve/COVID-19 list Thursday:
"I just heard that walking off the field. [Andy] Dalton has played a lot this year, so we've got a lot of tape on him. We played against him last year and obviously have been around him at Cincinnati, so we kind of have a good feel of what his strengths are. He played the last game and was running around a bit more than he did, more of what Fields was doing a little bit. He was scrambling around, so we'll have a plan on how to defend them and go from there."
Ficken on Greg Joseph's 51-yard field goal last week (a Lambeau Field record in January):
"I thought it was a very impressive kick, but I know he's got that talent and that skill set to go ahead and make that kick. I know going into that direction away from the tunnel, that was going to be a tricky end zone. He went up there, didn't blink an eye — and we knew around the 30-yard-line was going to be the max because of the conditions you mentioned. And he went up there, didn't think anything about it, and just drilled it. I was really proud of him, but also you have to tip your hats off to the protection guys, the O-line, the tight ends that do a great job protecting, and the operation with the snap and the hold, because their hands are freezing, too. To be able to do that seamlessly, not even thinking about it, just shows the kind of professionals that those guys are and they're really, truly great at what they do."