Greg Coleman is proud to have been a member of the Vikings organization.
From his decade as the team's punter, to his role with KFAN and the Vikings Radio Network, Coleman has been impacted by – and conversely made an impact on – this team.
But Sunday's game marks Coleman's last in his role, as he's retiring to Florida with the love of his life, Eleanor.
The transition is bittersweet for Coleman. It's time – he's at total peace with his decision. And while he has no qualms about leaving behind Minnesota winters (and sub-zero sidelines at Lambeau Field in December), decades of memories prompt plenty of emotion for the man of many talents.
"Will I miss game day? Absolutely. There's nothing like the National Football League," Coleman recently told Vikings.com. "To line up on that sideline and hear that National Anthem. And to know what comes next – Paul Allen and 'The Boom.' I will definitely miss that."
He will miss working with the Vikings Legends Community and conducting in-game interviews at U.S. Bank Stadium with special guests that have ranged from Bud Grant, to Fran Tarkenton, Alan Page and Jim Marshall, Randy Moss and Cris Carter. The list goes on.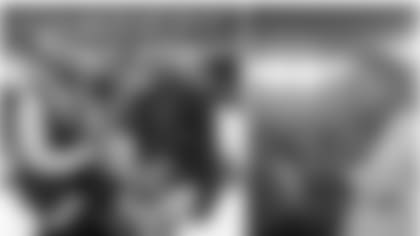 He will miss his "broadcast brothers" at KFAN: Allen, Pete Bercich and Ben Leber.
"I mean, you couldn't ask for a better team of men," Coleman said. "And everybody else at Vikings Entertainment Network, from top to bottom. Producers, spotters, sound people. It's just amazing."
---
---
Behind the Pregame Preach
Coleman is well-known throughout the Vikings football community for his "Pregame Preach" segments that air on the radio prior to Vikings games.
Asked about the origination of the brief-but-powerful pieces, Coleman laughed, explaining it "really started as a tongue-in-cheek" suggestion by Allen.
You see, the segment previously was called "Coleman's Keys to the Game." But after Allen stuck his head into a team chapel on an early 2000s road trip and heard Coleman speaking to the players, it earned a new moniker.
"Paul said, 'No, you're not Coleman's Keys. We're going down to The Preach. I heard him preach last night, and we're gonna call it the Pregame Preach.' So that was the genesis," Coleman said.
Those who know Coleman will tell you his Christian faith isn't performative but rather is engrained in who he is as an individual. It's nearly impossible to talk about one without the other.
"God can use anybody, in any situation. He can use a jackass. So I fit that mold," Coleman quipped.
The segment lasted 45 seconds. You wouldn't think much could be said in 45 seconds, but Coleman challenged that idea week after week.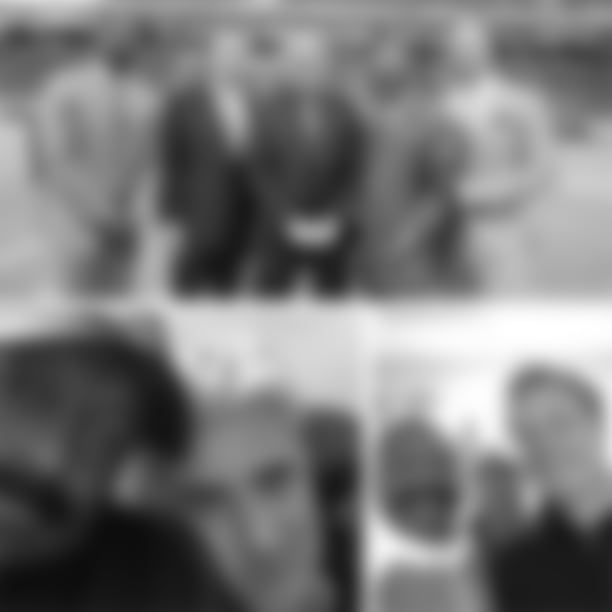 He focused on and prayed about what he would share each time, and he began to receive emails, texts and even random comments out in public from fans who'd been impacted by the truncated sermon of sorts.
"Some were in very, very dark places, and just a word during that pregame moment snapped them back to reality. Or gave them hope. Or caused them to wonder, 'What is this faith stuff all about?' " Coleman said. " 'How can you be so upbeat after the Vikings get our butts kicked in a game, or when we don't seem to have a snowball's chance in Havana of beating a particular team – and still, you present a positive word, a ray of hope.' So yeah, the comments have become so rich with, knowing that God's Word does not fall on deaf ears."
Mike Anderson has faithfully followed the Vikings for more than 25 years, and he associates Coleman with that fandom.
"While the team continues to take fans like myself on a tumultuous roller-coaster ride, Greg Coleman and his optimism have been a constant," Anderson said. "It doesn't matter what point in the season or what the Vikings record is, Greg brings energy to the fanbase every game day a few seconds before kickoff."
Anderson recalled listening to Coleman prior to the 2017 NFC Championship Game – "I still get chills remembering him saying, 'There isn't a cloud in the sky, but the forecast shows purple rain!" – and the Wild Card win at New Orleans in January 2020. It was a contest, he recalled, most counted Minnesota out of.
"Listening to Greg preach about the [Biblical stories of] David and Goliath and of Samson taking on 1,000 men was inspiring and uplifting," Anderson said. "It turned our jittery friend group into a confident bunch that was ready to run through a wall for our team."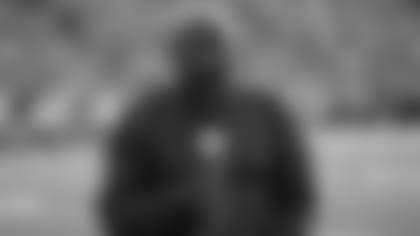 Coleman understands his Pregame Preach may not be for everybody, but he's forever grateful for the platform and opportunity to blend faith and football.
Adam Thielen said Coleman has meant a lot to him since he started listening to the Pregame Preach simply as a fan, long before making the Vikings roster as a tryout basis in 2013.
"He cares a lot about this team, and it shows by how he treats and encourages the players and coaches," Thielen said. "His leadership is evident, and he's helped me with my own faith walk."
Over the years, whether via KFAN or in speaking to NFL teams around the country, Coleman has repeatedly referenced the Bible verse Matthew 17:20:
"…If you have faith as small as a mustard seed, you can say to this mountain, 'Move from here to there,' and it will move. Nothing will be impossible for you."
When preaching on the verse in a team chapel, Coleman historically has passed out tiny, round mustard seeds.
"Over the two decades, to see players, former players and coaches come back and say, 'Hey Coleman, OG, I still have my mustard seed. I remember what you said.' – that lets me know that I was in the right place at the right time, in the right space, at doing what God has called me to do," Coleman said. "Because ministry is not all about a pulpit. It's marketplace; it's living it. I've never beat anybody over the head with Scripture. I just try to live it. Perfect I am not. Have I missed the mark on several occasions? Absolutely.
"I know people who know Scripture … but they're mean as hell and they don't have a good representation of what the Gospel is," Coleman continued. "So I just try to live it … and that's where my joy comes from. That's where my peace comes from. Have I been in storms? Absolutely. And sometimes I need to preach to myself. You're either going into a storm, in the middle of a storm or coming out of a storm. But storms don't last forever."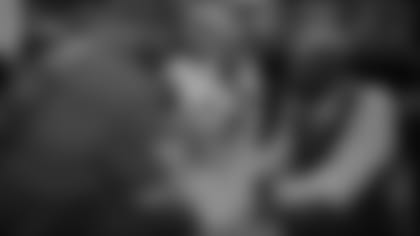 Coleman knows about storms, having navigated life experiences over the years that have involved racist-driven cruelty, harassment due to his Christian faith and, of course, the ups and downs of an NFL career.
Interestingly enough, Coleman found himself humbled by a specific storm early in his NFL career.
After playing the 1977 season for the Browns, Coleman found himself released from the team after the '78 preseason. He vividly recalls sitting in his ninth-floor apartment in Cleveland on Oct. 15, angrily watching a televised game between the Vikings and Rams.
"Neither punter was doing anything outstanding," Coleman recalled. "I go to my ninth-floor apartment window and open it, and I'm screaming, at God … 'Where are you? I've been reading, I've been praying, I've been doing the things that you asked me to do. Where are you? And I said, 'I want to play football so bad that I'll even play for the Minnesota Vikings.' "
You see, Coleman had promised himself as a child he would never, ever play for the Vikings.
"Because it was cold as hell in Minnesota. They had a coach who stood on the sideline with a crewcut and steely blue eyes, and he didn't say anything to anybody," Coleman said, referencing future Hall of Fame Head Coach Bud Grant.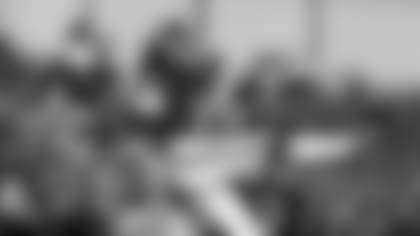 But the number one reason Coleman vowed to never play for the Vikings? Grant made his players wear black shoes.
"You gotta remember back in the day, all the cool brothers, all the cool players, wore white shoes. Billy White Shoes Johnson. Joe Namath. All of the cool players wore white shoes," Coleman said. "So I didn't want to come to Minnesota to freeze my behind off, to play for a coach that didn't say anything, and to do it wearing black shoes."
On Oct. 16, one day after Coleman watched the Vikings lose to the Rams, he received a call from Minnesota saying the team wanted to bring him in.
"I closed that ninth-floor apartment window, and I spent the next 10 years here," Coleman laughed. "You tell God what you're going to do? He has a fine sense of humor."
Coleman may have hung up his cleats after playing for Minnesota from 1978-87 and with Washington in 1988, but his impact on teammates and future teammates never slowed.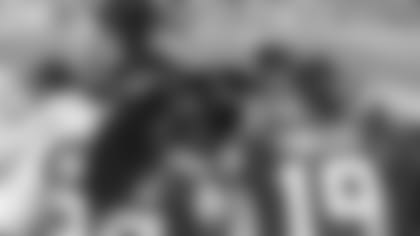 ---
---
Making an impact in Purple
Over the years, Coleman's duality as a broadcaster and a Vikings Legend has allowed him the opportunity to connect with players who come through the Vikings organization.
Vikings tight end Irv Smith, Jr., who connected with Coleman soon after being drafted 50th over in 2019, was saddened to hear the retirement news.
"Greg was so welcoming, and you could tell he cared about someone by his words and actions. Every time I would see Greg, he had a big smile on his face, and you couldn't help but smile back," Smith said. "He was so easy to talk to in his interviews and definitely had the voice for it. Greg was also a legendary player, but he was really humble, and you could tell he just loved what he did! I appreciate Greg for all he's done, and he will be a lifelong friend."
When learning about Vikings.com's plans to recap Coleman's impact, former quarterback Case Keenum, punters Britton Colquitt and Jeff Locke and long snapper Kevin McDermott also wanted to share their memories.
Keenum's first memories of Coleman after arriving in Minnesota for the 2017 season was of him setting up for team chapels on Saturday evenings before Sunday games.
" 'Touch' is really, really great. One of my favorite Vikings crew that I got to spend time around in my time there," said Keenum, calling Coleman by his original NFL nickname that was earned with his ability to accurately place the football through punting. "Him just being with the guys … and just lovin' on us as we were making our last preparations for the game at the hotel, getting all that going. I always loved Greg when he was there."
Though no longer with the Vikings, Keenum looks forward to watching his former team play on television – during which he makes a point to spot Coleman on the sideline.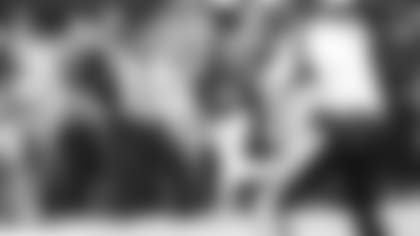 "He's always on the sideline, celebrating with the team in whatever happens. So I always look for him," Keenum said. "Because I know he loves two things: He loves Jesus, and he loves the Vikings. And he loves loving on both of them.
"He's always done that," Keenum added. "He's the same person no matter where he's at, no matter what he's doing, no matter who he's talking to. I've always appreciated him and what he's meant to me."
Colquitt first met Coleman in 2011, eight seasons before Colquitt was signed by Minnesota. He played for Denver at the time, and the Vikings hosted the Broncos at the Metrodome.
"Just moments after taking to the turf in pregame, a retired player dawning a flashy suit, a warm smile and the perfect mustache approached me and shook my hand," Colquitt remembered. "My first thought was, 'This guy looks like he could still catch a touchdown pass or take an interception to the house.' "
Colquitt was shocked when the gentleman introduced himself as Greg Coleman, instantly connecting that the "legendary punter" had overlapped in the NFL when Colquitt's father, Craig, punted in the league.
"I felt like I was talking to family. That's just how Greg makes everyone feel. He said great things about my dad and me, and even my mom. He gave me some pointers and made me feel at home in a place I'd never been before," said Colquitt, who that day averaged 51.2 yards per boot on six punts. "I went on to have [one of the best games] of my early career, and I owe it to Greg – because he reminded me that I owe it all to God, and that this job was a huge blessing and really fun.
"From then on, if the Vikings were on the schedule, I couldn't wait to get my Greg Coleman fix in pregame. He was the first guy I was looking for, and somehow he always found me first," Colquitt added with a laugh. "When I became a Viking a few years ago, he was the first to welcome me to this great franchise. Then I got really spoiled because he hangs out at the kicking net during the games, and it was like having my dad right there to tell me, 'Great job' or, 'Your drop was a little inside' or, 'Just go out there and attack the ball!' How rare to have a guy that was one of the best in the world at what you do hanging out giving free lessons and the best encouragement?"
Locke expressed similar sentiments. His career with the Vikings included their back-to-back seasons playing outdoors at the University of Minnesota, especially appreciated Coleman's insight on punting in the elements.
"Greg had a big impact during my time with the Vikings, especially in the two years playing outside," Locke said. "He was so approachable and always there to answer my questions, but he was never overbearing with unwanted or poorly timed advice.
"Most importantly, he became a friend I could lean on when times were tough," Locke added. "He truly bleeds purple, and I was lucky to spend as much time with him as I did."
When McDermott signed with the Vikings in 2015, it was his third team in three years. Most interactions he'd had with team employees or former players at previous stops, he noted, were focused on his most recent stats and what he'd been working on to improve his game.
"From the moment I met Greg, he wanted to know about my family. What my goals were outside of football. If I wanted to attend chapel. As a former player and A-plus human being, he was genuinely interested in us as people and not interview subjects," McDermott said.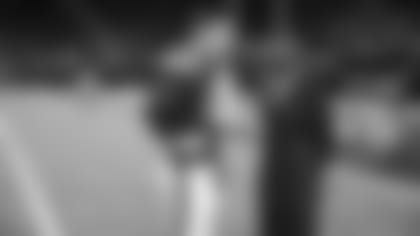 Colquitt summed up what many are thinking: It's hard to imagine Vikings games without Greg Coleman on the sidelines.
"He's a man of God, a man of integrity, a family guy and the best example of what I want to be when I grow up," Colquitt said. "I'm sad to see him go but so blessed to have had him in my life. Greg, thank you for making me a better punter, husband, father and Child of God. I love you, man!"
If you know Coleman, you know he already has a tee time – three, in fact – scheduled for next week on a Florida golf courses.
But know this: It's not "good-bye" to the Twin Cities. It's, "See you later."
As he anticipates green grass and sunshine year-round, Coleman also is reflecting on the Vikings efforts to "Be the Change" within their community.
"This organization has been purposeful," Coleman said. "It has not been a check-the-box mentality."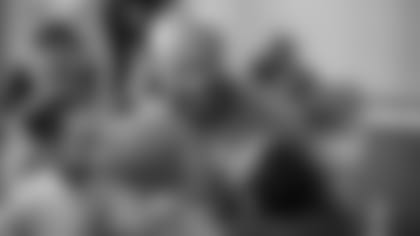 Coleman pointed to Eric Kendricks, Anthony Barr and other players – past and present – who have worked to make a difference.
"There are people who say about the Vikings Social Justice Committee, 'Well, why don't you just shut up and play football? There's no place in sports for that.' Listen – sports is part of our society. And we are part of this community," Coleman said. "What if we had not used our voices to voice our displeasure about how [certain people] were treated many years ago?
"I read somewhere where someone told Eric Kendricks, 'Just shut up and play football.' What if Eric had not used his voice to be a light in the life of young people in this community?" Coleman continued. "The list goes on and on. What if Alan Page had chosen to be silent about a lot of different things? And Jim Marshall, and Carl Eller – years and years ago."
As mentioned earlier, Coleman is no stranger to racism.
During his youth, his all-Black team won the league championship but was not allowed to play in the Gator Bowl. Then at the NFL level, he recalled the days long before social media, when his teammates of color would receive handwritten letters that weren't fan mail but rather "nasty, vulgar, racist" words spewed on paper.
"And these were some of the same people that cheered for us on Sundays. But when we took that jersey off, we were just another Black man," Coleman said. "I can't unzip this Black skin. I can take the jersey off. But I cannot unzip the fact that I'm a Black man, and I am not apologetic about using this platform to raise awareness for diversity."
Coleman emphasized that it's tragic George Floyd had to lose his life at the hands of a police officer for tides to begin to change in Minnesota, the country and around the world. He's proud, though, to see young men and women using their voices for a greater good."
"You can go back many years. Athletes have been a catalyst for change. I was fortunate enough to live in an era where I saw Muhammad Ali, what he did about racism in boxing," Coleman said. "And when he and Jim Brown and Kareem Abdul-Jabbar, and a few other prominent athletes, used their voices to make a difference.
"I applaud this Social Justice Committee because we were doing things even before the George Floyd murder," Coleman continued. "There are so many great things about this Vikings community that make you proud. … But what if those men had kept their voices quiet? Where would we be?"
Looking back over decades spent with the Minnesota Vikings, Coleman can only smile.
"I've been with every head coach with the exception of Norm Van Brocklin … I told myself, 'Damn, man. You're old, dude,' " he laughed. "It's been an amazing run to play with some of the greatest men to ever play this game. The Purple People Eaters. The Hall of Famers that we have. All of the men in the Vikings Ring of Honor. I played with – and had relationships with – the majority of those men."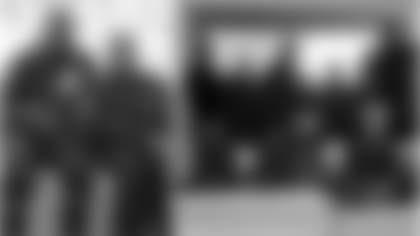 Coleman plans to still visit Minnesota and to spend lots of time with his children and eight beloved grandchildren. He'll continue his public-speaking business and finding opportunities to support various Historically Black Colleges and Universities around the country.
He also plans to write two books – one a devotional, likely titled Pregame Preach, and the other an inside look at his NFL journey that he expects to call Flipping the Field.
McDermott calls Coleman a "collector of people" who undoubtedly will continue making meaningful connections.
"Myself and the other specialists had a particularly special bond with him because of our shared love of special teams – and to this day, I still miss our weekly routine," McDermott said. "Because he held for the Vikings in his playing days, every Friday I'd send him back a field goal snap on the sidelines. Shared experiences like that stick with you."
Coleman may not be taking snaps on the Vikings sidelines anymore, but he'll forever remain a part of the Purple Faithful.