While Vikings fans certainly know the caliber of player Harrison Smith is, Minnesota's impact safety isn't as well-known across the nation.
Smith, a first-round pick in 2012 out of Notre Dame, has 311 total tackles (press box tally), 5.5 sacks, 12 interceptions and four interceptions returned for touchdowns since entering the league.
This isn't a full team because I wasn't going to force anyone onto my personal list unless they were deserving. This is just a group of players I have thoroughly enjoyed watching and covering over the years, some longer than others, who will get their due here even if they don't get enough of it anywhere else.
*DB Harrison Smith: He made his first Pro Bowl this year, so perhaps Smith won't be on this list for too much longer, but he is a huge part of the Vikings' stellar defense and is reminiscent of a young Eric Weddle with his range and tackling ability.*
The other players Tucker placed on the list were: running back Matt Forte, tight ends Heath Miller, Delanie Walker and Brent Celek, safety Reshad Jones, guard T.J. Lang, tackle Andrew Whitworth, receiver Marques Colston and linebacker Bobby Wagner.
Grant's short sleeves still draw attention
It was one of the lasting memories from a frigid day – former Vikings Head Coach Bud Grant walking out for the coin toss on Jan. 10 in short sleeves.
On a day when the game time temperature was minus-6 degrees and the wind chill felt like minus-25 degrees, Grant once again reminded fans that the cold simply doesn't bother him.
Ben Goessling of ESPN.com recapped what the 88-year-old Grant had to say about the memorable moment at Polaris-Vikings Winterfest in Duluth over the weekend.
"Hey, cold is not debilitating," Grant said. "Heat is debilitating. Too hot is harder to play in than too cold. I've sat in a deer stand for four hours, and been cold the whole time. But maybe a deer's going to walk out there somewhere. I don't mind being cold."
The Vikings fell 10-9 to Seattle in the Wild Card game, but Grant said he had to make one last statement in the elements before the team moves into the new U.S. Bank Stadium.
"It was our last outdoor game," Grant said. "I had to make a statement somehow. It was our last [outdoor] game; let's celebrate. It got a hoopla-la, and that was all afterward."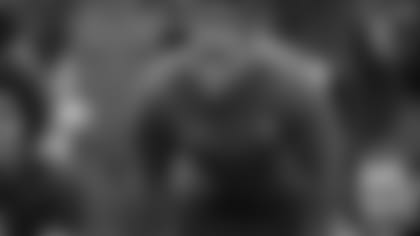 Udeze has 'dream job' with USC Trojans
Former Vikings defensive lineman Kenechi Udeze has overcome plenty over the last decade or so, including getting diagnosed with leukemia in 2008.
Although the disease forced Udeze to retire from playing the game, he still hasn't given up the sport, as Andrew Krammer of ESPN1500.com recently profiled the former Minnesota star's life since retirement.
One of Udeze's biggest accomplishments came in January when he was named the defensive line coach at the University of Southern California, his alma mater.
"Seven years is how long it took me to reach this point in my career," Udeze said. "And I wouldn't take back one minute – not one second. Every moment taught me having better patience, being a better teacher."* *
Krammer also talked with Udeze about the first few years after his retirement, where he spent time with the Washington Huskies football program, and the path he took to get back to USC.
Now that's landed his "dream job," Udeze said he's ready to impact the next wave of talent from the Trojans.
"I was fortunate enough to play four years in the NFL and my whole life literally came crashing down," Udeze said. "My whole mindset with these young men is to get them to be the best professionals. Because a lot of things you learn in football, you can attribute to your life and be successful."