The 2021 NFL Draft is this week, and the Vikings Entertainment Network is ready to provide extensive coverage of every pick. Below you can find some highlights of the team's coverage, how to best follow along and more.
Vikings Draft Happy Hour Presented by Miller Lite
Leading into the draft the Minnesota Vikings and Miller Lite are hosting a public virtual happy hour. The happy hour will feature current and former players as well as local celebrities joining as we get ready for the 2021 NFL Draft. Miller Lite will be providing co-branded draft prize packs to surprise and delight selected fans who tune in.
Watch live on Thursday, April 29 from 5:30 to 6:30 p.m. on the team's social and digital platforms.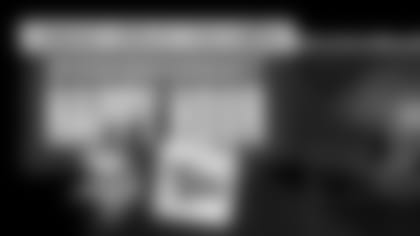 Vikings Draft Virtual Happy Hour
The #VikingsDraft Virtual Happy Hour, presented by Miller Lite will kick off Day 1 of the 2021 NFL Draft from 5:30-6:30 p.m. CT.
The exclusive live-streamed social hour will give fans the opportunity to interact and celebrate with their favorite Vikings analysts, players and influencers across Vikings.com, Twitter, Facebook, Instagram and YouTube.
Vikings I.Q. Presented By Pepsi
Pepsi will partner with the Minnesota Vikings to offer fans an interactive, free-to-play social and gaming experience through the Vikings App called Vikings I.Q. Fans will have an opportunity to make real-time draft predictions, socialize with other Vikings fans and win prizes from Pepsi!
The team's social and digital platforms (outlined below) will have wall-to-wall draft coverage all week long, starting with General Manager Rick Spielman's pre-draft press conference, which is scheduled to start at 2 p.m. on Tuesday, April 27.
Then, following the #VikingsDraft Happy Hour, the 2021 NFL Draft will begin, with the team currently holding the 14th pick in Round 1.
Fans can find things like instant written analysis and info on each player, highlights and photos from their college careers, behind-the-scenes content like the call from the Vikings draft room to the player, full press conferences (live and on-demand) from the player, as well as Vikings coaches and executives, nightly podcasts recapping the previous day, plus much more.
Draft Tracker Presented by Thomson Reuters
Keep track of every pick the team makes via the Thomson Reuters Draft Tracker.
Miller Lite Virtual Meet and Greet with Eric Kendricks
Miller Lite will select 50 winners through an enter-to-win promotion with local retail locations. Winners will receive a Miller Lite prize pack and virtual meet and greet with current Vikings player Eric Kendricks!
AR First Round Draft Pick Experience Presented by U.S. Bank
Fans that purchase the jersey of the Vikings first-round draft pick through the Vikings Locker Room Store will receive exclusive AR Content from that player. A hang tag will be included on all jersey sales from the Vikings Locker Room Store that has a Zappar AR code that fans will be able to scan to unlock a message from our drafted player. The video message will follow him through his onboarding process to becoming a Minnesota Viking.
Thomson Reuters Draft Room
Thomson Reuters is the entitlement partner of the Thomson Reuters Draft Room. The Minnesota Vikings and Thomson Reuters will bring fans the first videos of the exciting moment when the team speaks to its draft pick when selected.
Bose has partnered with the Minnesota Vikings to provide football operations staff members with QuietComfort Earbuds for their draft communication needs.
Minnesota Vikings Podcast: 2021 Draft Editions Presented by Hy-Vee
Checkout the Minnesota Vikings Podcasts: 2021 Draft Editions Presented By Hy-Vee every night after the draft sessions have concluded. We'll have full breakdowns/analysis of all the selections and look ahead to the rest of the action all weekend long. That's the Minnesota Vikings Podcasts: 2021 Draft Editions Presented By Hy-Vee.