Danielle Hunter, Vikings No. 99, landed at No. 57 on the NFL Top 100 Players of 2019, NFL Network unveiled Friday night in an episode that counted down from players ranked 60-51.
NFL Films spoke with Vikings receiver Adam Thielen and cornerback Xavier Rhodes, as well as foes that have had to block Hunter.
Highlights included multiple sacks, a big fumble return touchdown against Detroit last November and an ultimate hustle play in Week 4 at Los Angeles.
"We were playing the Rams, and I ran down the running back, Todd Gurley," Hunter said. "If I wouldn't have slowed him down, he probably would have scored a touchdown. It just shows that I go out there and give it my all they can count on me."
Thielen added: "It doesn't matter if it's a sack, he'll run back and tackle running backs downfield. He doesn't care about the individual stats. He just wants to win, and you can tell that with his play. He's relentless."
Bills tackle Dion Dawkins said Hunter's size was the first thing that stood out on film. Dawkins learned about Hunter's strength in person during a bull-rush.
"You want to get your hands on a guy like that quicker than usual," Dawkins said. "You don't want to let him get his motor going because once he gets going, it's definitely hard to stop."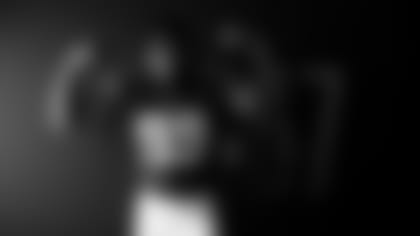 Bears tackle Charles Leno, Jr., noted Hunter's long arms, which were an attribute that the Vikings scouts noted before drafting him in the third round (88th overall) of the 2015 NFL Draft.
"Long strider, got really long arms," Leno said. "I think I have long arms myself, but when you see his and he's coming at you full-speed, he can catch you off guard."
Packers running back Jamaal Williams said Hunter "feels like [going against] a second [Everson] Griffen."
Rhodes broke down how Hunter set up an outside move in Week 2 against the Packers.
Entering his fifth NFL season, Hunter has 40 career sacks and has returned two of his three fumble recoveries for touchdowns.
The most recent score was a 32-yard return against Detroit on a day when he totaled 3.5 of Minnesota's franchise-record 10 sacks in one game. The outing earned Hunter NFC Defensive Player of the Week honors and helped him finish 2018 with a career-best 14.5 sacks, which tied for fourth-most in the NFL.
He garnered his first selection to the Pro Bowl and first placement as an edge rusher on the Associated Press' All-Pro Second Team.
Oh yeah, and he's still only 24 years old.
A major component of Hunter's success has been the early maturity he's shown since arriving in Minnesota, soaking up information and keeping detailed notes of what he's learned from veterans. A man of few words, Hunter is now more comfortable passing along what he's learned to teammates.
Safety Anthony Harris, who also joined the Vikings in 2015, said this offseason Hunter is a "guy who leads by example."
"He's very detailed in his work, he has amazing athleticism, but he doesn't rely on that," Harris told Vikings.com. "He looks up to older guys, other veterans who have been in the game for a while, and he takes a lot of knowledge from them. And not just at defensive end; I hear him talking to Linval [Joseph] and the defensive tackles, as well, because they all work together and all play off of each other.
"He's an example of coming in, having the ability, but continuing to expand his knowledge and leading with his play first," Harris added. "Then, as young guys come in, he's able to kind of take the reins and help coach those guys up, as well."
Hunter became the first Jamaican-born player to land in an NFL Top 100 list. His family immigrated to the United States when he was a youngster. He grew up near Houston, Texas.
Minneapolis native Larry Fitzgerald came in at No. 60, extending his consecutive streak of appearances in the list that first debuted in 2011. He is the only non-quarterback to do so. The 11-time Pro Bowler is at the onset of his 16th pro season with the Cardinals.
Cowboys guard Zack Martin, a first-round pick in 2014, was next at No. 59. The five-time Pro Bowler is the only guard on the list. Another former first-round pick (fourth overall in 2011) and seven-time Pro Bowler, Bengals receiver A.J. Green, was next at No. 58.
Chargers edge rusher Joey Bosa landed at No. 56 and was followed by Dolphins cornerback Xavien Howard and Jaguars defensive lineman Calais Campbell. Buccaneers receiver Mike Evans landed at No. 53.
Cowboys tackle Tyron Smith, a six-time Pro Bowler and first-round pick in 2011, rolled in at No. 52. Texans quarterback Deshaun Watson finished the episode at No. 51.
Hunter and Howard (second round, 38th overall in 2016) were the only players in the 51-60 grouping that weren't selected in the first round of an NFL Draft.