EAGAN, Minn. — The Vikings have been able to feature homegrown talent for the past several seasons.
Adam Thielen, C.J. Ham and Brandon Zylstra are Minnesota natives on the roster at this year's training camp.
And, one could also count the made-in-Minnesota Daktronics video board at TCO Stadium, which hosted the Vikings annual night training camp practice for the second consecutive year.
The video board showed replays of a 56-yard catch by Thielen on a pass from Kirk Cousins, the first run of the night during team period by Ham and a "late-game-situation" touchdown catch by Zylstra.
In addition to those replays and others, the Vikings added to the utilization of the video board this year with a live show in the 90 minutes leading up to the start of practice and by supplementing images of players with bio and statistical information to enhance fans' experiences.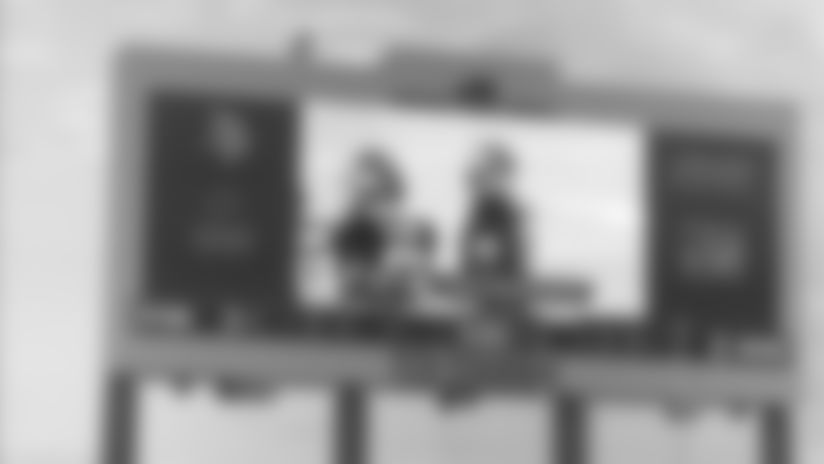 "With making TCO Performance Center and TCO Studios a world-class facility, we wanted to make sure we didn't leave anything out," said Vikings Senior Manager of Production Allan Wertheimer. "The video board allows us to give visitors a first-class experience. Whether it is for community events, high school football games, rugby matches or a movie night, the board allows us as an organization to provide anyone who comes through our gates with a great, fan-friendly experience."
Measuring 1,620 square feet, the video board is the largest at a football training camp-specific site.
That's the equivalent of 152 60-inch televisions.
"The display is massive and provides a multi-functional, digital screen that can be used in a variety of ways for the football team, the community and special events," said Daktronics Regional Manager Tony Mulder.
Nearly one million pixels in a 15HD pixel layout combine to display videos and messages produced by the Vikings Entertainment Network, which operates the control room inside TCO Studios. The board works with Tagboard to display messages posted by fans on their social media channels.
The video board has been a helpful asset with communications efforts during open camp practices and when TCO Stadium has hosted non-Vikings events like the Prep Spotlight, ultimate Frisbee games and civic groups. It will feature a public viewing of Smallfoot tonight.
The west video board (by the Legacy Gates) at U.S. Bank Stadium is the 12th largest out of 31 NFL venues and features 13HD pixel layout. The Vikings are one of five teams that use 13HD technology on stadium ribbon boards and have the most 13HD displays of any NFL stadium.
Click here to view more information about the design, manufacture and installation of the video boards at U.S. Bank Stadium.