Three hundred young people learned more about football on Friday; but even more importantly, they learned what it looks like to make an impact.
Vikings Legend Chad Greenway hosted his annual "Day to REACH" football camp in Hutchinson, Minnesota, where youth ran through various drills and on-field training stations. The former linebacker was joined by fellow Legends Mike Harris, Stu Voigt and Tuineau Alipate.
Harris, who was with the Vikings from 2014-16 and overlapped with Greenway's final three seasons, was grateful for an opportunity to reconnect with fellow Legends.
"I hadn't seen any of the Legends since early 2020, so when we got back together it was like a family reunion," Harris told Vikings.com. "Chad, Stu, and Tui are great men and role models that I look up to. It was fun to throw the ball around and reminisce about the good old days."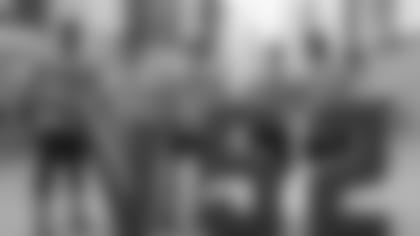 Following the activity portion of the day, Greenway spoke to the camp participants and awarded game balls for character-driven traits that had been displayed, such as hustle and positive attitude, instead of pure football skills.
What happened next quickly became the highlight of an already special afternoon.
Greenway invited 10-year-old Sam Schumann and his family to the middle of the gymnasium to introduce them to the group. While most of the bleachers were filled with those wearing gray "Day to REACH Camp" T-shirts, the Schumann's instead wore royal-blue shirts emblazoned with "IRON SAM" in all-capped yellow.
"Sam is one tough kid," Greenway told the group.
Sam is in need of a heart transplant – certainly a weighty situation for anyone, let alone a soon-to-be fifth grader who has an affinity for Lego, Harry Potter, Ghostbusters and more. He's also extremely close to his sister, Maya, and cat, Fuzzbert.
At birth, Sam's doctors detected a congenital heart defect and told his parents, Stacey and Mark, that he'd eventually need a transplant. That day occurred earlier this spring, and Sam officially was placed on the heart transplant list on May 26. He currently wears a backpack I.V. that provides him with constant medication needed while waits.
Greenway and REACH Program Director Chad Harlander caught wind of Sam's story and knew they wanted to help in some way. And help they did.
Greenway, who has been active in the Minnesota community since being drafted by the Vikings in 2006, presented the Schumann family with a check for $7,500.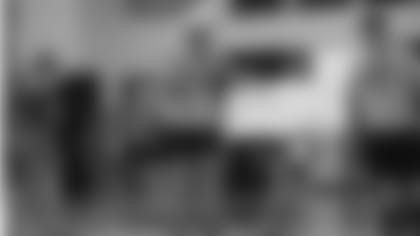 The Schumanns was blown away by the generosity and grateful to be blessed by Greenway and their Hutchinson neighbors.
"The emotional part is what we're going through with Sam, but also the support from the community," Stacey told Blume. "His school, friends and family and even people we don't know. They send us cards of encouragement. It's a great town to live in."
Every year, Day to REACH emphasizes the "bigger than football" concept that greatly aligns with the Greenway family's Lead the Way Foundation. Chad and his wife Jenni started the foundation after their oldest daughter, Maddyn, was born with the goal of making family the focus of their philanthropy. This summer's camp marked the 14th annual, and Maddyn participated herself.
"The message of the camp was 'Hope,' and Chad and his foundation delivered that to Sam and his family," Harris said. "I was really moved by the joy it brought them. It was a wonderful moment to witness."
For Greenway, that's what it's all about.
"IMPACT the people around you," Greenway wrote in a social media post this weekend. "It can change one person or it can change many, but it's always worth it."