After Further Review is a deeper look at plays or stats after Vikings games…
The Vikings entered Thursday's game leading the NFL with 86 sacks in home games since 2016 when U.S. Bank Stadium opened.
Not all sacks are created equal, however. Some are the result of "garbage time" passing situations. Others can be quite pivotal, reversing momentum within a possession or even changing the complexion of a whole game.
The latter scenario rang true on each of Minnesota's four sacks of Washington QBs Case Keenum and Dwayne Haskins, Jr., in the 19-9 Vikings victory.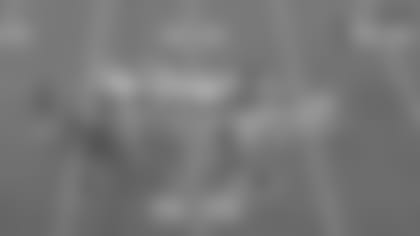 Q1, 9:04 remaining — First-and-10 at the Minnesota 47
The Redskins, who entered the game with a third-down conversion rate of 24.7 percent (31st in the NFL), have just converted a third-and-11 with a pass from Keenum to Wendell Smallwood.
Washington tries to use play action out of the I-formation to set up a deep pass. Keenum fakes a handoff to Adrian Peterson, which garners attention from linebackers Anthony Barr, Eric Kendricks and Ben Gedeon.
The problem, however, is the design of the protection leaves Everson Griffen and Danielle Hunter with 1-on-1 matchups around the edge. Griffen is going against left tackle Donald Penn, and Hunter is facing tight end Hale Hentges while right tackle Morgan Moses is essentially going against no one.
Hunter wins what most would consider a mismatch. He is able to jar the ball away from Keenum and force a fumble recovered by Shamar Stephen.
The takeaway set up Minnesota's first of four field goals from Dan Bailey on the night.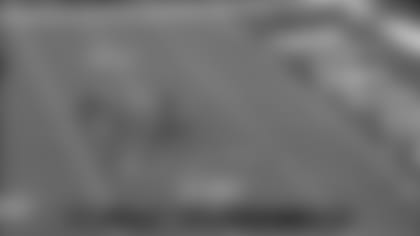 Q2, 2:53 remaining — Second-and-goal at the Minnesota 5
Washington goes with a shotgun spread formation with three eligible receivers to Keenum's left and two on the right.
Minnesota rushes just four and plays coverage with seven defenders out of its nickel package.
Linval Joseph, who often faces double teams because of his strength, gets a 1-on-1 with left guard Ereck Flowers, Sr., a former tackle. Joseph is listed at 329 pounds, and Flowers is listed at 330, but Joseph drives the former first-round pick back several yards and into Keenum's space, taking away the quarterback's ability to scramble away.
Joseph also forces a fumble, but the Redskins recover after a 7-yard loss. An incompletion and field goal follow.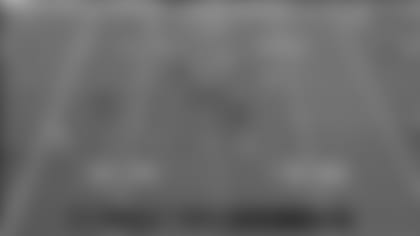 Q3, 6:38 remaining — Second-and-6 at the Minnesota 21
Peterson has just gained 54 yards in a three-play span on a 21-yard reception and runs of 29 and 4 yards to move Washington within field-goal range.
Head Coach Mike Zimmer dials up a blitz by Barr to stop the surge in momentum.
The linebacker avoids showing blitz too early and accelerates through a hole that is opened between the left tackle and left guard by Griffen and Stephen. The rookie QB never sees it coming.
Barr makes first contact, and Griffen helps finish the tackle for a loss of 10. A field goal follows two plays later.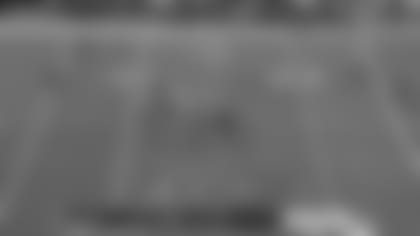 Q4, 9:10 remaining — Third-and-5 at the Washington 30
With a 10-point lead and under 10 minutes to go, the Vikings are in nickel for a third-and-5 and load the line of scrimmage with pass-rush threats.
Hunter is at left defensive end. Stephen Weatherly and Ifeadi Odenigbo are at defensive tackle, bookending Barr and Kendricks, who line up in the Double A-gap look. Griffen is at right defensive end. Harrison Smith also is up on the line of scrimmage on the right of Griffen.
Washington shifts Trey Quinn from right to left but is asking the QB and sideline for help on the play call. Quinn never comes to a stop, causing an illegal shift penalty that ultimately is declined.
Barr, Kendricks and Smith drop into coverage after the snap, and the Vikings rush four.
Haskins, Jr., doesn't like what he sees on the play and tries to buy more time by moving to his right as Odenigbo comes in on the left (he's being held by No. 72) in the screen shot.
Weatherly does a good job of seeing and responding to this, keeping the quarterback from escaping.
Odenigbo beats Penn and makes a diving tackle.
The play forces a punt, and Minnesota runs all but the remaining 26 seconds of the game off the clock.