EDEN PRAIRIE, Minn. —Welcome aboard. There's still room on the ship.
It's time for the playoffs, a chance for stars to shine and newcomers to make their own mark.
The Vikings will get an opportunity to add to their history when they host Seattle at noon (CT) Sunday in a Wild Card game.
Here's a quick guide to the 2015 season so far, a crash course on how the Vikings got this point. This guide for fans who may have jumped off the bandwagon after the season opener in San Francisco also includes key players to watch, a look at Sunday's playoff opponent, the impact Vikings Head Coach Mike Zimmer has had this season and a look back at Minnesota's recent postseason history.
Week 1 at San Francisco, 20-3 loss
The Vikings opened their season with a clunker on Monday Night Football. Minnesota allowed the 49ers to run for 230 yards (5.89 per attempt) while its offense only rushed for 71 yards.
Week 2 vs. Detroit, 26-16 win
Minnesota rebounded against a division rival as running back Adrian Peterson tallied 192 total yards, including 134 on the ground. The Vikings forced three Detroit turnovers to even their record at 1-1.
Week 3 vs. San Diego, 31-14 win
Peterson rushed for 126 yards and two touchdowns to pace a Minnesota team that won their second straight game. Linebacker Chad Greenway had a 91-yard interception return early in the fourth quarter.
Week 4 at Denver, 23-20 loss
The Vikings hung tough with the undefeated Broncos, who kicked the game-winning field goal with just under two minutes left. Quarterback Teddy Bridgewater threw for 269 yards and a touchdown. 
Week 6 vs. Kansas City, 16-10 win
A refreshed Minnesota team came off the bye week to notch its third win behind seven catches and 129 yards from wide receiver Stefon Diggs. Kicker Blair Walsh nailed three field goals.
Week 7 at Detroit, 28-19 win
The Vikings swept their NFC North counterpart behind Bridgewater's 316 passing yards and Walsh's five field goals. Minnesota won its first division road game in three years. 
Week 8 at Chicago, 23-20 win
The Vikings capped off a furious late comeback as they scored 10 points in the final two minutes, highlighted by Diggs' 40-yard touchdown catch. Walsh drilled a 36-yard field goal as time expired.
Week 9 vs. St. Louis, 21-18 win
Minnesota arrived at the midway point of its season at 6-2 after a dramatic home win over the Rams. Peterson ran for 125 yards as Walsh kicked the game-winner for the second straight week.
Week 10 at Oakland, 30-14 win
Peterson rushed for 203 yards, his highest total this season, as the Vikings won in the Black Hole. Peterson sealed the deal with an 80-yard touchdown run with 1:50 left in the game. Cordarrelle Patterson returned a kickoff 93 yards for a score.
Week 11 vs. Green Bay, 30-13 loss
The Vikings suffered their one and only division loss at home to the rival Packers as Minnesota's five-game winning streak ended. The Vikings gave up six sacks as Green Bay pulled into a tie atop the NFC North.
Week 12 at Atlanta, 20-10 win
Led by a big day from Peterson, the Vikings got back on the wining track. The Vikings running back rushed for 158 yards and two scores while Minnesota's defense had a pair of interceptions.
Week 13 vs. Seattle, 38-7 loss
It was Minnesota's worst loss of the season, and the Vikings will be looking for redemption this Sunday. The Seahawks raced out to a 21-point halftime lead and quarterback Russell Wilson accounted for four total touchdowns.
Week 14 at Arizona, 23-20 loss
Playing in the desert on a short week, the Vikings had a chance at a potential game-tying field goal before turning the ball over with just seconds left. Bridgewater threw for a career-high 335 yards in the loss.
Week 15 vs. Chicago, 38-17 win
The start of Minnesota's current three-game win streak began behind a stellar game from Bridgewater, who threw for a career-high four touchdowns and added 231 yards through the air. Diggs had a pair of scoring receptions.
Week 16 vs. New York Giants, 49-17 win
The Vikings clinched a playoff berth and closed out the regular season at TCF Bank Stadium on a frigid night. Safety Harrison Smith returned an interception for a score, one of three Minnesota picks on the night.
Week 17 at Green Bay, 20-13 win
The Vikings clinched the NFC North title for the first time since 2009 at the expense of their biggest rival. Adrian Peterson wrapped up his third career rushing title as Minnesota won in Green Bay for the first time in six years.
The Skinny on Sunday's Opponent 
The Seahawks have had plenty of playoff success of late, especially over the last two seasons. Seattle has won five of its past six postseason games, the only loss coming in last year's Super Bowl.
The Seahawks aren't an unfamiliar opponent though as the Vikings squared off in with them Week 13. Led by quarterback Russell Wilson and a strong defense, Seattle won 38-7 earlier this season.
The Seahawks finished 2015 first in points allowed for a fourth straight year and ranked fourth in total offense (yards gained), second in total defense (yards allowed) and first in rush defense.
Adrian Peterson, RB: NFL rushing leader with 1,485 yards, good for his third rushing title.
Teddy Bridgewater, QB: Tied team record for most wins in first two seasons with 17.
Stefon Diggs, WR: Rookie led Vikings in catches with 52.
Everson Griffen, DE: The sixth-year pro led the Vikings with 10.5 sacks and 17 tackles for loss.
Eric Kendricks, LB: Rookie led Vikings in tackles with 105.
Terence Newman, CB:The offseason addition via free agency led the Vikings with three interceptions and 14 passes defended.
Blair Walsh, K: Led the NFL with 34 field goals made.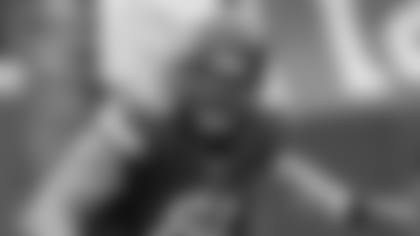 Joe Berger, C: The 11-year veteran started all 16 games to anchor the offensive line.
Danielle Hunter, DE: The rookie finished second on the team with six sacks.
Jerick McKinnon, RB: A second-year player, McKinnon has provided a handful of explosive plays in relief of Peterson.
Andrew Sendejo, S: The defensive back is second on the team in tackles with 100 and is serving as special teams captain this week.
Vikings Head Coach Mike Zimmer is in his second season as the man in charge of the franchise. Zimmer, who calls Minnesota's defensive plays and is a former defensive coordinator, is one of three coaches to lead the Vikings to the playoffs in their second season as head coach.
Zimmer, a non-nonsense coach who has brought a blue-collar attitude to the franchise, said he knows his team is considered an underdog on Sunday.
"I know no one has given us a chance to win this game and that's fine," Zimmer said. "There's only four teams in the league that have a better record than us so we've done a couple things right.
"Whether or not we got beat 38-7 or whatever it was, it really has no bearing (on Sunday).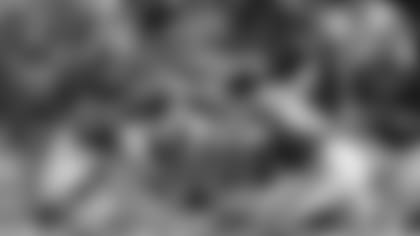 This game will be the first time the Vikings have hosted a playoff game outdoors since the 1976 NFC Championship when they defeated the Los Angeles Rams to advance to Super Bowl 11. 
The Vikings last made the playoffs in 2012, when the lost 24-10 to Green Bay.
Minnesota also made the playoffs in 2008 and 2009, the latter year came with an NFC North title.
Only five players are left from the 2009 team: Peterson, linebacker Chad Greenway, defensive end Brian Robison, offensive tackle Phil Loadholt and center John Sullivan. Loadholt and Sullivan are on injured reserve this season.