The Vikings will open Week 1 at home for the second consecutive season at noon (CT) Sunday by hosting the 49ers.
Here are three non-Vikings games to watch.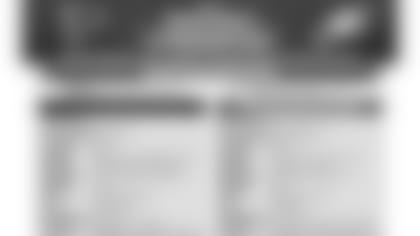 National Radio: Westwood One
Sirius: 81 (ATL), 83 (PHI) | XM: 226 (ATL), 225 (PHI)
The NFL season kicks off at 7:20 p.m. (CT) today with a matchup between the Falcons and Eagles.
Atlanta last visited Philadelphia in the Divisional Round of the 2017 NFC Playoffs on the eve of Minnesota hosting New Orleans.
The Eagles outlasted a last-second comeback attempt and advanced with a 15-10 victory.
After the Vikings eliminated the Saints with a 29-24 victory by scoring the Minneapolis Miracle on the final play of the game, Minnesota headed to Philadelphia for the NFC Championship Game. The Eagles prevailed and then topped the Patriots to win the first Super Bowl trophy in franchise history.
The 41,796 passing yards by Falcons QB Matt Ryan are the most in a player's first 10 seasons.
Julio Jones, who led the NFC with 1,444 receiving yards in 2017, and Mohamed Sanu, who recorded a career-best 67 receptions last season, have been joined by first-round pick Calvin Ridley.
Atlanta's backfield features Devonta Freeman (1,182 scrimmage yards and eight touchdowns in 2017) with plenty of Tevin Coleman, who had 927 scrimmage yards and eight touchdowns.
Reigning Super Bowl MVP Nick Foles will start for Philadelphia. He became the third quarterback in NFL history to start and win a Super Bowl after starting three or fewer games in the preceding regular season. Foles completed 77 of 106 passes for 971 yards with six touchdowns and one interception during the 2017 postseason.
Zach Ertz led NFC tight ends with 74 receptions and 824 yards. He caught a career-best eight touchdowns, helping the Eagles become the 11th team in NFL history to have three players with at least eight receiving touchdowns in a season.
An active Eagles defensive line added former Seahawk Michael Bennett during the offseason. He had 8.5 sacks for Seattle in 2017 and is joining a group that includes Brandon Graham (9.5 sacks in 2017) and Fletcher Cox, whose 21.5 sacks rank fourth among NFL defensive tackles since 2015.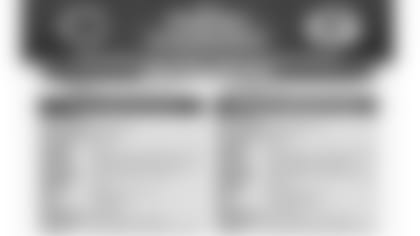 National Radio: Westwood One
Sirius: 81 (CHI), 83 (GB) | XM: 226 (CHI), 225 (GB)
An NFC North showdown will take center stage on Sunday night when the Bears visit the Packers for the 195th game between the franchises. Green Bay holds a slight edge with a 95-93-6 mark.
Vikings fans can do some advance scouting on Minnesota's Week 2 opponent and locale and see Matt Nagy's first game as an NFL head coach.
The Packers have won three consecutive Week 1 games.
The Bears recently traded to acquire Khalil Mack from the Raiders. Mack's 36.5 sacks since 2015 rank second in the NFL.
Other players in line to make their Bears debuts include receiver Allen Robinson, as well as rookies Roquan Smith, a linebacker who was selected with the eighth overall pick, and Anthony Miller, who was drafted in the second round.
Jordan Howard led the Bears ground game with 1,124 rush yards and nine rushing touchdowns. He is the first player in franchise history to rush for more than 1,000 yards in each of his first two seasons.
Aaron Rodgers became the 11th QB in NFL history with at least 300 career touchdown passes. Rodgers entered the 300 club in 2017. He is 1,498 yards from becoming the 20th QB with 40,000 yards.
Davante Adams caught 10 touchdowns to rank second in the NFL in 2017. He has 22 touchdown catches since 2016, including four in his past four games against the Bears.
Veterans making their Packers debut include tight end Jimmy Graham, who led NFL receivers with 10 receiving touchdowns in 2017, and defensive lineman Muhammad Wilkerson.
National Radio: Westwood One
Sirius: 138 (LAR), 137 (OAK) | XM: 228 (LAR), 227 (OAK)
After waiting so long for the return of football, why not make it a long weekend to get an early look at the Rams, whom the Vikings will visit in Week 4?
The Rams have won three of their past four games against the Raiders and are making their first trip to Oakland since Sept. 19, 2010.
Rams Head Coach Sean McVay, 32, is entering his second season, and Jon Gruden, 55, is back on the sidelines for the first time in a decade. A year ago, Gruden was covering games for ESPN's Monday Night Football. Now, he'll be covered.
Los Angeles led the NFL in scoring average (29.9 points per game) in 2017 when McVay was named Coach of the Year by the Associated Press.
The Rams also had the Offensive (Todd Gurley) and Defensive (Aaron Donald) Players of the Year. Gurley led the NFL with 2,093 scrimmage yards and 19 total touchdowns. Donald is one of three players with 8.0 or more sacks in each of the past three seasons.
WR Brandin Cooks, DT Ndamukong Suh, and CBs Marcus Peters and Aqib Talib are making their Rams debuts.
Oakland's Derek Carr is one of three quarterbacks in NFL history (Peyton Manning and Russell Wilson) with more than 3,000 passing yards and 20 or more touchdowns in each of his first four seasons.
Marshawn Lynch ranks second among active RBs with 81 rushing touchdowns and 10,003 yards.
RB Doug Martin, WR Jordy Nelson and LB Tahir Whitehead joined the Raiders this offseason.