Returning starters: CB Cameron Dantzler, CB Patrick Peterson, S Harrison Smith
Also on the roster (listed alphabetically by last name): CB Andrew Booth, Jr., CB Kris Boyd, S Mike Brown, S Camryn Bynum, S Lewis Cine, S Myles Dorn, CB Akayleb Evans, CB Nate Hairston, CB Harrison Hand, S Josh Metellus, CB Parry Nickerson, CB Tye Smith and CB Chandon Sullivan
Safety: The safety spots were fairly straightforward last season, with Harrison Smith starting all 15 games he played and Xavier Woods starting every game of his one and only season in Minnesota. Smith missed two games on the Reserve/COVID-19 list and was replaced by the rookie Bynum. Metellus played in 16 games but contributed mainly on special teams, totaling 54 defensive snaps. Dorn played in nine games and exclusively on special teams.
Cornerback: At outside corner, Peterson and Bashaud Breeland started 13 games apiece. Breeland was released on Dec. 18, and Dantzler stepped in as the starting corner opposite Peterson; between filling in for Peterson and Breeland, Dantzler finished the season with seven total starts. The slot corner position was manned primarily by Mackensie Alexander, who is currently a free agent. Boyd appeared in 15 games last season, making one start. Hand played in nine games, almost entirely on special teams, while Nickerson and Tye Smith played in four and five games, respectively, on defense and special teams.
3 Key Questions for the Vikings Secondary
1. Will Lewis Cine make an impact as Week 1 starter?
With Woods no longer on the Vikings roster, Bynum and Cine, Minnesota's first-round draft pick this spring, could be the frontrunners for the starting job alongside Harrison Smith.
"I'm a natural leader. I know that right away, I don't have to do much. Just be myself," Cine told Twin Cities media members. "As long as I'm communicating with the guys generally, enjoying the game, leadership comes really easy after that."
Vikings Head Coach Kevin O'Connell encouraged Cine to embrace the leadership opportunity, as well, telling the youngster, "There's a reason you were our first-round pick."
"He's got that makeup, and it comes naturally to him to lead by example. But I challenged him, 'Take the rest of that DB group under your wing. You have Andrew with you, you have Akayleb and some guys there that we are going to count on to compete.' "
Showing leadership is one thing, but on-field performance is – of course – crucial to Cine's success in his first NFL season.
Cine told reporters that he was "real familiar" with Defensive Coordinator Ed Donatell's scheme and is mainly focused on learning new terminology and communicating with his teammates.
"The game of football is not a one-man game," Cine said.
2. Will Andrew Booth challenge for a starting role?
The Vikings second-round draft pick hasn't yet had the opportunity to show his full skill set, as Booth has been working his way back from an injury.
O'Connell said this spring that Booth is "really close" to being full-go, and the cornerback was eased into things throughout the offseason program.
Assuming Booth is full healthy for training camp and the preseason, does he have a shot at challenging for a starting position?
Considering Peterson's pedigree and the Vikings desire to bring him back after last season's one-year deal, it seems likely that the All-Pro will remain grounded in a starting role. But on the other side, has Dantzler done enough to solidify his spot?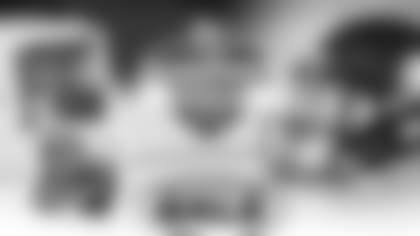 2022 Vikings Training Camp
Find out everything you need to know about Vikings Training Camp including schedule, tickets, activities and more.
Dantzler has played 25 games over his first two NFL seasons, making 17 starts, and done some good things amid growing pains expected of a young corner. He hasn't yet proven himself as a set-in-stone starter, though, and Booth can probably write his own fate.
After Minnesota drafted Booth 42nd overall, Vikings Senior VP of Player Personnel Ryan Grigson lauded his athleticism and passion for the game, calling the 21-year-old a "football junkie" who's devoted entirely to the game.
"I feel like he really cares. And that really comes through when you watch his play. And when the ball's in the air, he's going to attack," Grigson said. "Another really encouraging thing is if he does make a mistake, you can kind of pick up points in the film where he makes up for it."
 Grigson was asked if Booth could vie for a starting job; he responded, "I think that's up to him."
3. Is Chandon Sullivan automatic plug-and-play at nickel?
With Alexander no longer on the roster, which cornerback will primarily man the slot when Minnesota is in its nickel defense?
Sullivan has the most experience.
In 2021, Sullivan played all 17 regular-season games for Green Bay, including making 10 starts. Of the 826 defensive snaps he played, 665 were from the slot, according to analytics site Pro Football Focus.
Sullivan has played both inside and outside corner but said he's "made a home in the slot" over the past couple of seasons.
"We'll just see how it goes," he said this spring. "Whatever opportunity and whatever position they need me to play, I'll be ready to go."
Sullivan detailed the toughest part of playing nickel corner, saying it sometimes feels like being on an island.
"It's a lot going on, and it's just a different feel. When you're a corner, you have the sideline and being able to keep your leverage. When you're in the slot, a lot of times, guys have a two-way go, so there's a lot of room in there," Sullivan said. "It can be a little scary for guys, but I feel like I've made the right adjustments. Continue to improve my tackling. Ball skills, continue to improve that. It's a position that's definitely fun.
"My first couple seasons I bounced around. I played corner, I played safety, I played dime," he added. "It wasn't really until Year 2 or Year 3 that I locked in and became a full-time nickelback. I'm comfortable there, but like I said, I can play any position in the secondary."