The 2021 NFL Draft is just three days away. The seven-round, three-day event kicks off at 7 p.m. (CT) Thursday from Cleveland.
And while many draft analysts have dissected the Vikings potential needs all offseason, what are they saying with a little more than 72 hours to go?
Connor Orr of Sports Illustrated recently unveiled his top draft needs for all 16 NFC teams, and opined that Minnesota could be in the mix for an edge rusher, as well as help for the interior offensive line.
The Vikings are primed for a comeback this year and still have a great roster foundation. The problem is that [Vikings Head Coach] Mike Zimmer needs more help on the edge and is unusually thin at the cornerback spots despite replenishing the position plenty over the years via the draft.
Minnesota could also use some interior offensive line help to hoist Dalvin Cook and the running game a year after its zone-heavy rushing attack recorded one of the higher EPA/rush ratings in the NFL. Cook faced one of the highest percentages of eight-plus man boxes last year and still managed to overproduce about 45 percent of the time, essentially putting him in the same realm as Derrick Henry a year ago. While the rise of Justin Jefferson will certainly alter those loaded box numbers, the Vikings are going to remain a fundamentally no-motion, under-center team. Depth on the offensive front helps keep an unlikely performance going.
The Vikings currently have 10 picks, beginning with the 14th overall selection. Minnesota also has a pair of third-rounders (Nos. 78 and 90), as well as a quartet in the fourth round (Nos. 119, 125, 134 and 143).
As for the rest of the NFC North, here's the direction Orr projected the Lions (No. 7 pick), Bears (No. 20) and Packers (No. 28) to go with Thursday night.
He wrote that Detroit could go with a wide receiver while also keeping an eye on cornerback, linebacker or safety.
Orr noted that Chicago's needs include quarterback, cornerback, pass rusher and wide receiver, while Green Bay could focus on inside linebacker, cornerback, edge rusher or a pass-catching weapon.
The 2021 NFL Draft will be aired on ABC, ESPN and NFL Network for all seven rounds. The first round is Thursday night. Rounds 2 and 3 begin at 6 p.m. (CT) Friday and the final four rounds kick off at 11 a.m. (CT) Saturday.
Brugler delves into draft-board disagreements
By the time the draft rolls around, you might get five different opinions on a player if you were to ask five different people around the league.
Unsurprisingly, not every draft expert is in lockstep agreement on the exact order of their own draft boards, even if they tell you that theirs will end up being the most accurate.
Dane Brugler of The Athletic is one of the most well-respected draft analysts across the country and decided to do a fun exercise with the draft looming.
Brugler, of course, has his own personal draft board with his Top 300 players. But The Athletic also compiles a consensus big board, complete with opinions from roughly 50 other draft experts.
And, since not everyone sees eye-to-eye on players, Brugler dove into where his rankings misalign with the consensus board.
Brugler began with Alabama center Landon Dickerson, whom he has ranked 21st. But the consensus board has Dickerson averaged 34th overall.
I just can't quit Landon Dickerson, who is easily one of my favorite players in the class. His combination of power, quickness and competitiveness is outstanding and why he has Pro Bowl potential at either center or guard. His injury history is tough and makes it tough to accurately rank him. But in the late first or early second, he would be a bargain.
Brugler also has a varying opinion on Washington edge rusher Joe Tryon, who is ranked 34th on his board. Other experts, meanwhile, average Tryon at No. 53 overall.
Tryon put intriguing flashes on his 2019 film and led the Huskies in tackles for loss (12.5) and sacks (8.0). He opted out of 2020, but the intrigue is still there, especially with his raw traits. At 6-5, 260 pounds with 34-inch arms, he ran a 4.65 40-yard dash with a 7.18 three-cone and posted numbers very similar to Marcus Davenport, who was a top-15 pick in the 2018 draft. Davenport hasn't lived up to his draft spot, but that won't stop NFL teams from betting on intriguing traits, especially at pass rusher. There will be several teams in the back half of Round 1 that consider Tryon.
While Brugler is higher on those two players than most, he's also lower on some prospects than the consensus big board.
That's the case with tackle Dillon Radunz of North Dakota State, a Minnesota native who grew up in Becker, which is roughly 50 miles northwest of U.S. Bank Stadium.
While the consensus big board has Radunz ranked 47th, Brugler has him as his No. 74 overall prospect.
Based on his tape, I gave Dillon Radunz a fourth-round grade, mostly due to strength and balance issues. But he played well during Senior Bowl practices, which gave him a little bump for me. He moves well and plays with attitude and toughness, so there is plenty to like. But his overaggressive tendencies are usually costly and will be more pronounced versus NFL talent, which is why I just couldn't put him in my top 50.
While these are just three discrepancies between Brugler and the consensus big board, the draft expert looked at disparities for nine total prospects in his article.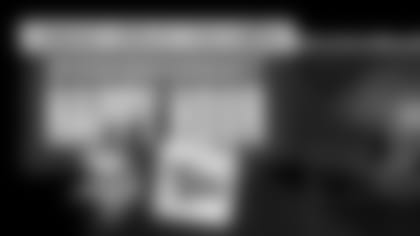 Vikings Draft Virtual Happy Hour
The #VikingsDraft Virtual Happy Hour, presented by Miller Lite will kick off Day 1 of the 2021 NFL Draft from 5:30-6:30 p.m. CT.
The exclusive live-streamed social hour will give fans the opportunity to interact and celebrate with their favorite Vikings analysts, players and influencers across Vikings.com, Twitter, Facebook, Instagram and YouTube.