EAGAN, Minn. — The conversation about Vikings receivers in 2018 will always center around a historic campaign by Adam Thielen and Stefon Diggs.
The dynamic duo became the first set of Vikings to each record more than 100 receptions in a season and the first Vikings receivers to each post more than 1,000 yards since Hall of Famers Cris Carter and Randy Moss did so in 2000.
Thielen led the Vikings with 113 receptions, the third-most by a player in one season in team history. The total tied for third in the NFL in 2018 and trails only the 122 by Carter in 1994 and 1995 in the Minnesota record book.
Thielen finished with 1,373 receiving yards, which ranked sixth in the NFL, thanks in large part to nine games with 100-plus yards, which broke Moss's franchise record of eight in one season. Thielen became the first player in NFL history to open a season with eight such games.
The streak tied an NFL record set by Calvin Johnson, and it ironically ended against Johnson's former Lions team in Week 9. That also was the only game missed by Diggs in 2018.
Diggs posted his third consecutive season with at least 849 yards and hit the 1,000-yard threshold for the first time.
He and Thielen tied for 10th in the NFL with nine receiving touchdowns apiece.
Diggs tied Carter's franchise record for games with at least 10 catches in a season (Carter had four games in 1994 and equaled that in 1995). He had 11 at Los Angeles, 10 at Philadelphia, 10 against New Orleans and 13 at Chicago.
He also had nine receptions at Green Bay and three games with eight receptions (at New York Jets and at home against the Packers and Bears). Diggs drew plenty of attention from opponents, including double teams and even a triple team on a play at Seattle.
As the season progressed, opponents did more and more to take away Thielen and Diggs, and the Vikings struggled to fully establish a third threat among the position group.
A collective effort by receivers Chad Beebe (three catches, 21 yards), Laquon Treadwell (two, 37) and Aldrick Robinson (two, 20) helped make up for the absence of Diggs against Detroit in Week 9.
But Minnesota's receivers beyond Thielen and Diggs combined for just six catches for 67 yards on 16 targets in the final four games of the season, 40 yards of which came on a touchdown to Robinson against Miami.
It's worth pointing out that the Vikings focused on getting the run game going against the Dolphins and were able to go to tight end Kyle Rudolph nine times for a career-best 122 yards and two touchdowns at Detroit.
74 — Of Thielen's 113 receptions, 74 resulted in first downs, which tied for third in the NFL. Thielen's 29 receptions on third downs ranked fourth in the league.
Diggs and Thielen helped spark a 22-point outburst in the fourth quarter at Green Bay in Week 2 when they combined to make five receptions for 118 yards and three touchdowns.
Diggs had scoring plays of 3 and a career-long 75 yards as Minnesota turned a 20-7 deficit at the start of the fourth quarter into a 23-21 Packers lead with 7:18 remaining in regulation. Diggs' ability to keep his balance on the deep ball after contact and make it into the end zone saved valuable time during the comeback effort.
Thielen then pulled in a 22-yard touchdown by using Moss-esque late hands to prevent defenders from trying to break up the pass. His score with 31 seconds left in regulation, and a 2-point conversion pass to Diggs knotted the score at 29 to force overtime in what became the 11th tie in Vikings history.
Regular-Season Statistics
113 receptions for 1,373 yards (12.2 yards per catch) and nine touchdowns
Catch rate: 73.9 percent (153 targets) | Receptions of 20-plus yards: 17
102 receptions for 1,021 yards (10.0 yards per catch) and nine touchdowns
Catch rate: 68.5 percent (149 targets) | Receptions of 20-plus yards: 13
35 receptions for 302 yards (8.6 yards per catch) and one touchdown
Catch rate: 66.0 percent (53 targets) | Receptions of 20-plus yards: 1
17 receptions for 231 yards (13.6 yards per catch) and five touchdowns
Catch rate: 48.6 percent (35 targets) | Receptions of 20-plus yards: 2
4 receptions for 39 yards (9.8 yards per catch)
Catch rate: 100 percent (4 targets) | Receptions of 20-plus yards: 0
1 reception for 23 yards (23.0 yards per catch)
Catch rate: 50 percent (2 targets) | Receptions of 20-plus yards: 1
0 receptions, 1 drop on 1 target; was released after Week 2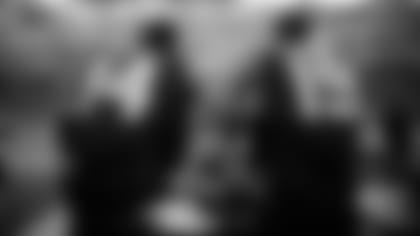 1. After combining for 21 receptions, 259 yards and three scores at Green Bay in Week 2, Thielen and Diggs were back at it in Week 12 at home against the Packers.
With Moss in the house to receive his Hall of Fame Ring of Excellence, Thielen had eight receptions for 125 yards and a touchdown for his franchise-record ninth triple-digit receiving game of 2018. Diggs also had eight catches for 77 yards and a 30-yard score.
The tandem totaled 37 receptions for 461 yards and five scores against Green Bay in 2018.
2. In a performance that was undermined by the Vikings defense uncharacteristically struggling, Vikings receivers (Diggs, Thielen, Treadwell and Robinson) combined for 25 receptions, 338 yards and three scores against the Rams in Los Angeles in Week 4.
Robinson caught two touchdowns (16 and 17 yards) that gave Minnesota leads of 7-0 and 17-14 in just his second game with Minnesota. Thielen had a 45-yard touchdown that brought the Vikings to within three (31-28) with 3:35 left in the third quarter.
1. On the same day that Treadwell recorded his first career touchdown, a 14-yard reception to tie the game at 7 in the first quarter, the 2016 first-round pick had a drop that resulted in an interception. Ha Ha Clinton-Dix returned the football 24 yards to the Minnesota 13 with 2:04 remaining in the fourth quarter.
The Vikings defense responded by limiting the Packers to a 36-yard field goal that put Green Bay up 29-21 with 1:45 left in regulation.
Minnesota bounced back with a 75-yard touchdown drive and tied the game with 31 seconds remaining in regulation.
An overtime period that hurt both teams in the long run (think Dalvin Cook hamstring injury and two misses by Daniel Carlson in what became his final of two games with Minnesota) followed.
2. It is hard to fault Thielen for much of anything in 2018. There was, however, one major blemish.
After a short pass, the receiver was fighting for a few extra yards against the Saints and turned toward the middle of the field, enabling linebacker Alex Anzalone to force a fumble. Marshon Lattimore recovered the football and returned it 54 yards from the New Orleans 13 to the Minnesota 18 with just 57 seconds left in the first half.
The Saints scored two plays later to take a 17-13 lead into the locker room. Instead of Minnesota having perhaps a 16-10 or even 20-10 edge and controlling the flow of the game, the Vikings found themselves behind the 8-ball after the momentum swing.
"I think the high expectations is what we deserved because we have a lot of talent, we have a lot of character, we have a lot of guys who love the game of football. So we should have high expectations. We just didn't capitalize, and we didn't execute. And that's what this league's all about – it's all about execution. It's all about going out there and playing your best on Sundays, and we just didn't do that consistently enough this year."
— Thielen on the Vikings entering 2018 with high expectations
"This year was a growing year for me. I pride myself each and every year on trying to get better. This was a year I continued to grow, a lot of lessons, a lot of good things happened, a lot of bad things happened. I'm still rolling with the punches, but as far as a man and player, I feel like I grew."
— Diggs on the progress he made in 2018