Running backs had their chance to impress all 32 NFL teams at the 2016 NFL Scouting Combine in Indianapolis. 
They participated in on-field drills Friday at Lucas Oil Stadium and are part of more than 300 draft-eligible prospects being evaluated.
All draft prospects partake in a variety of drills that include: 40-yard dash, 225-pound bench press, vertical jump, broad jump, 20-yard shuttle and 3-cone drill. Some also do the 60-yard shuttle.
The 40-yard dash measures pure straight-line speed and is tailored toward skill positions such as running backs, wide receivers and cornerbacks. 
Agility drills such as the 20-yard shuttle and 3-cone drills help gauge linebackers and safeties. The 225-pound bench press and broad jump can help with assessments of offensive and defensive linemen to measure strength and explosiveness.
Georgia running back Keith Marshall had the fastest 40-yard dash in 4.31 seconds, while Nebraska fullback Andy Janovich had the most reps in the bench press with 30.
Marshall and Janovich's marks were very solid for their position. NFL.com put together the chart below that demonstrates the target numbers for each combine drill based on player position (scroll below for top five performances by running backs in each drill):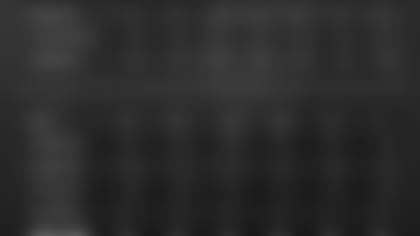 Here were the top running back performances at the combine:
Keith Marshall, RB, Georgia, 4.31 seconds
Tyler Ervin, RB, San Jose State, 4.41
Kenyan Drake, RB, Alabama, 4.45
Daniel Lasco, RB, California, 4.46
Marshaun Coprich, RB, Illinois State, 4.47
(tied) Ezekiel Elliott, RB, Ohio State, 4.47
(tied) Wendell Smallwood, RB, West Virginia, 4.47
Andy Janovich, FB, Nebraska, 30 reps
(tied) Dan Vitale, FB, Northwestern, 30
Soma Vainuku, FB, USC, 26
Keith Marshall, RB, Georgia, 25
DeAndre Washington, RB, Texas Tech, 24
Daniel Lasco, RB, California, 41.5 inches
Tyler Ervin, RB, San Jose State, 39
Dan Vitale, FB, Northwestern, 38.5
Kenneth Dixon, RB, Louisiana Tech, 37.5
Derrick Henry, RB, Alabama, 37
Daniel Lasco, RB, California, 11 feet, 3 inches
Tyler Ervin, RB, San Jose State, 10-10
(tied) Derrick Henry, RB, Alabama, 10-10
Paul Perkins, RB, UCLA, 10-4
Kenyan Drake, RB, Alabama, 10-3
(tied) Dan Vitale, FB, Northwestern, 10-3
Wendell Smallwood, RB, West Virginia, 6.83 seconds
Shad Thornton, RB, North Carolina State, 6.85
Kenneth Dixon, RB, Louisiana Tech, 6.97
Peyton Barber, RB, Auburn, 7.00
DeAndre Washington, RB, Texas Tech, 7.03
Dan Vitale, FB, Northwestern, 4.12 seconds
DeAndre Washington, RB, Texas Tech, 4.20
Peyton Barber, RB, Auburn, 4.21
(tied) Kenyan Drake, RB, Alabama, 4.21
(tied) Shad Thornton, RB, North Carolina State, 4.21
Wendell Smallwood, RB, West Virginia, 11.14 seconds
Daniel Lasco, RB, California, 11.31
Dan Vitale, FB, Northwestern, 11.36
Kenneth Dixon, RB, Louisiana Tech, 11.50
(tied) Derrick Henry, RB, Alabama, 11.50