MINNEAPOLIS – Magnus Olsen became a Vikings fan on Aug. 14, 1988.
He remembers that day like it was yesterday. The Vikings and Bears met for an exhibition contest at Ullevi Stadium in Gothenburg, Sweden, marking the first NFL game to be hosted on the European continent.
Olsen had never before seen an American football game, but the Vikings won him over.
"It was quite a new experience to everyone," Olsen said on Sunday. "We didn't really know what the game was. That was the starting point of sparking the interest.
"It's so physical. It's tough," he added. "I think it challenges you on so many levels, and that was what made me fall in love with the sport."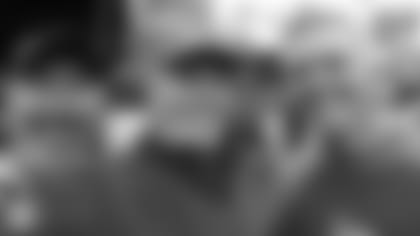 Olsen followed the Vikings vigilantly from that point on, weathering the team's ups and downs and learning more and more about the game of football. He even went on to join a team in Sweden himself and has done some coaching, as well.
After 30 years of fandom, Olsen finally made the 4,000-mile trek to the United States to see his beloved Vikings play in person. He traveled to Minneapolis last November with his brother and nephew and watched the Vikings defeat the division-rival Packers 24-17 at U.S. Bank Stadium.
Olsen called the Vikings venue "absolutely fantastic" and added that he felt a bit overwhelmed entering the stadium for the first time.
"We don't have stadiums like this in Sweden," Olsen said. "The atmosphere, the tailgating and all the fans, it just brings it to a whole different level."
He and his family then flew to Boston for the Patriots-Vikings matchup.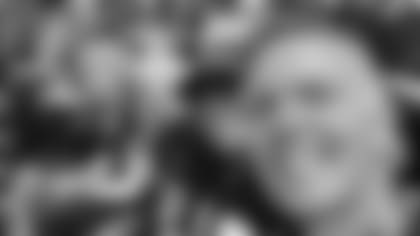 Olsen opted for a warmer time in Minneapolis this time around and planned his trip for early September.
On display there is Olsen's original game program from that day, which he donated to the Museum.
"That made me proud," Olsen said. "It's a small, small contribution to the legacy, but that means a lot to me."
On Sunday, he arrived early to U.S. Bank Stadium and tailgated with fellow fans he connected with last year before watching the Vikings take on the Falcons.
Olsen wore a purple Harrison Smith jersey and tied a small, blue-and-yellow Swedish flag through his belt loop.
"I want to represent my country," he explained proudly.
Asked about his favorite players, Olsen shared that he still has a photo of Scott Studwell at his home in Sweden, having been drawn to the linebacker's fierce play when he started following the team in 1988.
It just so happed that Studwell sounded the Gjallarhorn before kickoff.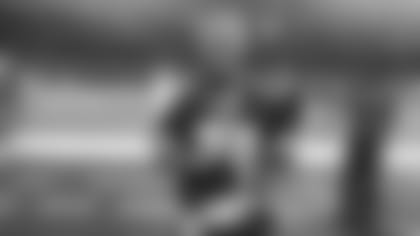 Olsen currently closely follows Smith and was most excited to see the Pro Bowler in action Sunday.
"I like intelligent players and players that are versatile, able to do a lot of stuff, and he's all over the field," Olsen said. "He brings such intimidation to the opponent just by his presence, and I love that about him."
Just prior to kickoff, Olsen accurately anticipated a high-scoring Minnesota offense that went on to defeat Atlanta 28-12.
"They have the talent. They have the tools," Olsen said before kickoff. "I've also been following the rebuilding of the coaching staff on the offense, so my expectations are that we score a lot today and get off to a great start before the Packers next week."
Olsen will travel to Green Bay to watch the Border Battle at Lambeau Field before heading back home, where he will continue to spread his love for the Vikings.
But he assures that he will be back.
"I'm sharing, telling the story [of the Vikings], and I am so fortunate to live these experiences," Olsen said. "And I have made good friends here in Minnesota, so this is a tradition. I'll be coming over every year for a couple of games, for sure."