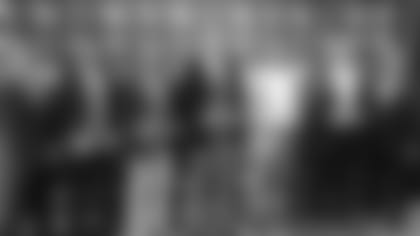 MINNEAPOLIS — It was just two years ago that Adam Thielen was on stage at the Minnesota Football Honors ceremony to accept his award for the Vikings top special teams player for the 2015 season.
But when the Vikings wide receiver strolled up on stage Sunday afternoon at U.S. Bank Stadium, it was to receive the team's Offensive Player of the Year.
Thielen was one of a handful of award winners after he led the team with 91 receptions for 1,276 yards (along with four touchdowns) to help him garner Second-Team All-Pro honors along with his first Pro Bowl appearance.
But even though the award shows the progression of Thielen's career, the Minnesota native wasn't about to boast about his accomplishment. 
"I really don't reflect at all, and sometimes it makes my wife mad that I won't reflect," Thielen said with a laugh. "I have bigger goals than that and I want to help this football team as much as I can, and the only way I can do that is to focus on my job right now. 
"But it's an honor, especially with the amount of talent we have. Guys played really well last year, so it's a privilege and something I don't take lightly," Thielen said. "I'm appreciative of it, but it's one of those awards where it takes a lot more than me to win something like that."
While Thielen was named the team's top offensive player, Harrison Smith took home the award for the Defensive Player of the Year.
Smith recorded 93 total tackles with 10 tackles for loss and 1.5 sacks during a 2017 season in which he earned All-Pro honors. He also tied a career-high with five interceptions.
The former Notre Dame standout has appeared in three straight Pro Bowls, although he was snubbed initially last year. 
"It's an honor to be recognized, but it means I was helping us win games, and that's what it's about," Smith said. "Definitely just happy to help contribute to the squad."
A pair of 2017 rookies were also honored.
Center Pat Elflein, a third-round selection a year ago out of Ohio State, was named as the Rookie of the Year.
Elflein started 14 regular-season games and a pair of playoff games for the Vikings in his rookie season. He was named to the PFWA All-Rookie Team and helped the Vikings go 13-3 and win the NFC North while reaching the NFC title game.
"To have something like this, it makes you reflect for a minute," Elflein said. "You realize what you did last year, individually and as a team, but it's time to go to work for next season.
Elflein's rookie-season roommate [and former college rival] — linebacker Ben Gedeon — was also honored as the Special Teams Player of the Year.
"It means a lot, but definitely credit to the core special teamers we had and Coach Prief' putting us in a position to succeed," said Gedeon, who led Minnesota with 18 special teams tackles after being a fourth-round pick out of Michigan. "I'm happy about it, but definitely going to keep improving."
Kyle Rudolph put together another strong season on the field with 57 catches for 532 yards while tying for the team-lead with eight touchdowns, but the Vikings tight end was commended for his ongoing impact and efforts in the Twin Cities on Sunday.
Rudolph, who was named as Minnesota's nominee for the Walter Payton Man of the Year for 2017 in December, was honored at U.S. Bank Stadium as the team's Community Man of the Year.
The tight end is seemingly involved in a different cause each week during the season and was able to open Kyle Rudolph's End Zone at the University of Minnesota Masonic Children's Hospital, an interactive space at the children's hospital that was conceptualized more than two years ago.
"As athletes, we have platforms to do good," Rudolph said. "We've made our home here in the Twin Cities, and we feel like we want to make the Twin Cities a better community than it was when we got here."
Smith, Rudolph's former teammate at Notre Dame, said he is constantly in awe of the work Rudolph and his family do around the area.
"Kyle, with the stuff he does off the field, he is changing lives," Smith said. "Kyle is a guy I've known for a long time, so it's really cool to see the impact he's made in people's lives." 
Each Vikings player received a hearty cheer, but the loudest applause of the night was for Danny Lilya, who took home the Courage Award. 
The junior at Moose Lake High School was born with a broken back and is paralyzed from the waist down, but the teenager showed great perseverance and dedication to become the holder for his high school football team.
Lilya said he was beyond appreciative of the standing ovation given by the audience.
"It was a tremendous honor to have everybody show up tonight … and have everyone be inspired by what I've done, it's a huge honor for me," Lilya said. "There's nothing else like getting a standing ovation from everyone; it was amazing."
Two other awards were presented in honor of longtime Vikings.
The Bud Grant Distinguished Minnesotan Award was presented to Mark Dienhart of the Richard M. Schulze Family Foundation, while the Fred Zamberletti Award was presented to Joel Krekelberg, the athletic trainer at Minnesota West Technical and Community College.
The following awards also were presented:
Stein-Fallon College Scholar Athlete: David Franta, St. John's University
Scholar athletes: Ty Barron (Minnetonka High School), Nick Bloom (Edina High School), Luke Glasener (Melrose High School), Trevor Johnson (Hinckley-Finlayson High School), Logan Josephson (Redwood Valley High School), Carter Kopet (Cleveland High School), Mitchell Oswald (Blooming Prairie High School) and Aaron Robillard (North Branch High School). 
Bobby Bell College Impact Player of the Year Award: Chad Johnson, Concordia College, Moorhead
Sid Hartman Media Award: Kevin Houdek, KEYL/KXDL Radio
Stacy Robinson Leadership Award: Michael Werner, Minneapolis South High School
John Gagliardi Legacy Award: George Larson, Cambridge-Isanti Schools
Innovative Office Solutions In the Game Award: Marshall High School
Murray Warmath Legendary Team Award: 1976 Saint John's Johnnies, Division III National Champions