The Vikings (7-2) will host the Rams (7-2) at noon (CT) Sunday at U.S. Bank Stadium.
This will be the 45th meeting between the two franchises in a series that began with a pair of matchups in Minnesota's inaugural 1961 season. This will be the first time a Rams team has been based in Los Angeles and traveled to Minnesota since 1991.
The game also has been designated as the Vikings "Salute to Service" game. The Salute to Service initiative is part of a year-round effort by the Vikings and the 31 other NFL teams to show appreciation for active service members, veterans and their families.
The NFL works with its core military nonprofit partners to show gratitude for all who have bravely served our country. Since 2011, more than $17 million has been raised through the Salute to Service initiative.
Players will be wearing helmet decals to honor the branches of the U.S. Military. **Thirty-three players** out of the 53 on the active roster requested a specific decal to honor the military service of friends and/or family members.
The Minnesota Vikings also appreciate the military service of the following employees:
Paul Nelson, National Guard
Jared Kuhn, Air National Guard
Here's a look at logistics, events and activities inside and outside of U.S. Bank Stadium:
Delta Vikings Village opens:9 a.m.
Stadium gates open: 9:30 a.m.
A dedicated core Skyway route will be open from 9 a.m. until 6 p.m.
National Television: FOX (Channel 9 in the Twin Cities)
Play-by-play: Kevin Burkhardt; Analyst: Charles Davis; Sideline: Pam Oliver
National Radio:ESPN Radio
Play-by-play: Adam Amin; Analyst: Bill Polian; Sideline: Jeff Darlington
Local Radio: KFAN 100.3-FM in the Twin Cities and across the five-state Vikings Radio Network will carry the game. A pre-game show with Mike Mussman will start at 10 a.m.
Play-by-play: Paul Allen; Analyst: Pete Bercich; Sideline: Greg Coleman & Ben Leber
Color Guard: A Joint Services Honor Guard will be joined on the field by veterans who are Vikings Season Ticket Holders.
National Anthem: Retired Naval officer Generald Wilson will perform the National Anthem.
U.S. Bank Hometown Hero:During each home game, U.S. Bank and the Minnesota Vikings will recognize one individual who has helped make our community a better place. We will honor a Minnesotan who has gone to extraordinary measures.
Sunday's Hometown Hero is George Benedict, a former Winona State football and baseball star who volunteered for Vietnam in 1966. Benedict was wounded during a reconnaissance mission but returned for another tour. He was awarded a Purple Heart and Bronze Star.
Halftime:A special presentation honoring veterans will feature a performance by country music star and former United States Marine Jamey Johnson.
Hy-Vee Veterans Voyage: Five veterans who were treated to an unforgettable trip to Washington, D.C., last weekend will attend Sunday's game. Read about their experience **here**.
POW Recognition: Join us as we recognize retired Navy pilot Arvin Chauncey, who spent 2,105 days in captivity as a prisoner of war. Chauncey's plane was shot down in Northern Vietnam during his 57th combat mission on May 31, 1967. Chauncey was released during Operation Homecoming on March 4, 1973. He has received two Silver Stars, a Purple Heart, a Prisoner of War Medal, a Legion of Merit and a Gold Star.
Vikings Legends will sign autographs from 10:30 a.m. to 11:30 a.m. at multiple locations inside U.S. Bank Stadium and in the Delta Vikings Village. Autographs are subject to change at any time and without notice.
Locations inside U.S. Bank Stadium (game ticket required):
Delta Sky360 Club: Carl Eller
Medtronic Club: Stu Voigt
Hyundai Club: Randall McDaniel
Buffalo Wild Wings Club: Matthew Hatchette
Mystic Lake Club Purple: Anthony Parker
Locations outside U.S. Bank Stadium
Delta Vikings Village (no game ticket required):
Tuineau Alipate
Dave Dixon
Medtronic Plaza (game ticket required):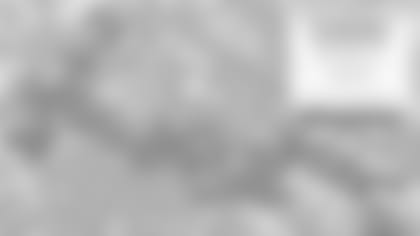 Delta Vikings Village Activities:
The Delta Vikings Village will open at 9 a.m. Sunday to fans with and without game tickets.
Bite Squad, CenturyLink, Hyundai, Hy-Vee, KFAN, Mills Fleet Farm, Medtronic, Mystic Lake, Polaris, Sleep Number, TCO, the United States Air Force and U.S. Bank are scheduled to have fan-engagement areas.
Pepsi Sound the North Stage:
The White Keys will perform from 9:30 a.m.-11:45 a.m.
Delta Vikings Village Stage timeline:
Minnesota Vikings Cheerleaders 10:25 a.m.
SKOL Line performance: 10:40 a.m.
Chuck for Charity – The Vikings new social impact department will be raising money for the Minnesota Vikings Foundation by challenging fans to make a 30-yard throw to an inflatable target.  Winners will receive prizes of varying types each game. The Minnesota Vikings Foundation also will be selling limited edition T-shirts specially designed for the Vikings-Rams game. The T-shirt costs are being covered by U.S. Bank so that all sales can go to the Minnesota Vikings Foundation.
The Prime Sport Longhouse will be open before, during and after Sunday's game to fans with or without game tickets.
Aramark will be serving tailgate fare from the Prime Sport Longhouse and the permanent building on Delta Vikings Village.
Beer, wine and the "Purple Passion" drink will be available for purchase in multiple locations. A Bloody Mary bar also will be open.
The Vikings Locker Room Store will have two merchandise trucks located in the Delta Vikings Village.
Social Impact Partner of the Game:The United Heroes League