ORLANDO –For many NFL players, it all started with their high school football team.  
The six Vikings who played in last week's Pro Bowl have different journeys, but they all share a commonality: they wouldn't be where they are today without the investment of their high school coaches.
Mark Pemberton, who coached Harrison Smith at Knoxville Catholic High School in Tennessee, said the role – especially in the Southern states – isn't one taken lightly.
"When you have these kids [in high school], you're sort of like a father to them," Pemberton told Vikings.com. "When we got [Harrison] as a freshman, we had no idea he was going to end up the way he is now, as good of a football player."
Smith may have bulked up a bit and now sports a different hairstyle but Pemberton said he's the same person he remembers from Smith's teenage years. Vikings coaches now praise Smith's work ethic and his dedication to film study. Pemberton said the safety has always been a student of the game.
"He was a very humble, hard-working kid that didn't say a whole lot; he wasn't a big talker. But he came to work every day and worked his tail off," Pemberton recalled. "You didn't have to correct him too much. You tell him one time, and he's going to get it."
Added Pemberton: "He was very intelligent, like a coach on the field."
Pemberton was just one of numerous coaches honored during Pro Bowl week at a "Thank You, Coach" luncheon hosted by the NFL. Smith, Xavier Rhodes, Linval Joseph and Everson Griffen welcomed their high school coaches to Orlando, and Cordarrelle Patterson also reconnected with a former youth coach.
Rhodes spent time throughout the week with former coach Torriano Brooks, whom he played for at Miami Norland High School, just a three-hour drive from where this year's Pro Bowl kicked off.
Brooks didn't sugarcoat things, recalling an extremely raw Rhodes who initially was dead set on playing wide receiver. He added, however, that he never questioned Rhodes' drive to reach the NFL. According to Brooks, seeing his former player now earn his first Pro Bowl nod – and at cornerback – was both special and rewarding.
"He still had a lot to learn," Brooks said. "With his skill set, we used him at a lot of different positions. He played receiver, he played defensive back for us, he played running back for us; we also even tried him at outside linebacker.
"The athletic ability was there, of course, but it was his demeanor," Brooks added. "He was really a no-nonsense type of kid, and he had a mission in mind."
Brooks said it's been an honor to watch Rhodes develop in Minnesota under Head Coach Mike Zimmer and to have made such a leap in his fourth NFL season.
"The last two years, he's put together some good seasons, and this one was an excellent one for him," Brooks said. "He finally started catching the balls instead of knocking them down; he got a few more picks and played a whole lot better over the course [of his time with the Vikings]."
Griffen is another Viking whose strides the past few seasons earned him his second consecutive Pro Bowl nod. His former high school coach, Kelly Epley, expressed similar emotions about seeing the defensive end playing at such a high level.
**Griffen surprised Epley**, who coached him at Agua Fria School in Avondale, Arizona, during an interview and thanked him for helping him get on the right track.
Fans have come to recognize Griffen by his intensity and sense of humor, and Epley said the high-energy personality is nothing new.
"He was a knucklehead sometimes, but when he'd do something funny – or something knuckleheadish – he'd just smile, and everything would be OK," Epley said. "He kind of just took the good with the bad, but there was very little bad – great kid, great personality."
A few qualities of Griffen's immediately stood out to Epley at the high school level, the most prominent being a great first step off the line.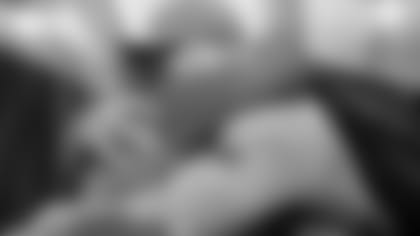 "At the very beginning, when he was a freshman, he was head and shoulders above everybody – literally, head and shoulders above everybody," Epley said. "But the first step off that ball, boy, you don't teach that. That comes natural, and that was big."
Epley, Brooks and Pemberton used different teaching styles, directed different programs and coached different players, but they all share the same pride in student athletes who have now made it to the highest level of football.
"To go out from a fourth-round draft pick to a first-team Pro Bowl player, I'm real proud of that," Epley said of Griffen. "And his 'stick-to-it-iveness,' I call it. The productive struggle – I like to see that he didn't give up, he wasn't even thinking about giving up, and he's earned everything that's come his way."
To be a part of their players' journeys was significant to the coaches in itself – to now be recognized at a national level was even more special.
Epley said it was a privilege to be remembered 10 years after first coaching Griffen, and Brooks called the "Thank You, Coach" initiative the experience of a lifetime.
"A lot of times, after those players are gone, you don't see much of their high school guys anymore," Pemberton said. "This is a unique deal […] it really gives back to those high school coaches."