EAGAN, Minn. — Mike Hughes was back at punt returner for the first time in more than a year on Sunday, as the cornerback had two returns for nine total yards against the Lions.
The 2018 first-round pick had a pair of punt returns in his rookie season before tearing his ACL, meaning he had to wait a while before he got his chance again.
"It felt good. It was a little weird getting tackled," Hughes said. "But now that I'm past that, I'm ready to explode at that position. Just trying to build confidence back there, and hopefully I can break one loose this week.
"A little rusty, I would admit. But I don't think it will take too much to get back to normal," Hughes later added. "It was good for me to get a couple returns in. I'll be ready to go."
The Vikings used Chad Beebe at punt returner for the first three weeks of the season, but the wide receiver went on Injured Reserve with an ankle injury.
Minnesota then brought in Marcus Sherels, but released the franchise leader in punt returns (237), PR yards (2,480) and PR touchdowns (five) on Tuesday after he played in three games.
Sherels was inactive on Sunday in Detroit when the Vikings turned to Hughes.
"He catches the ball well," Vikings Head Coach Mike Zimmer said. "I think he's shifty, he's got good acceleration, and I think he makes good decisions."
"He's actually taught me how to catch pretty well, said Hughes, a first-round pick in 2018
"The techniques he uses, I try to take it and run with it," Hughes added. "It's worked out pretty well for me so far."
Cousins, Keenum and Peterson set for reunions on Thursday Night Football
Both starting quarterbacks, plus the opposing running back, all will likely have a bit of nostalgia Thursday night.
With Minnesota and Washington set for a prime time game on Thursday Night Football, quarterbacks Kirk Cousins and Case Keenum, plus running back Adrian Peterson, will all be a part of a mini reunion at U.S. Bank Stadium.
Cousins, of course, was drafted by Washington in 2012. He played six seasons there — including three as a full-time starter — before joining the Vikings in March of 2018.
The quarterback wasn't oblivious to the line of questioning that was sure to come at his Tuesday media session. He addressed the matter early.
"I know there's probably some questions coming about playing the Washington Redskins, my former team. In honesty, it happens all the time," Cousins said. "Players have to play former coaches, former teams, former teammates, and I'm no different in this case. Honestly for me, when I think of my time in Washington, I just think of the word gratitude.
"I'm so grateful that I was drafted by them. When 31 other teams hadn't picked me, the Redskins picked me. That means a great deal to me, and I just have tremendous memories of the games there, the teammates and the coaches and I'm so grateful of the people I got to work with," Cousins added. "The quarterback I am, the player I am and where I am in this league now is largely the result of the coaches I got to play for there and the way they impacted me and the teammates I got to play with. So, in a way it's challenging to play your old team because you have so much respect for the people on the other side of the field, but that's what Thursday night calls for, and that's what we're going to do."
Keenum and Peterson are in the same boat, but they will be wearing burgundy instead of Purple on Thursday night.
Peterson is only the best running back in Vikings history, as he holds Vikings records in rushing attempts (2,418), yards (11,747) and touchdowns (97). He played in Minnesota from 2007-2016, and played the Vikings in the 2017 season opener when he was with New Orleans.
His former teammates and coaches admire the 34-year-old, who has climbed to eighth all-time in rushing with 13,625 career yards.
"Running backs typically don't have such long, long careers," said Vikings wide receiver Stefon Diggs. "But for him to be playing at such a high level for such a long period of time, it's amazing to watch.
"I commend him, especially as a player for what he does on and off the field as far as taking care of his body and the things he does," Diggs added. "He's definitely a Hall of Famer."
Added Zimmer: "He's always had the speed and he's always had the physicality of the way he runs. He's going to lower his pads and try and run through tackles. Typically, those guys get beat up once they get older, and I don't see that with him."
Keenum spent far less time in Minnesota than Peterson, playing just the 2017 season with the Vikings.
After fighting to make the team in training camp, Keenum eventually started 14 games after Sam Bradford was injured.
He threw for 3,547 yards with 22 touchdowns and seven interceptions, but is most remembered for connecting with Diggs on the "Minneapolis Miracle" in the Divisional Round playoff win over New Orleans.
Vikings Offensive Coordinator Kevin Stefanski was Keenum's position coach in 2017.
"That was a unique year, and I'll give him a ton of credit," Stefanski said. "He was competing for a spot on the roster all throughout training camp, and then he won that spot, he earned that spot.
"And then circumstances happened, and Sam got injured, and he was thrust into that," Stefanski added. "You can never predict it, but I think what you saw with him, he's got a great mettle to him, the son of a coach, a grinder, a gym rat that everybody's talked about. So, I think his makeup allowed him to play well that year."
Multiple Vikings said they would be happy to see both Peterson and Keenum before the game and exchange pleasantries with the two.
But come game time, the Vikings are focused on getting to 6-2 at the halfway point of the 2019 season.
Diggs, who will forever be connected with Keenum, summed it up best Tuesday in the locker room when asked if he was going to give the quarterback a big hug.
"Nah, that's not my girlfriend or nothing," Diggs quipped. "But when I see him, it's all love though. That was a moment we all shared, especially me and him. He gave me an opportunity, and I'm thankful for it. But that's my guy, still. It's all love. But no hugging and all that type of stuff. Just, 'Nice to see you.'
"We definitely have a lot of good memories, as you all can recall. It's going to be a good thing to see him, along with Adrian as well," Diggs added. "[Adrian] was a guy who was here and had a lot of success as a Minnesota Viking. It's always good to see him, even if it's on the other side."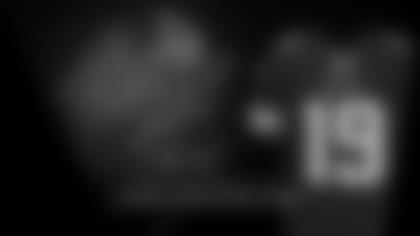 Get Your Primetime Purple Jersey
The Vikings will wear their Primetime Purple jersey, Thursday, Oct. 24 against the Redskins. Visit the Vikings Locker Room Team Store to buy your Primetime Purple jersey today!