EAGAN, Minn. – Garrett Bradbury accepted an invitation from one of his new teammates, and he's glad that he did.
The rookie center joined Vikings tackle Rashod Hill in Dallas, Texas, from July 12-14 for the OL Masterminds Summit. The weekend brings together NFL offensive linemen from all over the country and is put on by Duke Manyweather, who focuses on scouting and development at the position.
Bradbury called it a "unique opportunity" that he appreciated.
"Just to hear from them, we talked through a whole bunch of different topics," Bradbury said.
He and Hill said the summit featured NFL vets like Jermey Parnell (Jaguars) and Pro Bowlers Lane Johnson (Eagles) and Terron Armstead (Saints) who shared their own experiences, offered advice and insight to young players, and fielded questions from the group of 40-plus attendees.
Hill first heard about the summit last summer from Parnell, whom he previously teamed with in Jacksonville. Hill not only benefited from the event itself but regularly trains with Manyweather and even bought a home in Dallas so he and his family can live there in the offseason.
The fourth-year tackle said the training is paying off, having received positive feedback from Vikings coaches during the team's spring programming.
"Down there, it's O-line specific," Hill said. "I'm not going and working out with DBs and quarterbacks; it's all O-line specific work and how [offensive linemen] approach things. It was great."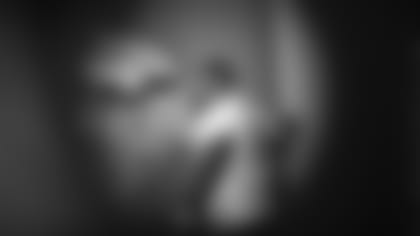 That's why, when Bradbury joined the Vikings, Hill invited the first-round draft pick to stay with his family in Texas and attend this year's OL Masterminds Summit.
"I was telling Garrett about it, 'Man, you need to come down and check it out. You'll get a piece of knowledge and information that can help from older guys that have been in the same position you've had,' " said Hill, who added that Bradbury and Manyweather got a chance to meet in Minnesota beforehand.
Hearing nothing but good things from Hill about the experience, Bradbury accepted the invite and headed to the Lone Star State the weekend before reporting to **Verizon Vikings Training Camp**.
"I figured, I had a few weeks off, so it would be great … just to get my mind ready, set back on fooball," Bradbury said.
Over the weekend, the linemen attended classroom sessions and heard from a variety of players on several different topics. They also spent time studying and breaking down film of the league's top pass rushers.
The athletes spent only about an hour each day on the field; Hill appreciated the way Manyweather divided the schedule.
"The field, OK, that was great to come out and see the way they take their stance and stuff, but the classroom is what really helped me out a lot," Hill said.
"Just going through different situations, the things I learned from that, how to approach [certain situations]. I thought I knew it all, but there it was like, 'Wow. I learned so much,' " Hill said. The guys there were phenomenal. We were asking questions, and they answered everything you could possibly think of when it comes to O-line. It was great."
The Vikings teammates both took note of the veterans' mental approaches to the game.
Hill said the "main thing preached" is the mindset that an offensive lineman needs to have on game day.
"I learned from older guys who have been around, that it will take you a long way," he said.
Bradbury especially honed in on advice from others who share his position, such as Buccaneers center Ryan Jensen.
"Hearing the thought process that some of the NFL centers have – each play, pre-snap – and understanding that I have to get in my playbook [even more],' " Bradbury said. "You never have it, you never understand it. You can always learn and grow more."
"I was notebook-open, pen-to-paper the whole time," Bradbury added. "Picking their brains, there's just so many guys around here to learn from – and they're willing to help, which is huge."