EAGAN, Minn. — A first glance at Danielle Hunter reveals a person born to play football.
His tremendous physical traits — size, speed and athleticism — reveal themselves quickly and helped him record more official sacks before turning 25 years old than anyone in history (sacks became an official stat in 1982).
It also doesn't take long to notice nearly unparalleled levels of sportsmanship, humility and a commitment to playing football the right way.
Hunter has helped opponents up off the turf after tackling them, he's been reserved when placed on the video board at U.S. Bank Stadium after recording 3.5 sacks and returning a fumble for a touchdown in a convincing win, and he has fewer penalties than any other defensive end who has played about the same amount of time since his rookie 2015 season.
Hunter has had just six penalties accepted against him in 72 career games (43 starts). Two occurred as a rookie, and one of those occurred on a punt return. He has had just one penalty in every season since.
A third-round pick in 2015, Hunter is the Vikings nominee for the 2019 Art Rooney Sportsmanship Award.
A panel of NFL Legends — Warrick Dunn, Curtis Martin, Karl Mecklenburg and Leonard Wheeler — will select four finalists from the AFC and four finalists from the NFC. The finalists will be listed on the Pro Bowl ballot. Current players are scheduled to cast their ballots on Dec. 13. Like Pro Bowl voting, teams can't vote for their own players.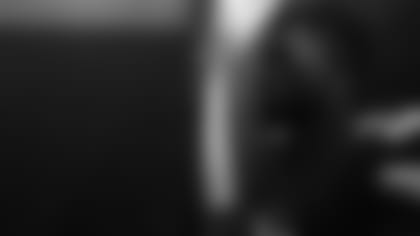 The following quotes are from coaches and teammates who believe Hunter deserves the award that is in its sixth season of recognizing a player who "exemplifies outstanding sportsmanship."
Vikings Head Coach Mike Zimmer:
"He's probably pretty close to being a superstar, but he doesn't think of himself that way. He thinks of himself as, 'I've gotta get better. I'm still learning.' I still think there's a lot of upside with him."
Vikings Defensive Line Coach Andre Patterson on sportsmanship:
"I think he gets the big picture that this is really a game that we play, and even though you want to beat the opponent, he's still a human being that you care about. Danielle wants to go over there and destroy the opponent between the snap and the whistle, but he doesn't want to hurt the guy, and he doesn't want anything bad to happen to the guy. Danielle is just trying to do his job, and sometimes guys can get a little carried away. That's just not his demeanor."
Vikings Defensive Line Coach Andre Patterson on playing clean football:
"He's so focused on doing his job. Usually penalties happen because you didn't get yourself in the right position to execute your job, so you grab or do something that puts your body in a bad position. That's when a penalty occurs. He trusts his speed and quickness, so he's not trying to get a jump off the ball — that's when offsides happens. I think those are two things that help keep his penalties down."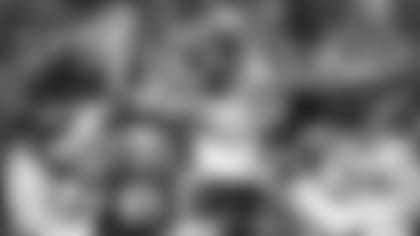 Vikings Defensive Tackle Linval Joseph:
"Danielle is on his way. Any athlete you've ever asked for, I feel like he's in the top three of anybody's list. He's smart, he works hard, he makes plays and cares about others."
Vikings Linebacker Anthony Barr:
"He just goes out and does things the right way, and he does it his way. He does it quietly. But he has a lot of fun doing it, too. I think it's just kind of the way he is. He doesn't say much; he just goes out and does it and always does it at a high level."
"I think it's maybe how he was raised, just his personality. I think that all plays into it. I think the most important thing is that he's comfortable being himself, and he's comfortable not following the crowd. He's comfortable carving his own path, and he's been successful with that."
Vikings Safety Harrison Smith on Hunter's abilities:
"To start with, he's a freak show. But the way he's approached the game since he got here – very professional, very curious, how to be great. And it's obviously shown up."
Vikings Safety Harrison Smith on Hunter playing clean football:
"I would say it starts with his mental approach. He's obviously very successful without getting those penalties. That's not by accident. That's a conscious effort. It's hard to do when it's live, so he has great self-discipline – even when things are heightened. I'm sure that's something that he works on, whether he knows it or not."
Arizona: C A.Q. Shipley | Atlanta: WR Julio Jones | Baltimore: QB Lamar Jackson | Buffalo: LB Lorenzo Alexander | Carolina: RB Christian McCaffrey | Chicago: DB Kyle Fuller | Cincinnati: DE Sam Hubbard | Cleveland: RB Nick Chubb | Dallas: CB Byron Jones | Denver: LB Von Miller | Detroit: QB Matthew Stafford | Green Bay: DB Tramon Williams | Houston: QB Deshaun Watson | Indianapolis: WR T.Y. Hilton | Jacksonville: DL Calais Campbell | Kansas City: QB Patrick Mahomes | L.A. Chargers: LB Thomas Davis | L.A. Rams: S Eric Weddle | Miami: C Daniel Kilgore | Minnesota: DE Danielle Hunter | New England: WR Matthew Slater | New Orleans T Terron Armstead | N.Y. Giants: DL Dalvin Tomlinson | N.Y. Jets: DL Steve McLendon | Oakland: QB Derek Carr | Philadelphia: QB Carson Wentz | Pittsburgh: RB James Conner | San Francisco: T Joe Staley | Seattle: LB K.J. Wright | Tampa Bay: LB Lavonte David | Tennessee C Ben Jones | Washington: RB Adrian Peterson
2018: QB Drew Brees, New Orleans
2017: LB Luke Kuechly, Carolina
2016: RB Frank Gore, Indianapolis
2015: CB Charles Woodson, Oakland
2014: WR Larry Fitzgerald, Arizona