EAGAN, Minn. — Last week, Dalvin Cook promised he'd be ready to go.
This week, he's ready to go to California. The sooner the better for the Vikings running back and native of Miami.
"Let's just go to L.A. right now. We could practice out there," Cook said with a laugh. "We could go out there right now. It's about 2 degrees outside [in Minnesota]. It's cold. Minnesota's cold, man, but we're going to some warm weather to play in a great atmosphere. It should be a good turnout. I know our fans travel good."
Cook, in fact, was able to play on Sunday against the Lions after missing most of the second half in Seattle with a chest injury. He rushed 18 times for 62 gritty yards that included a 3-yard touchdown before halftime, then rested in the fourth quarter of a 20-7 victory.
He is tied for the league lead with 13 rushing touchdowns, ranks fourth in the NFL with 1,108 rushing yards and second with 1,611 yards from scrimmage. He has been quite a catalyst for a much-improved Vikings offense that is fourth in rushing with 135.8 yards per game.
Stefon Diggs, who needs three yards to post his second 1,000-yard season, said he's somewhat acclimated to December in Minnesota by now.
After all, the Vikings were playing home games outdoors at the University of Minnesota during his rookie season.
On Wednesday, the temperature made it all the way up to 7 degrees Fahrenheit in Eagan, Minnesota. At the time of this writing, it's 66 in Los Angeles, and Sunday's forecast calls for a high of 68 and low of 46.
"I feel like a lot of guys will appreciate the nice weather," Diggs said. "You kind of get used to the cold after a while. It doesn't make a difference, I guess."
Diggs had six receptions for 92 yards against the Lions, highlighted by a 44-yard reception to set up Cook's touchdown.
He is three yards from giving Minnesota its first receiver and running back duo with 1,000 through the air and one the ground, respectively, in one season since Sidney Rice (1,312) and Adrian Peterson (1,383) in 2009.
Cook said Diggs is "a great player, a great human being off the field."
"He's going to make plays that can change the scoreboard at any given time," Cook said. "Diggs is an energy-giver. When he makes plays like the toe drag on the sideline, you see the type of energy it gives the offense. He made that play before the half that was big to set up my touchdown run. All credit goes to him. He makes plays to spark us."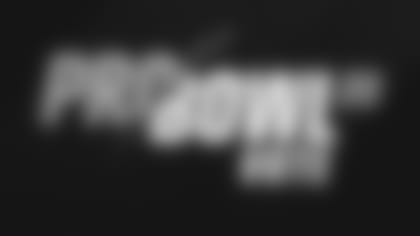 Pro Bowl Voting
Last chance! Vote to help make sure all your favorite Vikings make the 2020 Pro Bowl in Orlando. Voting ends Dec. 12, 2019.
Cook, Diggs and contributions of others, from veteran tight end Kyle Rudolph to rookie receiver Bisi Johnson have helped Minnesota's offense since Adam Thielen suffered a hamstring injury in Week 7.
Thielen (27 catches, 391 yards and six touchdowns) played a few snaps in Week 9 before re-aggravating the injury. He's been sidelined since and was listed as a limited participant on Wednesday.
Kirk Cousins, who has thrown for 3,274 yards and 24 touchdowns and is on pace for a career-best passer rating, was asked about the possibility of getting Thielen back and how that could impact the offense.
"I think the big difference would be personnel groupings. At times where we had C.J. Ham or [an extra] tight end in the game, now you bring Adam in the game, you're going to have to take one of them out. That's where the difference will be felt or seen. As far as the plays or plan or where you attack, I don't think it will be too different. It just gives you a little more versatility so defenses aren't able to say, 'The ball is going this direction on this play or this route.' With Adam coming back, they have to defend more and stay honest more."
Cousins visited Los Angeles to play the Chargers in 2017 when he was still with Washington. Los Angeles won 30-13 after limiting Cousins to 15-of-27 passing for 151 yards. He said there's plenty of challenges that accompany this year's Chargers defense.
"They're in the top five against the pass (196.6 passing yards allowed per game) and in overall defense (304.8 yards allowed per game). They have big names, too," Cousins said. "You know they have guys who have played a long time and done it at a high level. I really respect not only their roster and talent, but also the scheme that they play."
As for heading to California earlier, Cousins said he is OK with waiting to leave for the West Coast because it means less time waiting around in a hotel room.
"Last year and when I was in Washington and we were going East Coast to West Coast, we'd leave on Friday so you'd have a lot more time on your hands on Saturday to sit around and wait for the game," Cousins said. "When we played L.A. on Thursday, we still left on a Tuesday night. Sometimes I like leaving a little later, like when we played in Seattle [this year], we left on Sunday, which enabled us to have a quick get up and go and play that following night.
"I think we're going to leave on Saturday, which I'm good with," Cousins said. "I think that helps to just go play and not be sitting in your hotel room for too long. I think, whatever the situation, you've got to be able to handle it, and good football teams, no matter what comes at them still find a way to get the job done. That's what we've got to do."