Dalvin Cook's on-field performance has garnered plenty of attention, but his give-back efforts in the community also are receiving national exposure.
Cook and Vikings Owner/President Mark Wilf recently were featured guests on the Rachael Ray Show, during which Cook shared with the celebrity chef more about his commitment to the Minnesota Vikings Foundation.
Nicknamed "The Chef" because he's always "cookin' on the field," Cook has also used his last name to make a difference.
The third-year running back has been heavily involved with Vikings Table since the charity food truck launch last summer. The innovative approach to philanthropy is an outreach of the Minnesota Vikings Foundation that serves healthy meals and nutritional education to Twin Cities youth.
Cook and Wilf joined the Rachael Ray Show for Friday's Super Bowl-themed episode because, as Ray explained, Cook and the Vikings are bringing together football and food "in a beautiful way."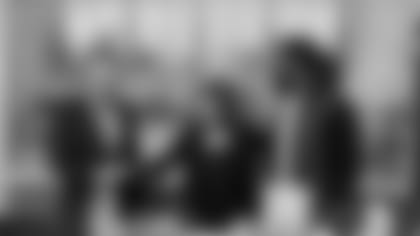 During an interview for the show, Cook reflected on the way his upbringing in Miami impacted his passion for combatting food insecurity.
"Growing up, my living situation was tough," Cook said. "Not knowing where your next meal is going to come from … my family members did a great job of compromising with us, but I know some folks and some families just don't have it."
Ray praised the Vikings organization for its focus on making a difference beyond the gridiron.
"I tell people on this show all the time, every single person has the power to change the world and the course of their neighbors," she told Cook and Wilf. "Thank you both for what you're doing to feed your community."
Cook was honored to join the show and share his cause with potentially a whole new audience.
"She reached out and liked the charity work I was doing and my whole story," Cook told Vikings.com. "I like to cook [and want to utilize my] platform.
"Those types of events, I take them to heart – they are lifetime-type experiences," he added.
Following the Vikings Table segment, Cook and Wilf helped Ray prepare her recipe of the day, chicken tinga nachos.
"It was a really good dish," Cook said with a smile. "We had fun."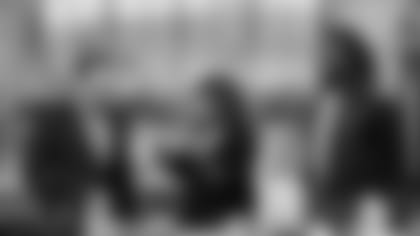 Aside from the philanthropic aspect of the guest appearance, meeting Ray had a bit of a personal connection for Cook, as well.
"It's crazy because my big brother, he used to watch her when we were younger. I think he's in love with Rachael Ray," Cook quipped. "I got him a book signed by her. But just being on the show and knowing how much my brother watched her before and how much she's upped her game, [how far she's come], it was fun."
Ray asked Wilf about his decision – along with Vikings Owner/Chairman Zygi Wilf – to establish and support the Minnesota Vikings Foundation and Vikings Table.
"Giving back to the community is very important to the Minnesota Vikings, and our foundation is all about young people and teaching them through health and education and getting them nutrition," Wilf told Ray. "There's a lot of food need in Minnesota and across the country, and we want to give back as best as we can."
It's one thing to have ownership's confidence on game day, but Cook said that it speaks volumes to have the Wilfs actively advocate for his (and his teammates') charitable efforts.
"It goes to show the type of guys we've got as owners for the Vikings," Cook told Vikings.com. "When you've got people that love off-the-field stuff, you've got to respect it. And we have a lot of people like that.
"It was fun to be there at the show with Mark," Cook continued. "We spent some time together behind the scenes … just being regular human beings outside of football. That's always fun, too."
To view a portion of Cook and Wilf's segment on the Rachael Ray Show, click here.