The Vikings playoff hopes hinge largely, but not entirely, on Sunday's regular-season finale against the Bears.
Minnesota (8-6-1) can secure its third playoff berth in four seasons win a win against Chicago (11-4), who already has clinched a spot by winning its first NFC North title since 2010.
A couple of other scenarios would land the Vikings a spot, but Minnesota's players would prefer to handle their own business.
The kickoff was flexed to 3:25 p.m. (CT) to overlap with games that have interrelated playoff implications.
The Vikings are reminding fans about new procedures for 2018, including a mobile-only entry process for home games that is part of a league-wide initiative.
Tickets are accessible via the Vikings app or the online My Vikings Account portal and can be saved to fans' mobile devices. No hard tickets or printed PDFs are available. The change allows better communication between the team and fans, reduces fraud and counterfeit tickets, provides flexibility to manage, transfer or sell tickets at any time and offers quick and easy entry into the stadium using a smartphone.
Step 1: Download and open the free Minnesota Vikings App (available for Apple and Android devices).
Step 2: Navigate to the Tickets tab and sign in using email and password for My Vikings Account.
Step 3: Select the event to attend and click View Barcode to load ticket(s) ahead of time to scan for entry.
* Fans can also add the tickets to Apple or Android Wallet for guaranteed easy access on game day.
For more information regarding mobile entry, click here.
TV: FOX (FOX 9 KMSP in Minneapolis/St. Paul)
LOCAL RADIO: KFAN 100.3-FM/KTLK-AM 1130
SATELLITE RADIO: Sirius 134 (CHI), Sirius 113 or Streaming 819 (MIN); 381 (CHI), XM 231 or Streaming 819 (MIN)
Click here for more broadcast information.
Logistics, events and activities:
Here's a look at logistics, events and activities inside and outside of the third-year venue.
Delta Vikings Village opens: 1 p.m. (CT)
Stadium gates open: 1:25 p.m. (CT)
Honorary Captain: Mark Rosen
Color Guard: A Joint Services Honor Guard representing all branches of service will present the colors, and members of the military will display a full-field flag.
National Anthem: The National Anthem will be performed by operatic singer, actor and Minnesota native Joel McKinnon Miller.
Miller plays Don Embry in Big Love, which aired on HBO, and is Det. Norm Scully on Brooklyn Nine-Nine, which will make its NBC debut on Thursday, Jan. 10.
Gjallarhorn: Former Vikings QB Brad Johnson
Halftime: An American Ultimate Disc League game between the Minnesota Wind Chill and Chicago Wildfire
U.S. Bank Hometown Heroes: The U.S. Bank Hometown Heroes program honors individuals who have gone to extraordinary measures to make positive differences in the community. If you would like to nominate someone, visit Vikings.com/fans/promos/hometownhero.
Sunday's Hometown Heroes are retired Command Sgt. Maj. Curtis Jasper and his son, First Sgt. Matt Jasper.
Curtis served 28 years in the Minnesota Army National Guard. He was awarded a combat action badge, Legion of Merit Medal and a Bronze Star. Matt is in his 16th year of service. He was awarded a Purple Heart after he was wounded in combat during a deployment to Afghanistan in 2011.
Vikings Legends will sign autographs from 1:30 p.m. to 2:30 p.m. at multiple locations inside and outside of U.S. Bank Stadium and in the Delta Vikings Village. Autographs are subject to change at any time and without notice.
Locations inside U.S. Bank Stadium (game ticket required):
Delta Sky360⁰ Club: Ted Brown
Medtronic Club: Oscar Reed
FMP Club: Stu Voigt
Hyundai Club: John Henderson
Buffalo Wild Wings Club: Dave Osborn
Mystic Lake Club Purple: Gene Washington
Locations outside U.S. Bank Stadium
Delta Vikings Village (no game ticket required): Mark Mullaney and Robert Griffith
Delta Vikings Village Stage:
A DJ will begin playing music at 1 p.m.
SKOL Line and Minnesota Vikings Cheerleaders: 2 p.m.
Andersen Windows and Doors, CenturyLink Legends Autograph Zone, DI LUSSO Deli, Highland Park, Hy-Vee, KFAN, Mills Fleet Farm, Mystic Lake, North Memorial, Sleep Number and U.S. Bank are scheduled to have fan engagement areas.
Vikings Rewards Check-in Challenge:
Earn 250 points and be entered-to-win a postgame field experience when you check in at the Sleep Number tent in Delta Vikings Village outside of U.S. Bank Stadium. Visit the Vikings Rewards Gazebo to learn more.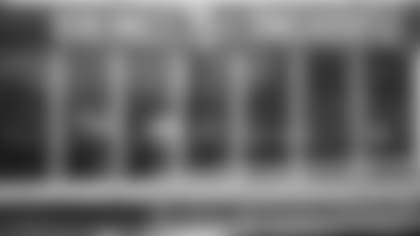 The PRIMESPORT Longhouse will open at 1 p.m. and close at the end of the first quarter.
Aramark will be serving tailgate fare from inside and outside the PRIMESPORT Longhouse and the permanent building on Delta Vikings Village.
Beer, wine and cocktails will be available for purchase in multiple locations.
The Vikings Locker Room Store will have a merchandise truck located in the Delta Vikings Village. The Minnesota Vikings Cheerleaders will be selling 2018-19 calendars in the Delta Vikings Village and The Commons.
The Minnesota Vikings Foundation will be hosting its final silent auction. Go to bidpal.net/vikings to donate, bid on exclusive signed memorabilia and participate in the first digital garage sale.
Check your bag for $10 per item (cash only) at our secure bag check located in The Commons.
Fans are encouraged to avoid bringing bags to games. If, however, fans opt to bring a bag, it must comply with the NFL's clear bag policy.