MINNEAPOLIS — Perhaps the best defensive performance for the Vikings in Sunday's season opener came from a guy who was undrafted and making his first start in a Week 1 game.
Not that Anthony Harris' teammates were surprised by what he did in Minnesota's 28-12 Week 1 victory over the Falcons.
The Vikings safety snagged a pair of interceptions — both of which preceded to Dalvin Cook touchdown runs — as Harris helped lead the way for the defense.
"Even when he wasn't a starter … whenever he played, he always played at a very high level … a starter level," said fellow safety Harrison Smith. "It was pretty obvious today."
"It was huge. A pick at the goal line? That's points. A pick to set up points … that's the game right there," Smith added. "I hope he gets NFC [Defensive] Player of the Week or something."
Added Vikings linebacker Eric Kendricks: "Man, Ant Harris, that gets me emotional, honestly. I've seen him go through a lot and start at the bottom, legitimately. All he did was work and battle. He's a humble guy, and he knows his role on the team. But there's no question when he has success … he's in the right spot because he works for that."
Harris joined the Vikings in 2015 as an undrafted free agent out of Virginia. He started 17 games over the past four seasons, including the final nine games of 2018.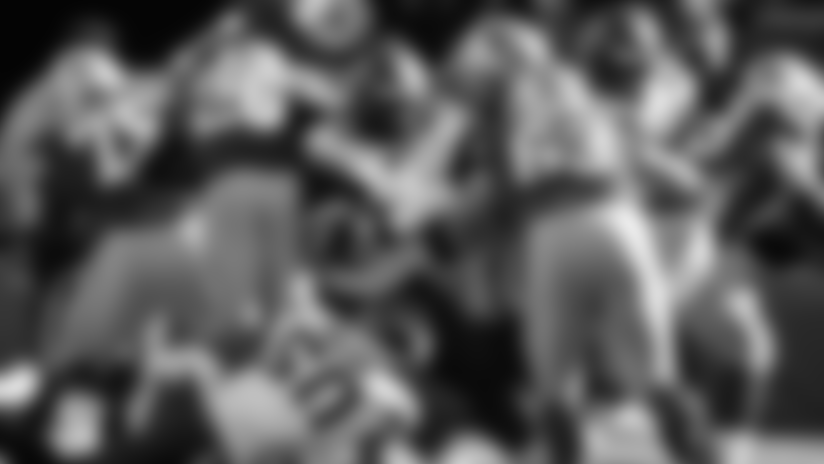 Watch Saturday's Game Online
Start 7-day your free trial of NFL Game Pass today and watch back Saturday's game against the 49ers...
The 28-year-old tied with Smith for the team lead with three interceptions last season and got a good start to 2019 early Sunday.
With the Vikings already up 7-0 less than five minutes into the first quarter, Harris was in tight coverage on Falcons All-Pro wide receiver Julio Jones and snagged the pass from quarterback Matt Ryan.
"We're all out here just competing," Harris said. "We know how much of a good athlete he is, but that's why we go out there and prepare each week and put ourselves in position to make plays. Once you're in position, it's about finishing."
Harris then recovered a fumble a few minutes into the second quarter with Atlanta nearing the red zone, but he saved his best play for the third quarter with another opportunistic takeaway.
Minnesota led 21-0 but the Falcons had the ball at the 2-yard line. Ryan lobbed a pass toward the right corner of the end zone that Harris read perfectly, leaping to grab the pigskin while getting both feet in bounds.
Instead of a potential 21-7 lead, the Vikings then marched 80 yards in six plays as Cook scored from seven yards out to give Minnesota a 28-point cushion.
"We just try to have that mindset that they're not in that end zone until they cross the line," Harris said. "When they get that close, we believe we're going to keep fighting to keep them out of the end zone and keep that mentality.
"I just know I had outside leverage, and the receiver tried to move outside," Harris later added. "I think [Ryan] might have been under pressure … from where I saw, he just threw it up, and he might have been trying to get it out of bounds and maybe left it short."
Vikings Head Coach Mike Zimmer pointed out Harris' second interception in his postgame pressure, he also noted that he appreciates how well he plays with Smith, an All-Pro household name who made his 100th start
"He's a smart guy that's always played well when he's gotten in there. I think he's healthier this year than he was a year ago," Zimmer said of Harris. "With him and Harrison, it's a good combination back there because he sees Harrison doing one thing and then he's trying to disguise something.
"They've got a good little aura about them where [one] shows this time and [one] shows that time," Zimmer added.
Harris recorded the second multi-interception game of his career Sunday, with the other being in Chicago in 2018.
If Harris keeps up his strong play from Week 1, there's a chance he could top that mark quickly.
But don't expect the humble Harris to brag about his play anytime soon, he's just content with contributing where he can and helping the Vikings rack up wins.
"I think since I've been here a while now, I've gotten really familiar with the scheme, it's allowed me to be more comfortable," Harris said. "I've got some time in some meaningful games and made some plays, so coming into this year it was just about settling in. Just focused on being sound with my technique and executing.
"I have high expectations of myself," Harris added. "I want to go out there and compete and prove I'm one of the best and just help this team be a better team."
Added Smith: "It's no surprise, it's who he's always been. I think people notice more when there's splash plays … He's always making plays … run, pass, whatever. He's a smart football player and a very well-rounded player."