There is still one NFL game left to play, as the Buccaneers and Chiefs will meet in Super Bowl LV in less than two weeks.
But for 30 other teams, including the Vikings, the focus has shifted to the 2021 offseason.
That aspect will ramp up soon as the Reese's Senior Bowl will hold practices this week. The start of NFL free agency is in mid-March, while the 2021 NFL Draft is slated to be held from April 29 to May 1.
With attention turning to draft prospects in the coming months, Dane Brugler of The Athletic recently released his Top-100 NFL Draft Board to give fans a closer look at the top prospects.
And while we won't go through all 100 players here, we will focus on a few who were linked to Minnesota in the first edition of our Vikings 2021 Mock Draft Tracker.
Miami edge rusher Gregory Rousseau was a popular pick in that first roundup of predictions, as he was mocked to the Vikings at pick No. 14 by six draft experts.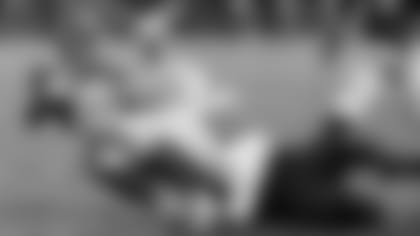 That includes Brugler, who has Rousseau as his 24th-ranked prospect.
Rousseau is a super long athlete who keeps his momentum going downhill with violent hands and easy acceleration, helping him to quickly disengage from blocks. He is an intelligent player and can talk the talk when it comes to breaking down pass-rush execution, but he is overly reliant on speed/length and needs to improve his anchor, technique and diagnose skills.
Virginia Tech's Christian Darrisaw was also linked to the Vikings as an offensive tackle by ESPN's Todd McShay. He is Brugler's 12th overall prospect.
Keeping his weight over his toes, Darrisaw shows efficient slide quickness in pass pro, and he is a bulldozer in the run game, unlocking his hips to create movement or seal block. While he shows the ability to manhandle defenders once he locks on, he doesn't always play with a stout anchor or killer instinct.
One expert projected Alabama's Patrick Surtain II to the Vikings with the 14th overall pick. Brugler has the cornerback as his No. 11 prospect in his rankings.
With his foot athleticism, body range and ball skills, Surtain plays sticky coverage and doesn't panic downfield, consistently staying balanced and in phase. While he is athletic and false steps are infrequent, he lacks suddenness in his movements, giving explosive receivers a chance to separate early.
Brugler's full list of his Top-100 prospects can be found here.
Get your final votes in for Justin Jefferson
Justin Jefferson is one of five finalists for the 2020 Pepsi Zero Sugar NFL Rookie of the Year Award, and today is the final day of voting.
The honor is decided entirely by fans' votes, which can occur multiple ways.
First, fans can tweet Jefferson's first and last name, or his official Twitter handle (@JJettas2), along with the hashtag: #PepsiROY. That's Justin Jefferson #PepsiROY or @JJettas2 #PepsiROY for those that prefer copy, paste.
Fans can also click here to vote online for Jefferson.
Jefferson was a star in his rookie season, hauling in 88 catches for 1,400 yards and seven scores.
His yardage total was both a Super Bowl era rookie record and a Vikings single-season record by a rookie.
Jefferson also led all rookies in receptions while tying for second in touchdown catches.
The 2020 first-round pick also tied the Super Bowl-era record of seven games with 100-plus receiving yards by a rookie accomplished by Odell Beckham, Jr., in 2014. That mark also broke Randy Moss' Vikings rookie record of four.