BROOKLYN CENTER, Minn. — Centaur Nation is back under the lights.
Brooklyn Center High School hosted its first night game in three years Friday thanks to the Thielen Foundation.
Vikings receiver Adam Thielen and his wife Caitlin launched Thielen Foundation in 2018 and began a relationship with Brooklyn Center High School that previously included a donation of $10,000 for sports equipment and other support.
The long-term goal was to put working lights back up at the stadium.
Through fundraising events and sponsorships, the lights were turned on Friday night, two years to the day the Thielens visited the school to celebrate the previous donation.
Thielen spoke to the Centaurs before Brooklyn Center Athletic Director Nate Gautsch introduced Thielen on the field as the lights turned on — a glow that strengthened as the sun set during the first quarter.
"When we heard the lights weren't working and they didn't have the opportunity to play under the lights, the biggest reason we wanted to do this was because of what playing under the lights meant to us in high school," Thielen said. "We had that opportunity to play sports in front of our friends and family. We want you guys to support these kids, because I think the more support they have, the better opportunity they have to succeed in life and to learn the life lessons that have done so much for us."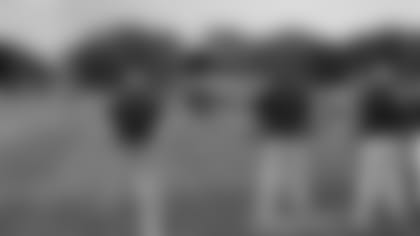 Gautsch said there was a buzz in the school Friday, particularly for Centaurs seniors who had never had the opportunity to play a home game under the lights.
"When you play a game at 4 o'clock in the afternoon, it just kind of loses that aura," Gautsch said. "The seniors are now part of new Brooklyn Center history."