MINNEAPOLIS – When Crew 52's 10,000 volunteers hit the streets to welcome the world to the Bold North, they'll be wearing a Minnesota-made custom Love Your Melon beanie.  The Crew 52 exclusive beanie is the first piece, unveiled today, of a full winter-ready uniform provided free of charge to all Crew 52 volunteers participating in the 10 days of Super Bowl festivities presented by the Minnesota Super Bowl LII Host Committee (MNSBHC).
The only way to get your hands on the special-edition Love Your Melon beanie is to become a Crew 52 volunteer, and interested volunteers need to act fast. Applications will close on Sept. 27, and interviews will end on Sept. 30.  Interested volunteers should apply today at mnsuperbowl.com/Crew52 and sign-up for a volunteer interview.
"Thousands of Minnesotans have signed up to join Crew 52, to welcome our Super Bowl guests and help our state shine throughout the Super Bowl," said Maureen Bausch, CEO of the MNSBHC.  "We are thrilled that our Crew52 volunteers will be greeting our guests with a welcoming face and a Love Your Melon beanie, making the Bold North memorable for everyone."
Crew 52 volunteers will help welcome more than 1 million visitors to Minnesota over the course of the 10-day festival. Volunteers will be outfitted to welcome guests, no matter what the weather – including the limited-edition beanie unveiled today. In addition to outfitting the volunteers, Love Your Melon, in partnership with the Minnesota Super Bowl Host Committee, will continue its mission by giving more than 5,000 Super Bowl winter beanies to Minnesota children who are battling cancer.
"As a Minnesota-based apparel brand dedicated to supporting the fight against pediatric cancer, we are proud to partner with the Minnesota Super Bowl LII Host Committee and share our beanies and mission with the Crew 52 volunteers, " said Zachary Quinn, CEO and co-founder of Love Your Melon. "Together, we'll share this special-edition beanie and bring smiles to children who are battling cancer."
In partnership with Love Your Melon, Minnesota's own 3M Company is producing the front patches for the Crew 52 beanies using its new carbon black reflective Scotchlite material.  The patches will feature the MNSHBC logo, and help volunteers stand out for safety purposes, as well as draw attention to them as a resource for our guests.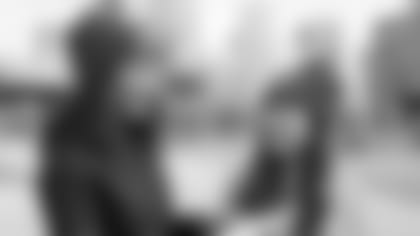 The Love Your Melon Beanies were knitted by Minnesota Knitting Mills, a Mendota Heights-based company that was founded in St. Paul more than a century ago.
More than 6,200 volunteer applicants have been interviewed since Aug. 12 when the Super Bowl Volunteer Headquarters opened on Nicollet Mall in Minneapolis. Volunteer applicants can expect to hear back from the Super Bowl Host Committee in mid-October about whether they have been selected for Crew52 and receive more information about next steps.
Crew 52 volunteers will serve at public gathering points such as airports, skyways, hotels, and MNSBHC events, to ensure visitors have the best guest experience during their time in Minnesota. Crew 52 volunteers are required to go through an application process, including a background check, interview, and training sessions, before serving during the ten days of festivities leading up to big game. Volunteers are asked to fulfill three shifts during the 10-day festival.
A full list of frequently asked questions about Crew 52 is available on the MNSBHC website, mnsuperbowl.com/Crew52.
About the Minnesota Super Bowl Host Committee -
The Minnesota Super Bowl Host Committee is a private, non-profit corporation formed to plan and execute the festivities surrounding Super Bowl LII.  For more information visit mnsuperbowl.com and follow @mnsuperbowl2018 on Facebook, Twitter, Instagram and Snapchat.
About Love Your Melon -Love Your Melon is an apparel brand dedicated to giving a hat to every child battling cancer in America as well as supporting nonprofit organizations who lead the fight against pediatric cancer. Fifty percent (50%) of profit from the sale of all Love Your Melon products is given to its nonprofit partners who work in the field of pediatric oncology, fund cancer research initiatives and provide immediate support for families of children battling cancer. For more information visit loveyourmelon.com and follow @loveyourmelon on Facebook, Twitter and Instagram.