The victory kept the 8-3 Vikings in stride with four other NFC teams who have at least eight victories on the season. There are only two such teams in the AFC.
Here are three stats that stood out:
Zimmer said on Monday after watching the tape that Sunday was "probably" Cousins' best in 27 games as a Viking.
The coach has a compelling argument supported by outcome, traditional and Next Gen Stats.
Cousins completed 29 of 35 passes for 319 yards and three touchdowns, compiling a passer rating of 133.2 that was the second-highest in the NFL this week. He did all of this damage despite taking five sacks and without tremendous production in the run game (37 yards on 18 carries).
According to Next Gen Stats, Cousins' completion percentage of 82.9 was 17.8 percent points higher than an expected rate of 65.1. That was the greatest positive margin of any quarterback in Week 11 (not counting Monday's game).
His counterpart Brandon Allen made his second career start and finished 17-of-39 passing for 240 yards with a touchdown, an interception and a passer rating of 61.9 that ranked 22nd in the league in Week 11. Allen's completion percentage of 43.6 was 8.4 percent points below an expected rate of 52.
The biggest disparity, according to a passing chart, between the quarterbacks occurred on passes that targeted receivers from the line of scrimmage to 20 yards down the field.
Cousins was 22-of-25 passing (88.0 percent) for 183 yards with two touchdowns on such throws, but Allen was just 9-of-24 (37.5 percent) for 92 yards with a touchdown and interception in that range.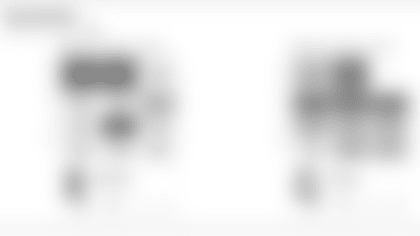 2. Unlikely completions hurt before helping
Last week, we noted that the Cowboys connected for four of the 17 least-likely passes in Week 10.
On Sunday, the Broncos managed to hurt the Vikings with two of the nine least-likely catches of Week 11.
According to Next Gen Stats, Allen's 48-yard pass to Courtland Sutton, during which Xavier Rhodes played solid coverage, had a completion probability of 23.3 percent that ranked sixth-most improbable in Week 11.
Sutton was on the passing end of another unlikely play when he heaved a throw to Tim Patrick for a gain of 38. The completion rate on that one was 23.8 percent (ninth-most improbable).
The Vikings also managed to make a couple of improbable catches. Cousins' pass to Diggs that gained 44 in the third quarter had a completion likelihood of 27.9 percent (14th), and the 10-yard touchdown pass to Irv Smith, Jr., that quickly followed had a rate of 29.4 percent (16th).
The Vikings repeatedly talk about the importance of double dipping, meaning scoring on the final possession of a first half and the first possession of a second half.
The setting was possible on Sunday, but Minnesota was unable to get points heading into the locker room. The Vikings were able to get a touchdown on the opening drive of the second half, however, and doing so began to flip the script.
After getting out-gained 217 to 47 in the first half and allowing an average of 5.86 yards per play while only averaging 2.04 yards per play, Minnesota out-gained Denver 274 to 177 in the second half. The Vikings averaged 7.83 yards per play, compared to 4.66 by the Broncos after the break.
Minnesota converted four of six third downs in the second half after going 1-for-6 in the game's first 30 minutes and limited Denver to a 2-for-10 showing after halftime.
It's also worth noting that the Vikings committed four penalties for 44 yards in the first half but were only flagged one time for five yards in the second half.