There is no better place for prime time than U.S. Bank Stadium, especially when #PrimetimePurple is in play.
Minnesota (5-2) will host Washington (1-6) for Thursday Night Football at 7:20 (CT) tonight. The game will be televised nationally by FOX and NFL Network. It will also be available on multiple forms of media.
The Vikings are seeking their fourth consecutive win, and the Redskins are aiming for their second since Bill Callahan was named interim head coach.
There has been plenty of coverage on the Purple this week, so Vikings.com chatted with Redskins reporter Kyle Stackpole for a glance at what the other side is thinking before Sunday's contest.
Here is the Week 8 edition of Opposing Viewpoint:
We'll start with a waterlogged game Sunday in which Washington's defense played well. How has safety Landon Collins established himself as a leader on the unit in his first season with the team?
Kyle Stackpole: Since signing with the Redskins this offseason, Collins has fit in seamlessly with the Redskins defense both as a vocal leader and a playmaker. He's been instrumental in the emergence of third-year free safety Montae Nicholson, who is one of the team's top tacklers and already has two interceptions. Collins has also been a necessary veteran presence on a unit with a lot of young talent.
In terms of production, Collins has been everything the Redskins could have asked for. He's currently tied for eighth in the NFL with 59 tackles and is the only non-linebacker ranked in the top 10. He's also recorded a sack and forced a fumble, and it's only a matter of time before he corrals his first interception [with Washington].
Washington made a coaching change earlier this month, placing Bill Callahan in charge. How has he put his stamp on the organization so far?
KS: Callahan has made several changes since taking over after the New England Patriots game Oct. 6.
First and foremost, Callahan made a public commitment to the running game and has stuck to it so far. After averaging 17.6 rushing plays over the first five weeks, the Redskins ran the ball 33 times in a win in Miami and then 26 times against San Francisco, the latter of which doesn't seem like a lot until you consider they only ran 41 total plays. Adrian Peterson has been the main beneficiary of this shift in philosophy, and as long as plays Thursday night – he's listed as questionable with an ankle injury – he'll likely receive another heavy workload against the Vikings.
Callahan has also had referees at practice to try and cut down on penalties. The Redskins have also started having "good-on-good" periods in practice between the starting units to foster intensity and competitiveness during the week.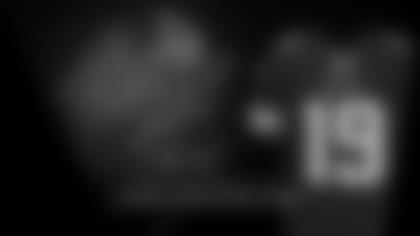 Get Your Primetime Purple Jersey
The Vikings will wear their Primetime Purple jersey, Thursday, Oct. 24 against the Redskins. Visit the Vikings Locker Room Team Store to buy your Primetime Purple jersey today!
The Vikings will know some familiar faces on the opposing sideline Sunday, most notably Case Keenum and Adrian Peterson. How are those players adapting to the change?
KS: Both Keenum and Peterson have adapted well since joining the Redskins. Keenum emerged as the starting quarterback after a three-man competition during training camp, and he's started six of the team's seven games this season. He's completed about 66 percent of his passes for 1,213 yards and nine touchdowns compared to four interceptions. As for Peterson, he put together a historic 2018 campaign by becoming the oldest 1,000-yard rusher in nearly three decades. And while he got off to a very quiet start this year, he's run the ball 43 times for 199 yards over the past two weeks.
As the season approaches its midpoint, which young players on Washington's roster have caught your eye?
KS: There have been several young contributors, but no one has been more productive than wide receiver Terry McLaurin. The third-round rookie out of Ohio State leads the Redskins with 419 receiving yards and ranks second on the team with 24 receptions. His five receiving touchdowns are tied for [third] in the NFL and tops among all rookie pass-catchers. Using his blazing speed and precise route-running, McLaurin has been able to gain separation against whoever he's matched up against. If the Redskins take shots down field Thursday night, they'll most likely be looking for McLaurin.
Defensively, the Redskins have two rookie starters: first-round edge defender Montez Sweat and fifth-round middle linebacker Cole Holcomb. Sweat has lived up to billing opposite perennial Pro Bowler Ryan Kerrigan, recording 26 tackles (three for loss) and 1.5 sacks. Holcomb, however, has been a pleasant surprise. The former walk-on out of North Carolina is currently second on the team behind Landon Collins in total tackles (41), solo tackles (31) and tackles for loss (3). He's also forced a fumble.
One other youthful standout has been third-year defensive lineman and captain Jonathan Allen, who has a team-high three sacks.
On a personal note, which Vikings player — offense or defense — are you looking forward to seeing Thursday night?
KS: Heading into the week, I was most looking forward to seeing wide receiver Adam Thielen. I've just been so fascinated by his journey and how he went from interviewing for a job to sell dental equipment to becoming one of the NFL's most-productive receivers. It would have been exciting to see him play up close.
But since Thielen will not play Thursday night, I'll choose running back Dalvin Cook. Unsurprisingly, Cook has garnered widespread praise around Redskins Park this week for his dynamic playmaking abilities. I'm eager to see that skillset with my own eyes.