EAGAN, Minn. — Head Coach Mike Zimmer has a sampling to assess progress after two days of full-team practices at Verizon Vikings Training Camp.
It's relatively small and padless, but the second aspect will change beginning Sunday when the pads are scheduled to go on for the first time in 2019.
The overhauled interior of Minnesota's offensive line (Pat Elflein moved from center to left guard, first-round pick Garrett Bradbury has manned center since arriving, and veteran free agent Josh Kline has lined up at right guard) has been bookended for the most part by Riley Reiff at left tackle and Brian O'Neill at right tackle.
"We're trying to get them together as much as we can, so we haven't been moving guys around," Zimmer said of the starting line. "Right now, it's really learning the steps, learning the footwork, communication.
"I think they've got good chemistry in that group," Zimmer added. "They seem to be communicating well. They're working real hard."
Rashod Hill and veteran free agent Dakota Dozier have lined up a few times with the first unit at the tackle and guard spots, respectively.
While a clearer picture will begin to develop, the interior is yet to face starting nose tackle Linval Joseph and defensive tackle Shamar Stephen (non-football injury list). Joseph participated in individuals and later worked on a side field, exploding out of his stance.
The Vikings know that Kirk Cousins is entering his second season as the starting quarterback.
After Cousins, however, Minnesota signed Sean Mannion during free agency and undrafted rookie Jake Browning to go along with returning reserve Kyle Sloter.
Mannion has had the lion's share of reps with the second team, so Zimmer was asked if the job is Mannion's "to lose."
"Not necessarily. He's a vet, so we're giving him a few more reps with the seconds," Zimmer said. "I don't think that job is locked down yet by anybody."
Zimmer said Mannion's experience and intelligence have shown up in the meeting room.
"He's very, very smart. I think that's a good thing in the quarterback room because he can spit out answers a lot faster than a lot of them can," Zimmer said. "Having him in there has been good. He's done a good job. He's a little bit of a fastball thrower, but I think he's been good for the room so far."
Sloter is yet to play in a regular-season game but has done quite well in preseason contests with Denver in 2017 and Minnesota in 2018.
"Sloter's always been a guy who hasn't looked very good in practice but looks good in games," Zimmer said. "He looks better in a lot of things, a lot more comfortable. He's able to get them in and out of the huddle a lot better than he was in the past. The ball still sails on him a little bit. When he's in, he just seems to make plays."
Second-year cornerback Holton Hill is scheduled to serve a pair of four-game suspensions when the season starts, so the Vikings have been looking at other options at cornerback after Xavier Rhodes and Trae Waynes.
Zimmer was asked about seventh-round draft pick Kris Boyd.
"Boyd's got some ability. He's got a learning process to go through, which he's been doing, so I think that's been good. Craig James, we had him last year for a little bit. Mackensie [Alexander has] been going outside more."
Zimmer also was asked if reports of working out cornerbacks are an indicator of a worry about depth at the position.
"Not necessarily. If it's the right situation, we just kind of keep turning over rocks to see if we can find something that fits," Zimmer said. "We obviously are up against the [salary] cap, too. Those things are a factor in all of this, too."
High School Skills Challenge
High school players from six schools across the state were invited to showcase their talents on Saturday in the High School Skills Challenge at TCO Stadium.
A quarterback and two skills players from Bloomington Kennedy, Champlin Park, Chatfield, St. Thomas Academy, Spring Grove and Willmar competed and were able to stick around for the Vikings practice that followed.
Bloomington Kennedy and St. Thomas Academy totaled the most points in events that included the 40-yard dash, QB distance throw, relay race and a QB/receiver accuracy challenge. Those teams will compete in the finals when Minnesota hosts the Seattle Seahawks on Aug. 18.
The winning team from that round will earn a $2,500 grant for its football program.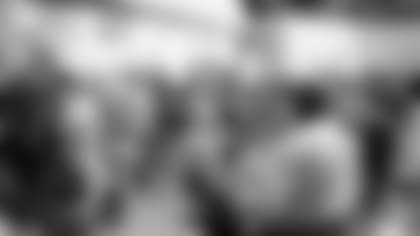 Hall of Fame defensive end Carl Eller, who starred for the Vikings from 1964-78 and holds the franchise record with 130 career sacks, visited training camp on Saturday for a meet-and-greet at the Minnesota Vikings Museum.
Eller participated in a discussion with fans while sitting in front of a display that chronicles a "Decade of Dominance" by the Vikings when he helped Minnesota go 104-35-1 in regular-season games from 1968-77, win nine division titles and make four appearances in Super Bowls.