As the Vikings prepare for rookie quarterback Daniel Jones this week with the Giants, who last year fielded 2018 NFL Rookie of the Year Saquon Barkley, it seemed fitting to list the top 10 Vikings rookie seasons.
This list proved harder to whittle down than I thought.
After working through first-season performances since the founding of the franchise, I formed a list of 13 rookie campaigns were noting. Craig Peters, Eric Smith and I then awarded 10 points for a first-place vote, nine for second place, and so on – meaning that 30 points is the highest possible total – to determine the final top 10.
Three rookie seasons taken into consideration that did not make the final ranking were linebacker Rip Hawkins, who was part of the Vikings inaugural 1961 season, as well as 2014 NFL Draft classmates Anthony Barr and Teddy Bridgewater.
Only one rookie's position was unanimously voted on: Hall of Fame wide receiver Randy Moss, who took the NFL by storm in 1998. Find out what else made our top 10: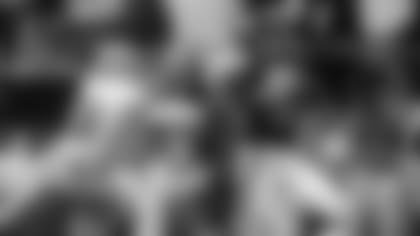 1. Randy Moss, 1998 (30 points)
The Vikings used the 21st overall pick of the 1998 NFL Draft to former Marshall University standout Randy Moss, who destroyed defenders on different types of routes on his way to winning Offensive Rookie of the Year honors.
Moss hauled in 69 receptions for 1,313 yards and a rookie-record 17 touchdowns in 1998 as opposing defensive backs and coaches tried to keep up.
In perhaps his most memorable game that season, Moss had three catches for 163 yards and three touchdowns in a Thanksgiving Day win over Dallas.
"If I could make a wide receiver, he would have so many of the attributes that Randy had — his size, overall speed, overall quickness, his football IQ," said Hall of Famer Cris Carter, who along with Moss and Jake Reed formed the Vikings "Three Deep" receiving trio.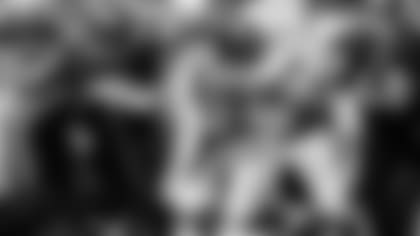 2. Adrian Peterson, 2007 (26 points)
Welcome to the NFL, Adrian Peterson.
After being drafted seventh overall by Minnesota, Peterson impressed early on in 2007, racking up 103 yards in his first NFL outing.
The former Oklahoma running back scored his first rushing touchdown at Kansas City in Week 3, another 100-yard performance. Two weeks later, he exploded for 224 yards and three touchdowns (including runs of 67 and 73 yards) at Chicago, helping the Vikings defeat their division rival 34-31.
Peterson surprised yet again in Week 8, when he rumbled for an NFL-record 296 yards against the Chargers.
"With that guy, you don't want to coach him up too much," Hall of Fame center Matt Birk told the Star Tribune following the game. "Just get him the ball, and he'll feel it. Then, just ride the wave. A lot of it is just the feel."
3. Orlando Thomas, 1995 (21 points)
Thomas waited for his shot and then capitalized on the opportunity.
After being drafted 42nd overall by Minnesota, Thomas made his first NFL start against the Steelers on Sept. 24, when he stepped in for an injured Harlon Barnett.
During the game, linebacker Jack Del Rio picked off Steelers quarterback Jim Miller and pitched a lateral to Thomas, who ran it in for a touchdown. Thomas additionally snagged two interceptions of his own on an afternoon when Minnesota tied a franchise record set in 1988 with six interceptions (three of Miller and three of Mike Tomczak).
Thomas racked up an NFL-leading nine interceptions as a rookie. He also recorded a forced fumble and four fumble recoveries, including one for a touchdown.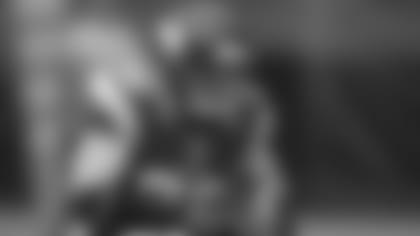 4. Harrison Smith, 2012 (16 points)
It's no secret to Vikings fans that safety Harrison Smith has been playing at a high level for a long time.
Smith was snagged 29th overall by the Vikings in 2012 after standing out at Notre Dame and immediately stepped into a full-time starting role.
Against the Cardinals in Week 7, Smith nabbed his first career interception and returned it 31 yards for a touchdown. A Star Tribune article the next day said the following:
Vikings safety Harrison Smith was so excited following his 31-yard interception return touchdown that he forgot to keep the ball as a memento.
Kevin Williams, a 10-year veteran, did the honors of tracking it down.
"He threw it on the ground," Williams said. "I wanted to make sure he got that and held onto it."
Smith went on to total three interceptions, two of which were returned for scores, in 2012. He also added 10 passes defensed, a forced fumble and a fumble recovery during his first season in Purple.
5. Chuck Foreman, 1973 (15 points)
It's not often that a player gets to the Super Bowl in his career. Even more rare is one who gets to the big dance as a rookie.
But that's exactly what happened for running back Chuck Foreman, who joined the Vikings in 1973 as the 12th overall draft pick.
Foreman burst on the scene early, racking up 116 rushing yards in his second NFL contest, a division win over the Bears in Chicago. He scored his first career touchdown against the 49ers to help lift the Vikings to a 17-13 win at San Francisco in Week 5 and scored again the following week in a 28-21 win over the Eagles.
Foreman also contributed in the passing game, totaling 37 catches for 362 yards and two touchdowns through the air.
The Vikings advanced to Super Bowl VIII, where they fell 24-7 to the Dolphins. Foreman after the season was selected to his first career Pro Bowl and was named the NFL Rookie of the Year.
6. Kevin Williams, 2003 (14 points)
The Vikings used the ninth overall draft pick to nab Oklahoma State standout Kevin Williams, and the move didn't take long to pay off.
Williams proved a force to be reckoned with on Minnesota's defensive line. His first career sack came against 49ers QB Tim Rattay, and the defensive tackle went on to rank 12th in the league in sacks with 10.5.
Despite Williams' ferocious reputation on the field, he came to be known off of it by his soft-spoken and unassuming demeanor.
"I'm not a big rah-rah guy," Williams told Kevin Seifert for the Star Tribune. "I just like to take care of business and do what I'm supposed to do. I go about my business. I'm not going to sit around and talk about it all day."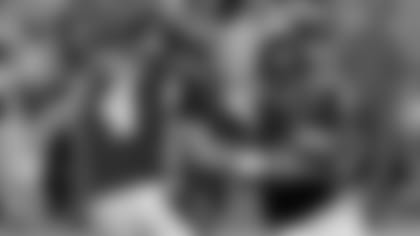 7. Percy Harvin, 2009 (12 points)
Brett Favre signed with his longtime rival team in 2009, and he gained quite the talented target in first-round draft pick Percy Harvin.
The wide receiver played 15 games as a rookie and racked up 780 yards and six touchdowns through the air. Harvin, who averaged 13.2 yards per catch, made an appearance on several highlight reels throughout the season for a Minnesota team that went 12-4 and advanced to the NFC Championship Game.
8. Sammy White, 1976 (11 points)
Three years after Foreman went to the Super Bowl as a rookie, Sammy White did so, as well.
White was a second-round draft selection by Minnesota and burst quickly on the scene, making three catches for 71 yards and a touchdown in his debut game at New Orleans.
Teamed up with future Hall of Famer Fran Tarkenton, White put on a show for Vikings fans. In his second game, he hauled in nine catches for 139 yards and a score. His biggest outing came against the division-rival Lions in Week 9, during which he recorded a franchise-record 210 yards and two touchdowns.
"The Lions are a blitzing team," the Vikings quarterback told his rookie receiver. "You're going to have a big day against them. You'll catch six or seven passes for 150 or so yards. I'm going to be looking for you when they start coming."
In the Vikings three postseason games, including Super Bowl XI, White totaled four 141 yards and three touchdowns. Unfortunately, his 77 yards and a score against the Raiders weren't enough for Minnesota to take the title.
T9. Cordarrelle Patterson, 2013 (9 points)
One of three first-round draft picks by Minnesota in 2013, Cordarrelle Patterson made an immediate impact on the Vikings special teams.
The former Tennessee Volunteer stepped in as Minnesota's primary kick returner and left opposing teams guessing. In his second-ever NFL game, Patterson ran the opening kickoff back 105 yards for a touchdown against the Bears at Soldier Field.
Patterson also set an NFL record for longest kickoff return when he took the opening boot of the Vikings-Packers game in Minnesota 109 yards. He finished the season with 1,436 return yards, second only to – ironically – Chicago's Devin Hester.
Patterson also totaled 45 catches for 469 yards and four touchdowns as a receiver. Following the season, he was selected to the Pro Bowl and received First-Team All-Pro honors.
T9. Blair Walsh, 2012 (9 points)
In Blair Walsh's first NFL game, he made a 55-yard field goal to help the Vikings even the score against Jacksonville and in overtime knocked through the game-winning 38-yard field goal.
Walsh also kicked a game-winning field goal as time expired in Minnesota's final regular-season game, a Border Battle against Green Bay.
The sixth-round pick made 35 of his 38 field goal attempts as a rookie and was perfect on 36 PAT attempts. Walsh made all 10 field goals he attempted from 50-plus yards.
Walsh was selected to the Pro Bowl and received First-Team All-Pro honors.