MANKATO, Minn. –Claudell Louis knew a sea of unfamiliar faces would greet him when he arrived at training camp, but he knew he'd see the face of one Vikings player who he considers family, as well.
Louis grew up together with Emmanuel Lamur, who is also of Haitian descent, in Florida. They share the same training site and offseason home, and as of Saturday, they share the same locker room.
Louis, a 25-year-old rookie who played collegiately at Fresno State, was signed by Buffalo this spring but released in June.
It's a difficult jump from one NFL team to another, but Lamur, a free agent, has made the tran
sition smoother for Louis, often reminding the rookie to keep an eye on the veteran players and not to get ahead of himself.
"I told him to just take it one day at a time, really study hard and take the little things seriously," Lamur said. " 'You have to find your niche, find what you're good at, and use that to your ability […] Stay focused on the moment, and whatever is provided to you, take full advantage of it.' "
Louis' football experience pales in comparison to most of his teammates. When his family came to the United States from Haiti in 2001, Louis was a skilled soccer player who had never set foot on a football field.
"That was something I was good at, [but] I grew and got bigger and got taller," said Louis, 6-foot-5 and 294 pounds. "I felt like most soccer players aren't built like I am, so I thought it was time to switch."
Louis made the move to football as a freshman in high school, but the learning curve was steep, and he played only a single season before taking a break from athletics to focus on academics for the final three years.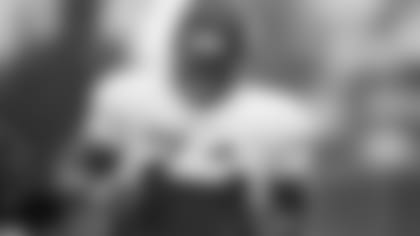 It wasn't until college that Louis picked up the pigskin again.
The defensive tackle trained at a facility in Florida before moving cross-country and playing two seasons at the College of Sequoias in Visalia, California. There, he snagged the attention of Fresno State coaches. He enrolled in the Division I school in 2013 and redshirted that first season. During the 2014 season, Louis started to gain momentum, and he received his first starting nod for in the Hawaii Bowl on Christmas Eve.
Now, he's suiting up for an NFL training camp along with his childhood friend.
"[College] was really his first experience of football, and now [he's] just reaching his dreams," Lamur said. "He never stopped grinding. Hard work pays off."
Louis appreciates the opportunity Minnesota offers him.
"I'm in a great position here," said Louis. "A great group of guys in the defensive line room, great coaches, great organization. I'm just grateful for the opportunity the Vikings gave me, and I'm going to try my best to make the 53-man roster."
Coming from Buffalo, where Louis was working in the Bills' 3-4 defensive scheme, the defensive tackle has had to adjust to the Vikings and Head Coach Mike Zimmer's 4-3 system.
"You just have to come out low in front and shoot your hands and make sure you take the right steps," Louis said. "As far as the 3-4, it's more about taking double teams, but [in] a 4-3, you kind of have the leeway to get some 1-on-1s and work on your moves and everything else.
"It's more attacking, and it's something I'm looking forward to," Louis added.
Louis said he's grateful for a strong coaching system and helpful teammates as he works to get up to speed with the defense. He said starting tackle Sharrif Floyd has especially come alongside him to help during the transition, and he's also spent time working with Scott Crichton.
"They're great guys," said Louis. "Whenever I ask questions, they're willing to help me."
He added, laughing: "I just hope they don't get tired of me asking questions."
Defensive line coach Andre Patterson has also been intentional about making Louis' first few days at camp as smooth as possible. Louis said Patterson is a great coach and has been careful to "not put me in the fire just yet."
One thing Patterson has worked to instill in Louis – and his other young linemen – is to put in solo study time with the playbook. Louis soaks up any bit of instruction Patterson provides.
"Whatever he says in the meeting room, I write everything down," Louis said. "I just go home and try to see if I had everything down that he said before I go to sleep.
"It will take some time," Louis continued. "But I'm willing to do it, whatever it takes, and that's why I'm here."