MOBILE, Ala. — A pair of Minnesotans are among more than 100 NFL prospects who have gathered this week for the 73rd annual Reese's Senior Bowl.
Boye Mafe, an edge rusher who attended Hopkins High School before enrolling at the University of Minnesota, and Matt Waletzko, a tackle who played at Rocori before heading to North Dakota, faced each other during some of their reps this week.
Both are on the National team being coached by the Jets. The American team is being led by the Lions. Those squads will face each other at 1:30 p.m. (CT) Saturday.
Mafe, Waletzko and all players who have been invited to the annual all-star game participated in a media breakfast Wednesday before soggy practice sessions.
"It's been a great experience, honestly, making friends and meeting a lot of new people, a lot of good and cool people here," Mafe said. "I think all of the players here have a good mindset about it, and we're all just going out there to work together.
"I don't feel like there's a 'mano a mano' type of deal here," Mafe added. "There's no really big egos here. I think everyone is enjoying their time."
Waletzko described the experience as "amazing" and said it's an honor and pleasure to have the opportunity to "show teams what I'm made of."
"I come from a smaller school, and that can be a knock, but to come out here literally with the best of the best, I think that creates confidence that you can do it," Waletzko said.
"Everything in this process and journey is proving yourself and why a team should draft you," Waletzko said. "It's truly rewarding when you come out here and do well and compete. That's what this game brings — competition — and that's what I love to do, so it's been a blast."
Mafe said he appreciated the approach implemented by the Jets staff. He's also adjusting to the feel of lining up with his hand on the ground in a 3-point stance.
"The NFL coaching is definitely different from college," Mafe said. "In this mindset, they're giving us a lot of freedom here. I feel like it's finding ways to use your attributes to your best abilities. I think they're finding a way to just let us loose and show what we have. I'm enjoying that process. Playing with my hand down is a little bit different — definitely a new experience for me."
Waletzko's Tuesday practice included a drill in which offensive linemen faced a rapid-fire of rushing by four defenders. He had never participated in that type of drill.
"You come in here with the Jets staff and do drills they would do," Waletzko said. "It's fun to see and mix it up from what you are used to."
Waletzko played 30 games for the Fighting Hawks, bouncing back from a season-ending injury in 2019 as a sophomore.
Media named Mafe to the All-Big Ten Second Team, and coaches placed him on the Third Team in 2021 as he wrapped his senior season by starting nine of 13 games and leading the Gophers with 10 tackles for loss and 7.0 sacks.
He totaled 87 tackles (59 solo), 19.5 tackles for loss, 15 sacks, three forced fumbles and three pass breakups over the course of 42 college games.
In addition to being joined by a Minnesota native, Mafe also has been able to take the field this week with Gophers teammate Daniel Faalele. The Australian checked in at 6-foot-8 and 387 pounds during his official weigh-in.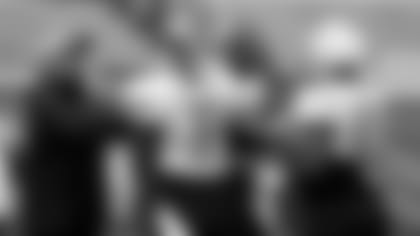 During a group interview Wednesday morning, Faalele said he wanted to show "I can play at the next level and hold my own" and for scouts "to see my strength, power and explosiveness."
"It's definitely a whole new thing for me," Faalele said. "There's new techniques, schemes and plays that I'm trying to learn. I've been able to hold my own."
Faalele said he's been inspired by the success that Jordan Mailata has experienced with the Eagles.
"I don't have any connection to him or a relationship. When I was at IMG [Academy], I left after my senior year in 2018 and he started his pre-draft process after I left, so I just missed him," Faalele said. "It's definitely motivational, inspiring that he came from a similar background, a rugby background. Seeing his success has definitely been inspiring."
Mafe said he was surprised that Gophers Head Coach P.J. Fleck traveled to Mobile and watched practice Tuesday. He and Faalele will don their Maroon and Gold helmets for one more game Saturday.
"I thought the last time was going to be the bowl game, but wearing it here one more time is nice," Mafe said. "Seeing him again surprised me. They didn't know he was down here. I was in the locker room and someone said they saw my coach outside. I was like, 'Really? No way he's down here,' and then I walked outside and saw him."