EAGAN, Minn. — The calendar has been flipped to 2020 for almost a month now, but the Vikings aren't quite done with 2019 yet.
Vikings Head Coach Mike Zimmer was a guest on KFAN's 9 to Noon broadcast with "Voice of the Vikings" Paul Allen earlier this week, and he gave an update on what is going on inside Twin Cities Orthopedics Performance Center these days.
Zimmer told Allen that the coaching staff has been hard at work evaluating how position groups and individual players fared this past season.
"Right now we are still working on 2019, going back through our cutups on the three phases of the game," Zimmer said. "And then also we are looking at and kind of evaluating the performances of all of the players on the team and then trying to figure out a plan to move forward."
If it seems like the Vikings are taking their time on this, remember that Zimmer gave his entire coaching staff a week off immediately after the Divisional round loss to the 49ers in order to allow everyone to clear their minds.
"I think after the course of the season you tend to remember the most recent games," Zimmer said. "I [felt] like [if] we get away from it a little bit, then we can sit back and think about other options or other ways to do things. I think so far, so good."
Zimmer has also made some coaching hires and role changes: Gary Kubiak is now the Vikings Offensive Coodinator, while Andre Patterson and Adam Zimmer will share duties as co-Defensive Coordinators.
Here are four other topics Zimmer touched on with Allen on Tuesday morning: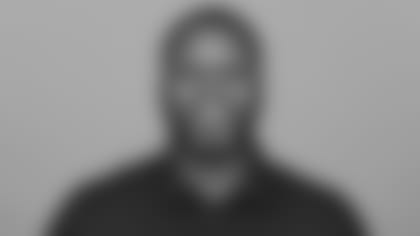 The Vikings have a new defensive backs coach in Daronte Jones, who was with the Bengals and Dolphins in separate two-year stints in the past four seasons.
Zimmer said he has been impressed with Jones, whom he interviewed last week after getting back in the building.
"We sat at the board and talked a lot about defensive backs, coverages, all those things. Been very impressed with him," Zimmer said. "Sat in the meetings with him [Monday], and he's very knowledgeable and good with technique. Hopefully we play better back there as well."
Zimmer, of course, is known as a defensive backs guru, as he got his start in the NFL coaching that position group in the mid-1990s with the Cowboys.
Zimmer told Allen that he quizzed Jones on his coaching style in regards to various coverages and what scheme opponents like to run.
"It will be good for us and for me. Obviously, he'll do it how I want it done, but it's nice to have a guy who seems very knowledgeable," Zimmer said. "We talk about minority coaches and things like that and getting an opportunity to be a head coach … he's well-dressed, well-spoken, very knowledgeable.
"I could see this guy one day maybe being a head coach," Zimmer added.
2. Praise for Rodriguez and Janocko
Although Patterson is now the co-defensive coordinator, he will still maintain his role as the defensive line coach.
But with Patterson's plate likely to be a little fuller this season, there's a chance that assistant defensive line coach Robert Rodriguez sees an increased workload.
"Robert is a very hard worker, spends a lot of extra time with all the players," Zimmer said. "They come out early and get a lot of their hand work with him.
"He's been learning from Andre for five years now, and Andre is the best there is," Zimmer added. "I think that part is going to be great."
The Vikings also moved Andrew Janocko to wide receivers coach after he had spent the past three seasons as the assistant offensive line coach.
Zimmer said he expects Janocko to transition well to a position group that includes the likes of Adam Thielen and Stefon Diggs.
"He's very hard-working, very detailed, and this will be a better spot for him," Zimmer said of Janocko. "At some point in time, he wants to get with quarterbacks and eventually be a coordinator, so him having the ability to work with [the late] Tony [Sparano] and now Rick Dennison … I think it's good for these young guys to move to different spots so they get a grasp of the offense, not just one particular thing."
3. A look back at Kendricks' big year
The Vikings saw a lot of individual standout performances in 2019, but only one player can make the claim that he earned First-Team All-Pro honors and also played in the Pro Bowl.
Vikings linebacker Eric Kendricks had perhaps the best season of his five-year career, as he recorded 130 combined tackles (according to coaches' stats), leading the team for the fifth season in a row.
He also tied for the league lead among linebackers with 12 pass breakups and added four tackles for loss, two forced fumbles and two fumble recoveries in 15 games.
Zimmer said Kendricks' splash plays in pass coverage — most notably late in the fourth quarter in Dallas in Week 10 on Sunday Night Football — helped amplify his national profile.
"Eric has played good ever since he's been here … he's never not played well," Zimmer said. "It's hard to pick one over the other. He was probably a little better in coverage this year than he was in some of the other years maybe.
"I think with Eric, he's always been a 'see ball, get ball' guy, so I think he just became a little bit more comfortable in understanding the system especially in the pass coverage part of things, the things we ask the middle linebacker to do," Zimmer added. "Pass coverage is difficult because they've got to work man [coverage] within zones and pass offs and different combinations like that, so that typically takes a lot of time and he's done a nice job. He made a lot of plays and he's instinctive, and probably more than anything, he's not afraid to shoot his gun."
4. A bigger role for Boyd?
The Vikings could potentially see some turnover in the offseason, as Trae Waynes and Mackensie Alexander are both set to have their contracts expire on March 18.
That could possibly mean a bigger role for younger players such as Kris Boyd in 2020.
Allen asked Zimmer what he liked about Boyd's rookie season after he was a seventh-round pick out of Texas. Boyd played 96 total defensive snaps in 2019.
"We haven't got to the DBs in the personnel meetings yet, but I think Kris has a chance to have a bright future," Zimmer said. "He's very athletic, very tough … I think he just have to build his confidence up knowing he can do the things we're asking him to do.
"He's not afraid when he goes in there because he plays aggressively, we just have to get him a little more season with technique," Zimmer added.
Boyd was a standout on special teams in 2019, as he led the Vikings with 11 special teams tackles. He played 303 special teams snaps during the regular season and 52 more in the playoffs.