Vikings linebacker Kentrell Brothers filled primarily a special teams role as a rookie in 2016, but he's looking to make a step forward this season.
John Holler of *Viking Update *said that last year's rookie class will be expected to make more of an impact in 2017, and he believes Brothers could end up being a significant contributor. Holler wrote:
*Brothers was a dynamo in the SEC his final two seasons at Missouri, leading the conference with 273 tackles in 26 games and a guy who just made plays. If he was bigger, his measurables would have had him off the board long before he was. *
Brothers also experienced a transition period in college when he entered as a freshman and didn't see much game action.
"I thought I was ready to play right away, but it didn't happen and I know now why it didn't," Brothers told Holler. "I was ready to contribute, but there were experienced guys in front of me and I had to wait my turn."
While some think the 6-foot-1, 242-pound Brothers is undersized at the linebacker position, he hasn't let that deter him from making a difference in the sport he loves, and he hopes to send that same message in the NFL.
Brothers told Holler that he was able to learn a lot while waiting his turn, and while he would like to play a bigger role in his second season with the Vikings, his ultimate goal is to succeed at whatever he's asked to do.
"I just want to play, man" Brothers said. "I don't care what role they want me in. I'm ready to do whatever [the coaching staff] wants to me to do to help this team win."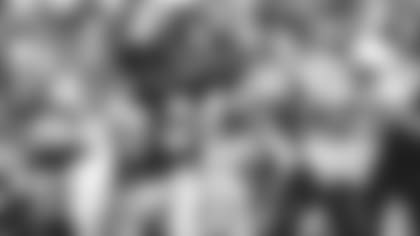 Herschel Walker returns to Minnesota for charity
Former Vikings running back Herschel Walker returned to Minnesota on Thursday, this time donning leather rather than carrying it.
According to Clay Conover of the West Central Tribune, *Walker participated in former NASCAR driver Kyle Petty's 23rd annual "Charity Ride Across America."* **
Petty's charity, Victory Junction, is a North Carolina camp for children dealing with disabilities and chronic diseases. The camp was started in honor of Petty's son, Adam, who was killed in a racing accident in 2000.
Petty, Walker and other sports celebrities are riding motorcycles across the country from Portland, Oregon, to Milwaukee, Wisconsin; one stop brought them to Apol's Harley-Davidson in Raymond, Minnesota. Conover wrote:
Herschel Walker [is] a motorcycle and vintage car enthusiast. Walker collects motorcycles and vintage cars, and was happy to ride along.
"When you've got a kid who has been with his parents 24/7 and he gets the chance to go to Victory Junction camp, and they drop him off at camp and they come back, and he has a smile on his face, that's special," Walker told Conover.
Walker played for the Vikings from 1989-91, during which he had 551 carries for 2,264 rushing yards and 20 touchdowns. He added five receiving scores, as well. With his days on the gridiron behind him, Walker enjoys making a difference in the community.
"A great man said, if you take something out of society, put something back in," Walker said. "You're not just riding a motorcycle, you're giving back."