MINNEAPOLIS — What a difference a few days made for Kirk Cousins and the rest of the Vikings offense.
After a dismal offensive outing Sunday against Dallas at home in which it was held to just a field goal, the message for Minnesota all week was to respond.
The Vikings went back to what they've been known to do best time and time again this season: fight through any deficit and prevail at the end.
Minnesota trailed at four different points — including by a touchdown in the third quarter — before battling back to earn a 33-26 victory against the New England Patriots at home Thursday while hosting a Thanksgiving game for the first time. The win is the Vikings eighth by a one-score margin this season.
On a day that's often associated with expressing gratitude, Minnesota Head Coach Kevin O'Connell said he was grateful for the way his team never gave up.
"Four days after being here with a pretty dejected feeling and asking our team to respond and our coaches to respond and show up tonight on a mission to try and play a really good football team and try to get a win, I could not be more proud of my football team and our staff and all that goes into it as an organization," O'Connell said. "[I] feel very fortunate, including being very thankful, to be the head coach of this team and that locker room."
O'Connell added as soon as he walked into the facility on Monday, he could feel the determination of his players wanting to answer the call leading into a crucial matchup.
"Each week in this league is its own challenge. If you don't play your best or play well against good football teams, bad results can happen. I think our team learned coming off that emotional Buffalo win — I didn't necessarily think we didn't have a good week of prep, but what I thought was we really needed to challenge ourselves to emotionally and physically play with unbelievable energy and enthusiasm," O'Connell said. "We've got to continue to improve and try to show up each and every week with purpose and not need to have setbacks to find our best. I think that's what we're going to need to do as the season moves forward."
Cousins led the way offensively, completing 30 of his 37 passes for 299 yards and three touchdowns along with an interception. His passer rating was 116.1.
Wide receiver Adam Thielen said the team's message to Cousins has been to "just go out there and play football" and not put all the pressure on himself.
"He's not carrying the weight of the team on him. I think that's something that we try to continually talk to him about is, 'Hey, just go out there and play football. You're a dang good football player and you prove it week in and week out. You show how tough you are, you show how prepared you are. Just go out there and let it fly,' " Thielen said. "And when he does that, and he did that [against New England], he's one of the best in the league and we're thankful to have him on our side."
Justin Jefferson led the receivers with 139 yards on nine catches and a touchdown. Thielen added 61 yards on nine catches and a touchdown, and tight end T.J. Hockenson hauled in five receptions for 43 yards and a score.
Running back Dalvin Cook recorded 42 yards on 22 carries, and Alexander Mattison had 11 yards on three attempts.
Just like the Vikings have done so many times this season, Minnesota was strong out of the gates offensively.
Cousins connected with tight end Johnny Mundt for 13 yards before a face mask penalty by New England and consecutive plays to Thielen put Minnesota in the Patriots red zone.
Three plays later, Cousins found Jefferson for a 6-yard touchdown before the Vikings offense joined him for a team Griddy celebration.
The opening-drive score was the seventh for Minnesota this season, with Cousins going 4-of-4 passing for 42 yards during the possession.
The Vikings offense then hit a lull, and the Patriots capitalized with 10 unanswered points to take a 10-7 lead with 1:28 left in the first quarter.
Minnesota responded with a lengthy drive, going 72 yards on 14 plays and taking nearly eight minutes off the clock before kicker Greg Joseph tied things up at 10 with 8:29 left in the first half.
From there, the rest of the game looked like a heavyweight fight, with both teams trading scoring drives like they were right hooks.
New England used a 46-yard return by Marcus Jones to gain great field position at its own 49. The Patriots needed just five plays to take a 13-10 lead on a 46-yard field goal by Nick Folk.
Minnesota marched 75 yards on nine plays on its next possession that ended in Hockenson's first touchdown as a Viking, but Joseph missed the extra point to keep it a three-point game with 1:30 left in the first half.
Hockenson said it felt great to get into the end zone in a purple jersey.
"Yeah it was great," Hockenson said. "It was a lot of fun just to be out there with this group of guys. It's nice to have that one out of the way, and hopefully there's many more to come."
The Patriots quickly answered, moving the ball 70 yards in just 1:27 before Folk's third field goal, a 23-yarder, knotted the game at 16 going into halftime.
New England got the ball to start the second half and orchestrated another long possession, going 75 yards on eight plays. A 37-yard touchdown from quarterback Mac Jones to tight end Hunter Henry gave the Patriots a 23-16 advantage.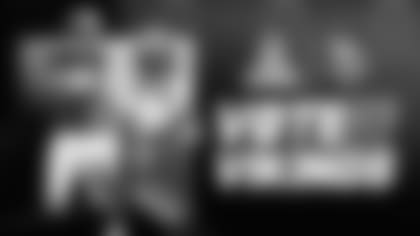 2023 Pro Bowl Voting Open!
Cast your vote to send your favorite Vikings to the 2023 Pro Bowl Games.
But 13 seconds was all the Vikings needed to regain momentum, as returner Kene Nwangwu took the ensuing kickoff 97 yards for a touchdown.
New England responded with yet another big drive, using nine plays to march 69 yards before Folk connected on his fourth field goal to put the Patriots in front at 26-23 with 6:43 left in the third quarter.
After that, though, it was all Minnesota.
The Vikings gradually moved downfield before Cousins found wide receiver Jalen Reagor for 25 yards to the Patriots 26-yard line. Minnesota got as close as the New England 9, but had to settle for a 36-yarder from Joseph to tie the game again at 26 early in the fourth quarter.
Minnesota's next drive appeared to stall out, but the Patriots ran into punter Ryan Wright on fourth-and-3, giving the Vikings a first down and an extra life in the possession.
Cousins found Cook for a gain of 8 before unleashing a 36-yarder to Jefferson in traffic that advanced the ball to the New England 15-yard line. The next play, Jefferson drew a group of Patriots defenders, allowing Thielen to slip into the back corner wide open for a 15-yard score to give the Vikings the lead for good at 33-26 with 9:34 left.
"We called that play several times. We just didn't get the look we wanted, so I just kept checking to something else," Cousins said. "I should have gotten [Thielen] faster. I was trying to make sure they truly went with Justin, and they did, so Adam got through there. Just a phenomenal catch by him. I thought the way that he's able to catch that football, keep his feet inbounds, it just says a lot about his ability. One of the things he does really well is his body control and overall athleticism, and he showed it there. Great play by him."
The Vikings close out their three-game homestand on Dec. 4 against the New York Jets at noon (CT). As Minnesota moves forward, Thielen said the team's ability to find ways to rally creates confidence.
"The more that you're battle tested, the more that you go through some ups and downs and find a way to come back and rally around one another and have energy and juice, it just creates confidence," Thielen said. "Just like some of those games that were one-score games in the past, it helps us gain confidence that we know that we can come back, we know that when it gets to situational football, we know that we can win those situations. The more that we can do that, the more confidence we build and the more that we trust it and go out and play football."