MINNEAPOLIS — Randy Moss loved playing on Thanksgiving.
He posted 307 yards and five touchdowns in two games for the Vikings at Dallas.
Justin Jefferson joined Moss at more than just the Thanksgiving table Thursday. Jefferson caught six passes for 94 yards, including a 7-yard touchdown in the first half against New England.
With a 37-yard reception in the second quarter, Jefferson eclipsed Moss' record for receiving yards in an NFL player's first three seasons (4,163).
Jefferson entered the game — the first Thanksgiving game ever hosted by Minnesota — needing 55 yards to hit the mark.
It was a showing that had LeBron James tuning in and tweeting again:
Jefferson finished with nine catches for 139 yards and a score on 11 targets. He averaged 15.4 yards per catch and had a 36-yard reception in the fourth quarter to set up a touchdown pass to Adam Thielen that proved to be the game-winner as Minnesota prevailed 33-26.
"It means a lot. It means that my course of reaching to the Hall of Fame is near, but I'm just going to keep working, doing whatever it takes to make plays for this team," Jefferson said of setting the new record. "I love this team, I'll do anything for it. When that ball is in the air, it's mine."
Kirk Cousins was able to find Jefferson despite multiple types of coverage by the Patriots.
"I do think at some point if they truly want to take him away play after play after play, he can be a great player and he's still not going to get the ball," Cousins said. "I think it was a mark, also, of great coaching or scheming to still find opportunities for him in spite of that, so it was kind of a combination, but when he's doubled and you throw him the ball and he still makes the play, that's a great player.
"There were a couple of times where the ball is in the air, he is in the right position with who is defending him, but there's another player on his way, and his ability to not hear footsteps, to not alligator arm it, but bring it in and get popped," Cousins added. "That's one of his many traits, that when that ball is up in the air, it's his ball and he's not going to allow somebody to come in and affect that."
Vikings Head Coach Kevin O'Connell said Jefferson is "one of absolutely the most special players I've ever been around as a player or coach."
"He tends to show up and be ready to go every time we put on the uniform and go out there," O'Connell said. "He was double teamed a lot to night and had some success against some of those double-team looks. When we got single coverage, Kirk found him a few times.
"He got a great double move there to set up Adam's go-ahead touchdown," O'Connell added. "He means a whole heck of a lot to our offense, to our team. It was a big night for Justin, and quite frankly, I'm just so proud of the way he battles and the grit and determination and the preparation that he's put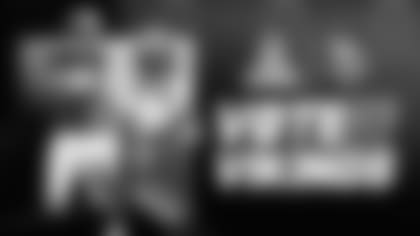 2023 Pro Bowl Voting Open!
Cast your vote to send your favorite Vikings to the 2023 Pro Bowl Games.