EAGAN, Minn. – Just throw it to J.J.
The ball? Sure, even on a 50-50 ball — or even less than that if the moment calls for it.
Some more milestones to boot? OK.
But how about the NFC Offensive Player of the Week honors, too?
The latter happened Wednesday morning in recognition of Jefferson's career-high 193 receiving yards (the most by a player in the NFL this season) and a touchdown on 10 catches to help Minnesota top Buffalo 33-30 in overtime.
The NGS branch of nfl.com made a video spotlighting the five least likely completions to Jefferson from Kirk Cousins.
The one that people will talk about for ages — a 32-yarder on fourth-and-18 secured with one hand against great coverage — had a completion probability of 28.8 percent.
Cousins' no-looker to the sideline in overtime ranked second with a likelihood of 31.5 percent because Jefferson kept his feet in bounds while snagging the ball that had crossed over the sideline.
His first catch for 46 yards (33.5 percent), the 22-yard touchdown that quickly followed (35.8) and a 24-yard reception to the Buffalo 2-yard line in overtime (37.3) rounded out the five least likely catches.
Jefferson recorded his 20th career game with 100-plus yards and seventh with 150 or more, set new records for within a player's first season.
The triple-digit mark moved him past Randy Moss and Odell Beckham, Jr., and the buck-fifty-plus record put Jefferson above Moss and Lance Alworth.
The lofty yardage, the fifth-most by a Viking in a regular-season game all-time, moved Jefferson past 4,000 yards in his 42nd career game, tying him with Beckham and Alworth. He has 4,076 and trails only Moss (4,163) and Beckham (4,122) for the most yards in a player's first three seasons.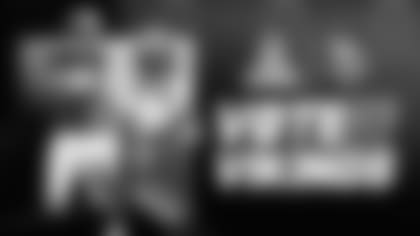 2023 Pro Bowl Voting Open!
Cast your vote to send your favorite Vikings to the 2023 Pro Bowl Games.
The recognition is the second garnered by Jefferson and makes him the first Vikings receiver to win the award in back-to-back seasons since 2000.
It also put Jefferson in the company of teammates kicker Greg Joseph (Week 4 Special Teams), punter Ryan Wright (Week 6 Special Teams) and Za'Darius Smith (Week 8 Defense) who have been named an NFC Player of the Week so far this season. Smith also claimed NFC Defensive Player of the Month honors in October.