Spend a few minutes in conversation with Jeff Gladney and Kris Boyd, and it doesn't take long for their Texas twang to come out.
Gladney, a Vikings 2020 first-round pick, hails from New Boston, which is 156 miles northeast of Dallas. Boyd spent his formative years in Gilmer, which is 130 miles due east of Dallas (shorter as the crow flies).
Roughly an hour drive — merely a fraction of the vast Lone Star State — separates the towns. Just don't make the mistake of saying the two cornerbacks hail from East Texas.
You'll quickly get corrected that the area is actually referred to as bEast Texas. Let Boyd explain.
"That actually came about when Twitter started to blow up for football recruiting," Boyd said. "When they'd talk about guys from certain areas, they'd call out Dallas and Houston and on … but when it came to East Texas, they would put a lowercase 'B' on there.
"This ain't just East Texas, it's bEast Texas because they take football to another level," Boyd added. "When they talked about it, from backups to starters to mamas and uncles and brothers … they were all like, 'Yeah, that guy is a beast. We played against him.' Just a lot of praise."
Gladney added with a laugh: "Nothing but beasts. We produce nothing but beasts."
Gladney and Boyd aren't the only Vikings players from that area. Boyd was high school teammates with practice squad linebacker Blake Lynch when they helped Gilmer win a 4A Division II state title in 2014.
Lynch was the game's MVP as the duo helped Gilmer rally from an 18-point deficit for a 35-25 win, which claimed the school's third state championship.
"East Texas, I ain't even going to lie to you … it's eat, sleep and breathe football," Boyd said. "I had moved from Dallas [in middle school] … so it was kind of slow when I got out there.
"I was going to go back to Dallas, but I stayed because I knew Gilmer was good in football," Boyd added. "It was a tradition there … just football, football, football."
The two young cornerbacks know each other well. New Boston and Gilmer weren't on each other's annual regular-season schedule, but the schools held an intense scrimmage each summer.
The two met up a few times there, then kept running into each other in the Big 12, where Boyd played at Texas and Gladney starred at TCU.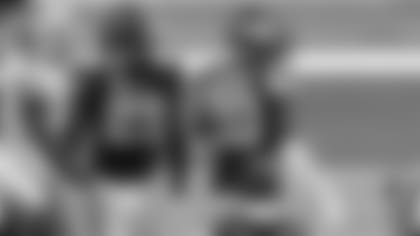 The duo became teammates for the first time this spring when the Vikings tabbed Gladney with the 31st overall pick in the 2020 NFL Draft. That was a year after Boyd, a 2019 seventh-rounder, made his mark as a rookie by excelling on special teams.
And it's clear Gladney and Boyd have brought their brand of Texas toughness to the Vikings.
"Just coming from the state of Texas in general, football is such a big deal," Gladney said. "But when you come from areas like me and Kris — my town is actually a bit smaller than his — it's like we have a chip on our shoulder more than anyone else."
Added Boyd: "That area is way tougher. We're just some country-fed boys … out there lifting up hay bales and messing with all types of bulls."
Entering the 2020 season, both players were viewed as key pieces of a young secondary that didn't feature a cornerback older than 23.
But with Mike Hughes and Holton Hill on Injured Reserve, and rookie Cameron Dantzler missing a few games with various injuries this season, Vikings Head Coach Mike Zimmer called on Gladney and Boyd to start Minnesota's Week 9 game against Detroit.
Gladney has played nearly every defensive snap since a Week 4 win in Texas over Houston.
And Boyd has seen a heavy uptick in his defensive snaps of late. The special teams ace has more than held his own on defense, too.
"All the corners [have] played better," Zimmer said. "I think Kris [has] played a lot more disciplined.
"Jeff continues to get better each and every week as far as understanding things, understanding his role and what the offense is capable of," Zimmer added.
Both Gladney and Boyd said they haven't been fazed by getting thrown into the fire, especially in back-to-back-to-back wins over Green Bay, Detroit and Chicago.
In a way, they've been molded for this opportunity from their Texas roots.
"We both have embraced it. At this point, with the limited number [of cornerbacks] we do have, we know everyone is depending on us," Gladney said. "Really, these are the moments — not the circumstance of everyone getting hurt — but these are the moments you ask for.
"You're pushed out there and everyone is depending on you," he added.
Up next is a two-step with Dallas Cowboys at 3:25 p.m. (CT) Sunday.
Gladney participated in a media session with Twin Cities reporters on Wednesday and described his family's shift of allegiance from the Cowboys to the Vikings.
"I was always a Cowboys fan growing up. Just like I told my dad, he can wear a double-sided jersey, but the Vikings have got to be on the front," Gladney said with a laugh. "He's rooting for the Vikings for sure this week. The whole family's rooting for the Vikings even though we're Cowboy fans.
"They're all on the bandwagon, and for me, it's an easy switch that makes me just want to play harder just playing the home-state team," Gladney added.
The former Big 12 corners are quite familiar with the threat posed by rookie CeeDee Lamb, who was drafted in the first round out of Oklahoma, as well as Amari Cooper. Lamb leads all rookies with 44 receptions and ranks third with 595 yards. Cooper vexed the Vikings last season in Dallas with a whopping 11 catches for 147 yards and a score. He leads Dallas with 59 catches for 655 yards this season.
The Cowboys, however, have struggled with continuity at quarterback since Dak Prescott was lost for the season in Week 5. Andy Dalton, who started two games before missing time, is expected to be back and face a Zimmer defense in a game for the second time of his career. They overlapped with the Bengals from 2011-13.
Gladney and Boyd are certain to bring another round of toughness to the game.
"It's all we know. Once you're out there, you have to do your job and get the job done, man," Boyd said. "It's a mutual understanding between us two. We don't even have to say anything. We already know from how we grew up and how we handle things … nothing has changed. The only thing that's changed is the colors on our uniform. We've got to bring that same mentality."
It's the mentality of bEast Texas.