MANKATO, Minn. — Danny Isidora has a few more days before donning NFL shoulder pads, but he knows exactly what to focus on in the interim.
"Just stay with the same footwork, get my feet right," Isidora said Tuesday after the team's second walk-through practice of 2017 Verizon Vikings Training Camp.
The full evaluation of the guard and other offensive and defensive linemen won't begin until Saturday when the Vikings suit up in full pads for the first time. Head Coach Mike Zimmer, however, said the fifth-round pick has looked good since arriving in Minnesota out of the University of Miami, where he started the final 39 games of his career.
"I've been impressed with Isidora the whole time he's been here," Zimmer said. "I was telling somebody who he reminds me of last night, but I won't say his name.
"He's got a wide, thick lower body, he's got good movement," Zimmer added. "He's good out in space. I think he's done a nice job. I've got a lot of hopes for him."
Isidora is one of just five offensive linemen who reported on Sunday, so taken plenty of reps. Veterans are scheduled to arrive Wednesday and begin practicing Thursday.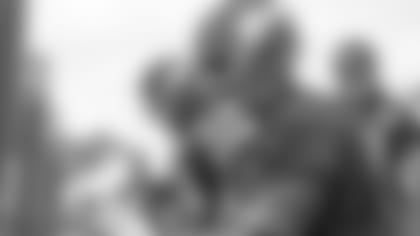 Isidora has been flanked by draft classmate Pat Elflein at center and recently signed free agent Arturo Uzdavinis at right tackle. Rookies Aviante Collins and Freddie Tagaloa have lined up at left tackle and left guard, respectively.
While Isidora said he thinks the Vikings players who participated in the offseason program "retained a lot" of information about the offense, he said the group has welcomed the extra time with coaches.
"It's a good thing for us because we get a lot of reps, and when the vets come, we're not going to get as many," Isidora said. "Now is the time when we can go at it and get as many reps as possible."
Vikings.com's Eric Smith noted in Monday's **practice observations** that Isidora received vocal praise from offensive line coach Tony Sparano while executing a block during a run play. Isidora also showed smooth feet to cruise into open space and set up a block for a screen pass.
Isidora, who is fairly quiet during interviews and on social media — his most recent tweet was May 26 when he signed his Vikings contract — said he welcomes the feedback from Sparano and aims to please.
"He's definitely one of the more vocal coaches," Isidora said. "He's going to let you know when you're doing something right and let you know when you're doing something wrong for sure."