EAGAN, Minn. — The 2020 NFL Draft will provide an opportunity for Vikings fans to come together in unprecedented ways in spite of being physically apart.
Technology, innovation and collaboration have been implemented in the lead up to the league's largest event of the offseason.
In response to the ongoing COVID-19 pandemic, the NFL has created a virtual "Draft-A-Thon" to raise money for relief efforts by six national nonprofits (there is more on Draft-A-Thon below).
Round 1: 7 p.m. on Thursday, April 23
Rounds 2-3: 6 p.m. on Friday, April 24
Rounds 4-7: 11 a.m. on Saturday, April 25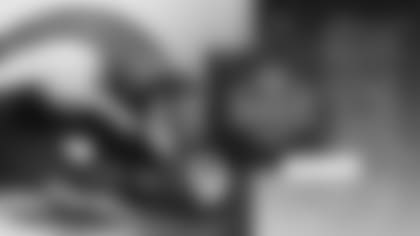 2020 NFL Draft Coverage
Get full coverage of the 2020 NFL Draft, including exclusive behind-the-scenes content, pick highlight videos, press conferences, analysis and much more...
KFAN 100.3-FM/Vikings.com Coverage
If you are on this page, you are more than likely interested in what the Vikings will be doing to improve their roster. Minnesota currently has 60 players under contract for 2020.
The Vikings enter this year's draft with 12 selections, including the No. 22 and 25 overall picks and five choices in the first 105 selections.
KFAN 100.3-FM will relay the excitement of opening with a broadcast of a Vikings Draft Show that starts at 6:30 p.m. It will feature analysis by "Voice of the Vikings" Paul Allen, Ben Leber and Paul Charchian.
Vikings.com will provide coverage, including live programming by the Vikings Entertainment Network. Other elements will include 1-on-1s with Vikings General Manager Rick Spielman, exclusive content from the improvised Thomson Reuters Draft Room at Spielman's home, interviews with Head Coach Mike Zimmer from Zimmer Ridge Ranch, and of course, spotlights on the newest Vikings. All Vikings.com content will be available live or on-demand on the Vikings App, Vikings Now (connected TV application) and the team's official social media channels. Vikings.com/draft/2020 will provide a centralized landing spot for coverage.
Because of social distancing and other measures enacted to stop the spread of COVID-19, ESPN and NFL Network will be combining on a singular presentation that will originate from ESPN's studios in Bristol, Connecticut.
All three days of the draft will be broadcast on ABC, ESPN, NFL Network, ESPN Deportes and ESPN Radio.
ESPN's Trey Wingo will host all three days for the fourth consecutive year. He will be in Bristol and joined remotely by colleague Mel Kiper, Jr., who is covering his 37th of 85 total NFL drafts. ESPN's Louis Riddick and Booger McFarland also will be joining remotely. Suzy Kolber will conduct remote interviews of draftees from an ESPN studio, and Chris Mortensen and Adam Schefter will provide updates from their homes.
NFL Network's Rich Eisen (17th draft), Daniel Jeremiah, Michael Irvin and Kurt Warner will contribute remotely during all three days. Josina Anderson is covering multiple teams, including the Vikings, for the broadcast.
Rece Davis, Jesse Palmer and Maria Taylor will lead ABC's prime-time presentations that will be unique from the ESPN/NFL Network on April 23-24. They will be in-studio in Bristol and joined by Tom Rinaldi. The ABC presentation will also include draft analyst Todd McShay and college football analysts Kirk Herbstreit, Desmond Howard and David Pollack.
Herbstreit explained during a recent conference call that the ABC coverage will be "very different."
"We kind of do more of a college version of the draft," Herbstreit said. "We're not going to give you the inside scoop on what the Giants need to do or what the Vikings need to do. We're really focused more on, if Joe Burrow gets selected, we're going to break down Joe Burrow and what our thoughts are on Joe Burrow. Tua [Tagovailoa], whoever it is, we're going to break those guys down and give you more of a college spin. So that will be the ABC side of things, like we did last year, with the College Gameday crew – and some others will be joining us, as well. We're looking forward to it. Most of us will be remote – a lot of us will just be at our houses."
There obviously will be no "Green Room" for players waiting to hear their named called nor unique views of Las Vegas, including the proposed boats at the famed fountain outside the Bellagio.
But fans will be able to go behind the scenes into the homes of NFL general managers, coaches and other personnel, as well as 58 prospects who have been sent camera kits.
Vikings Virtual Inner Circle
Also be on the lookout for the Vikings Virtual Inner Circle during the first three rounds of the 2020 NFL Draft. Avid Vikings fans from around the globe will be live-streamed into the "Vikings Virtual Inner Circle" and be shown behind Commissioner Goodell as he announces picks from his home.
Eisen and Deion Sanders will host the Draft-A-Thon Live Stream online, which will accompany the fundraising campaign launched by the NFL.
NFL Senior Vice President of Social Responsibility Anna Isaacson said it will be available on Twitch, Twitter, Facebook, YouTube, Yahoo! and NFL.com.
"This will be a multi-person chat experience picture, like The Brady Bunch style where you are talking football but getting the Draft-A-Thon coverage and experience," said Isaacson, who added coverage will include celebrities, influencers, players and legends talking about what they've done to give back, as well as health care workers talking about what it's like on the front lines."
Additional Engagement Opportunities
#VikingsDraft Virtual Happy Hour
The #VikingsDraft Virtual Happy Hour Presented by Miller Lite will kick off the second night of the NFL Draft at 5 p.m. (CT). The live-streamed social hour will give fans the opportunity to interact and celebrate with Vikings analysts, players and influencers across Vikings.com, Twitter, Facebook, Instagram and YouTube. The Vikings and Miller Lite will provide fans with co-branded Zoom backgrounds available at Vikings.com/fans/video-conference-backgrounds.
#UniteTheNorth Driven by Polaris
The Vikings and Polaris are raising funds for the North Memorial Health Foundation to help front-line health care workers. Limited-edition Unite the North hats can be reserved with a donation of $20.
Pass or Play: Draft Edition
A free-to-play game presented by Mystic Lake, "Pass or Play: Draft Edition" allows fans to take on the role of general manager. Pass or Play is available in the Vikings App on iPhone and Android devices.
For more information on the above opportunities and others that are being offered as Miller Lite Draft Week, click here.
Snapchat has a variety of shows and tools, including its AR Lens technology, that will allow fans to celebrate the draft while donating in support of COVID-19 relief.
Beginning opening night of the draft, fans will be able to create a virtual moment of being drafted by the Vikings (or any other NFL team), complete with a hat and jersey.
The NFL has teamed up with Spotify to create an NFL Official Draft Day playlist, which will feature music curated by the biggest stars of the 2020 NFL Draft class as well as include various highlight videos.
TikTok and the NFL will partner to celebrate the 2020 Draft through the hashtag challenge #GoingPro, where TikTok users are encouraged to live out their dream of being drafted to the pros by putting on a hat and transitioning into a new scene.