It's not every day that two legendary coaches are in the same room.
On April 29, however, football fans will have the rare opportunity at St. Andrew Lutheran Church in Eden Prairie – Hall of Fame Vikings Head Coach Bud Grant and former St. John Johnnies Head Coach John Gigliardi will share stories from two historical Minnesota football games.
The event will be emceed by WCCO's Mike Max and will benefit Project Friendship, a program developed to support single-parent families.
The evening will remember the 40th anniversary of the 1976 National Championship of the St. John Johnnies as well as the 1976 NFC Championship game between the L.A. Rams and the Vikings.
After defeating the Packers to win their eighth division title in nine years, the Vikings went on to defeat the Rams in the NFC Championship game on Dec. 26, 1976. Vikings running back Chuck Foreman ran for 118 yards and a touchdown, and cornerback Bobby Bryant intercepted Rams quarterback Pat Haden twice en route to the 24-13 victory that sent Minnesota to its fourth Super Bowl in franchise history. 
"This is the first and possibly only time fans will get a chance to hear both John and me share about these two exciting sports moments in Minnesota history," said Grant, who was inducted into the Pro Football Hall of Fame in 1994. "To do so while supporting single-parent families in the community makes it an even more special evening."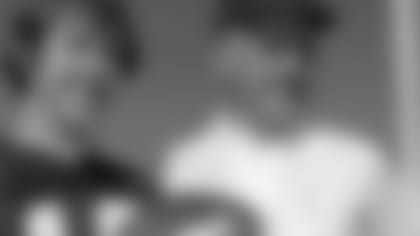 Project Friendship was founded by Krystal Queen and Eden Prairie Athletic Director Mike Grant. The oldest son of Bud Grant, Mike is the most successful coach in state high school football history and was the Minneapolis Star Tribune's Sportsperson of the Year in 2014.
"This is a special event in a lot of ways – first of all, raising money for Project Friendship, which is really helping single parents and especially single moms in our community," Mike told Vikings.com. "It really means a lot to me, and I know it means a lot to both John and my dad. It's also a special night in bringing two of the greatest football coaches in the history of Minnesota together in one place. They've been friends for a long time, but we've never had them together for an event, and it may never happen again. So it's kind of a once-in-a-lifetime opportunity."
A single parent of three children herself, co-founder Queen understands both the need for and the reward from an effort like Program Friendship.
"It's hard to work full time," Queen said. "One day, Mike came over and shoveled my driveway to help out. Since then, his family has provided for me and my kids a great deal of support."
Officially launched during St. Andrew's church services on Feb. 8, 2015, Project Friendship seeks to build bridges between single-parent families and other families in the south and southwest suburbs. Now just passing the one-year anniversary mark, Mike and Queen look forward to continued developments.
Fans who would like to hear Coach Grant and Coach Gagliardi share their stories on April 29 can **purchase $20 tickets** that will go directly to benefit Project Friendship. There will be a silent auction and meet-and-greet beginning at 6 p.m. (CT), with the formal program kicking off at 7 p.m. (CT).